Ross Quesnell, a recent MFA graduate, loves exploring death through art. Through his graduate studies, he focused on his interests in biology and mortality, and, as a result, created Vestiges. He has collaborated with natural history collections and medical imaging labs and is currently working with the micro-CT scanning lab of the University of Arizona to capture imagery of small bone fragments.
In this interview with Art the Science, Ross gives us an insight into his creative process, what inspires him, and all the different aspects of his work.
What inspired you to start working on the Vestiges collection?
Vestiges is a series of physical and digital works inspired by ways of thinking that were instilled in me from an early age. Growing up, subjects like mortality and anatomy were never considered unpalatable. In fact, traditionally uncomfortable topics were often encouraged. This environment—in which I was free to discuss topics like anatomy and the human condition in gritty detail—helped foster an inquisitive nature that stayed with me throughout my life, eventually becoming the stimulant that drove the way I created my art.
This mode of artmaking came to fruition during my graduate studies in 2016 to 2019. During that time, I revitalized my curious ethos and interest in anatomy by visiting natural history collections, cadaver labs, medical imaging labs, and any other scientific facility that allowed me to study remains from an artist's point of view. Around 2017, I started to realize just how powerful art and science was as a topic—not only as an inspiring method of anatomical education but as a unique source of reflection on mortality. From that point onward, Vestiges became a series of works that objectively explored the fragmented bones of once-living beings.
What message do you aim to convey to your audience through this collection?
Through this collection, I want to draw my audience to newfound curiosities in the way art addresses mortality, a topic that has universally inspired artists for millennia. To take this topic beyond convention, I try to bring reflective intrigue to otherwise clinical imagery, passing over typical depictions of biological remains in favour of objects and scenes that evoke reflection. With an eye for surreal landscape and ambiguity, I want viewers to be drawn to my imagery without necessarily knowing what they are looking at. These vestiges all once belonged to living beings, and in that sense, they are a form of anonymous portraiture. They are portraits that can evoke senses of awe, while also serving as reminders of the fragmented material we must all someday join.
Which aspect of this collection excites you the most?
I'm particularly excited about creating meaningful working relationships between art and science. The ability to collaborate with medical imaging labs, 3D printers, and natural history collections throughout the stages of my process is something I find fulfilling. This artistic endeavour goes beyond anything that I could complete on my own, and it requires interest from the scientific and art communities alike in order to exist. It's a balancing act between the two communities that I'm thrilled to be a part of.
"It requires interest from the scientific and art communities alike in order to exist. It's a balancing act between the two communities that I'm thrilled to be a part of."

Ross Quesnell
What is it like working in the micro-CT scanning lab? What do you look forward to the most, when you walk into this lab as part of your Vestiges project?
Developing a working relationship with a micro-CT scanning lab at a major research institution has been the most rewarding part of my art career. The first time I visited the lab, I was shown how it's typically dedicated to studying bone tissue and blood flow in mice, whose tiny bone structures and details can't be captured in standard CT scanners. At that point I knew the lab would have a transformative impact on my work, allowing me to capture imagery in a bone that can't be seen by the human eye. The replica of each scanned fragment is identical to its original piece, even down to particles of dust and dried fluids that inhabit the surfaces of these millimetres-long specimens.
I currently use lab services remotely. In my studio, I dissect small bone fragments from various species and send them to the lab for scanning. In return, I receive large batches of medical images for each piece, which come in the form of DICOM (Digital Imaging and Communications in Medicine) datasets. I then use a variety of software to compile the medical datasets into files that can be 3D printed or staged for lighting in animation software.
What ideas do you have in mind for your next creative project? Will it be similar to Vestiges, or will it explore a different direction of creative science?
My next creative project will be a continuation of Vestiges, but I want to focus more heavily on 3D rendering and 3D prints that can be used for large-scale public installations. My long-term goal is to present these cavernous scenes and sculptures at the human scale or larger. I envision gallery visitors walking through and around monumental sculptures and paintings, reflecting on the fact that these scenes exist inside them at microscopic levels, and that they are walking among the imagery provided by individuals from previous eras.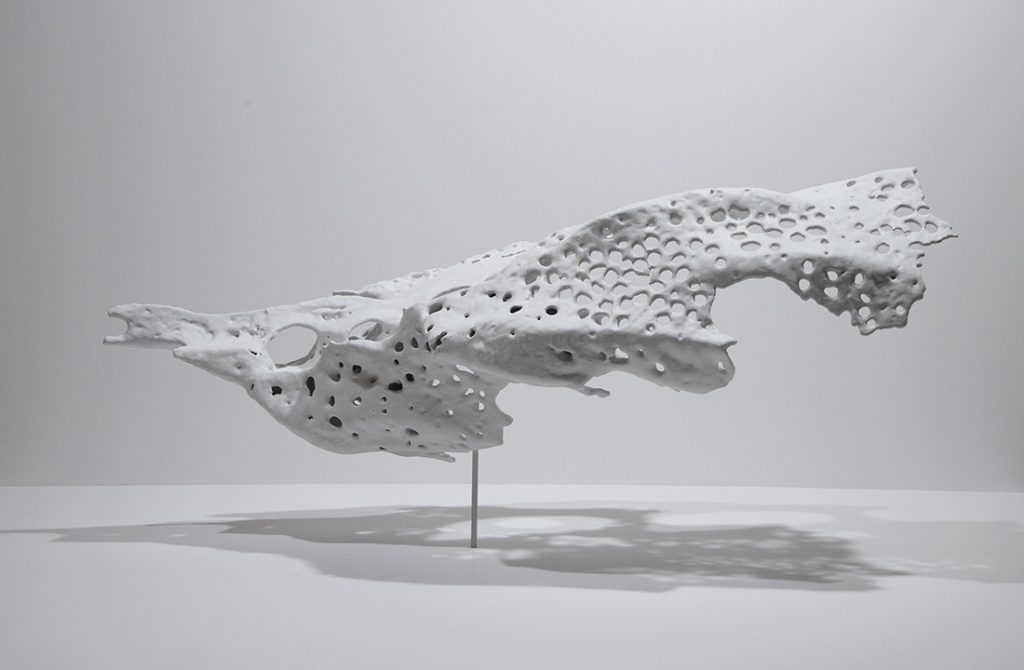 If there was one scientist, living or dead, you could collaborate with on your sculptures, who would it be (and why)?
I would collaborate with Gunther von Hagens, the Anatomist who pioneered plastination as an educational method for displaying the anatomy of humans and many other species. From the first publicly broadcast autopsy to the creation of the Body Worlds exhibit, I admired his and his wife Angelina Whalley's efforts to bring engaging anatomical content to the public in the face of public controversies. Rather than shying away from potentially off-putting topics, he commits to his enthusiasm for education and artistic display.
For more of Ross Quesnell's work, visit his website or watch his most recent video highlight on YouTube.