Jamie Molaro is a professional astronomer and researcher at the Planetary Science Institute. She has worked on the recent NASA OSIRIS-REx mission to the asteroid Bennu and has collaborated with the Caltech/Jet Propulsion Laboratory. She is also the co-founder of The Art of Planetary Science, an annual art show that showcases space-themed art from across the world.
Molaro's personal work depicts celestial bodies using paper sculpture techniques, a collection she calls Paper Planets. She often uses her own research papers and data sets as the medium of the sculptures. In this interview with Art the Science, Molaro discusses the process behind her paper sculptures, the interplay between her scientific and artistic work, and her hopes for the future of sci-art.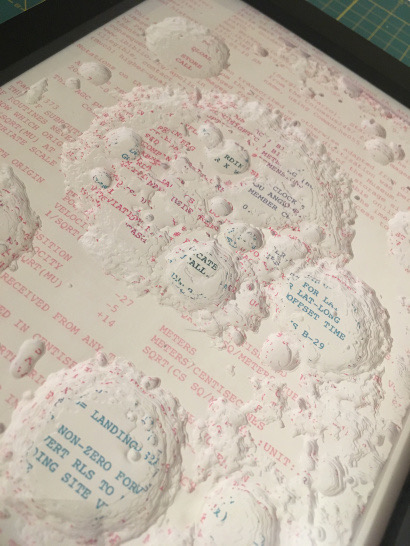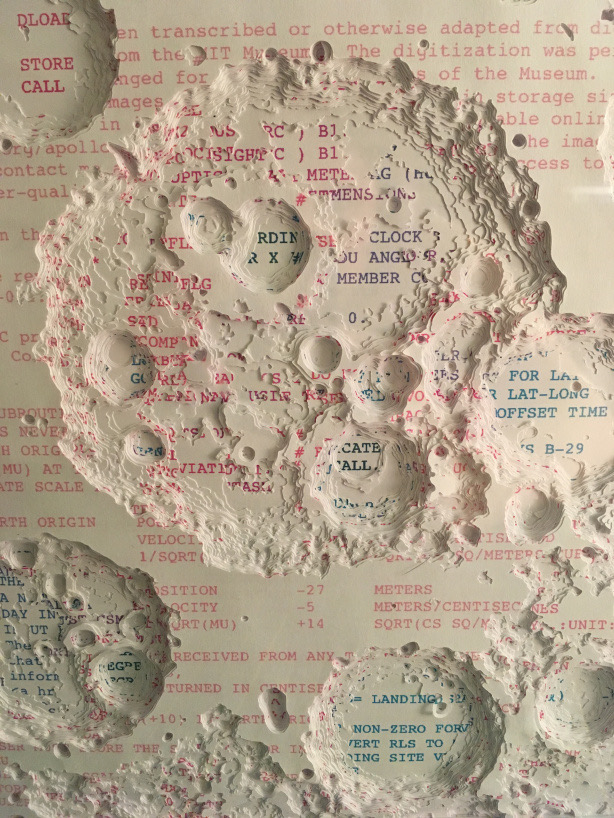 What is your favorite planetary data art piece that you have made and why?
I think my favorite piece will always be The Book of Moon. It's a piece of paper art showing a cratered lunar landscape carved into the pages of my PhD thesis and then housed in a book-shaped wooden box. The landscape itself was created using topography data from a spacecraft orbiting the Moon. The topography is sliced up into approximately 150 layers and each was cut out of one of the pages. The content of my thesis described researched that I had done studying the ways in which rocks and landforms on the Moon break down into dust over time. So I felt that carving this type of landscape into the pages was a nice juxtaposition of the artistic and scientific processes, as you can see glimpses of the thesis text and figures that shown through and colour the landscape.
"I felt that carving this type of landscape into the pages was a nice juxtaposition of the artistic and scientific processes, as you can see glimpses of the thesis text and figures that shown through and colour the landscape."

Jamie Molaro
We have a tradition in my graduate school department of burning a copy of your PhD thesis, but I thought that would be a waste. I had just organized my first science-focused art show at the University the year before and decided instead I wanted to create something beautiful out of it, something that others could perhaps look at and appreciate the research I had done without having the read it all.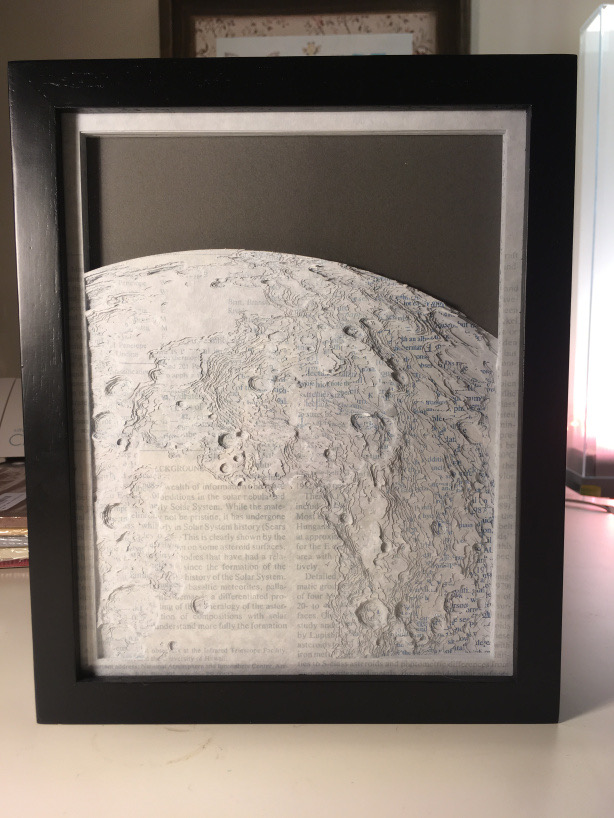 How does being a working scientist affect your artwork, and how does your art affect your work as a scientist?
This is a big and very open question! I think there's a few different ways my art and science affect each other. I like to think of art and science as both different forms of exploration. When we study the surfaces of other worlds, we want to understand what occurred to make them into what we see. Everything we observe today about a planet is the muddled end result of how it was formed and everything that's ever happened to it over the billions of years since then.
You can imagine that some things may have left visible scars on its surface we can study, but others may have been covered up. Other processes just layer new scars over old or erase scars from existence. It has changed and evolved so much that trying to untangle all of those events in its history is very challenging! It's a giant puzzle with no answer key.
"So for me, making art is partly an act of creative mental processing that helps me both feel comfortable with and celebrate that complexity and the beauty that comes out of it."

Jamie Molaro
When I create a piece of art, I think it helps me to process and appreciate that complexity. When I finish a piece of art, I know exactly the steps I took to create it. I know that I where I damaged a page and can see a tear, where the ink got blurb from setting a glass on it, where it didn't cut properly because I did process the data perfectly. And yet, I can't control every aspect of creation, so it's still impossible to guess exactly what a piece of art will look like or describe everything about it after it's all done.
Once I put all the pieces together, the final result is bigger and more complex then the steps of the process itself. So for me, making art is partly an act of creative mental processing that helps me both feel comfortable with and celebrate that complexity and the beauty that comes out of it. And using data to create that art offers me a bit of a different perspective on what it means or how it can be interpreted or understood.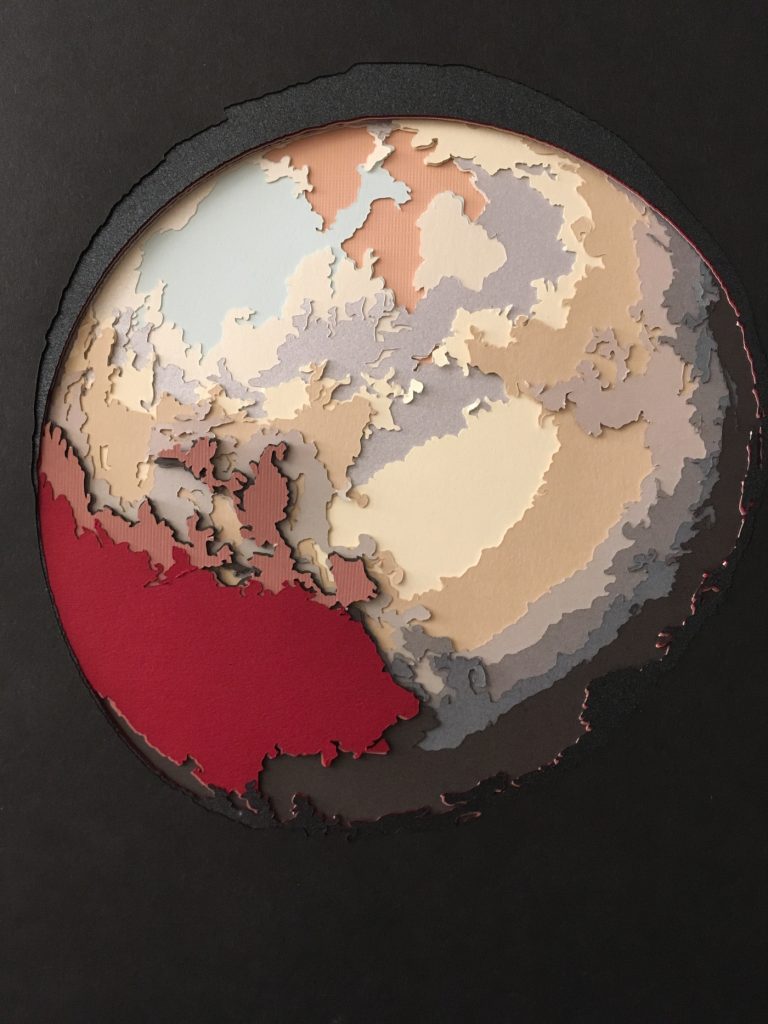 There are practical aspects of how they affect each other, of course, such as choosing the subjects of an art piece. I like to create works that focus on things I'm particularly excited about in my own research. I also have made many of my pieces as gifts for mentors, thus choosing a subject that is aligned with their own research interested. Sometimes my inspiration comes from simply what new data happens to become available from ongoing space missions. I think also working as a scientist has made my approach to creating things sometimes more technical or methodical than another artist might choose.
These pieces are not like paintings where I can just keep playing with colour or adding paint to a canvas as I work until I am happy with the end result. Because of the nature of what they are, they have to be somewhat pre-planned and created in different stages. I also like to use art projects (like anything in my life) as a way to learn things, whether that's learning a new art technique or medium, to trying variations on the same technique.
What impact do you want to make with your data art?
My own art I make for myself, but I'd be lying if I didn't hope to share some of my excitement about science with other people. And it isn't just about enjoying space, it's about the science itself. I think a lot of people feel alienated by science because they believe it's somehow beyond their ability to understand, but a piece of science- or data-driven artwork offers them a chance to understand it in a different way. It gives them a chance to form a connection to science that's more personal, and that doesn't require them to learn facts or do math. Not everyone (and certainly not every scientist) thinks about ideas or processes information the same way. I just want to offer people a different way to interact with spacecraft data to learn from and enjoy it. I want to share what I think is beautiful about the planets I create beyond just what they look like in a photo.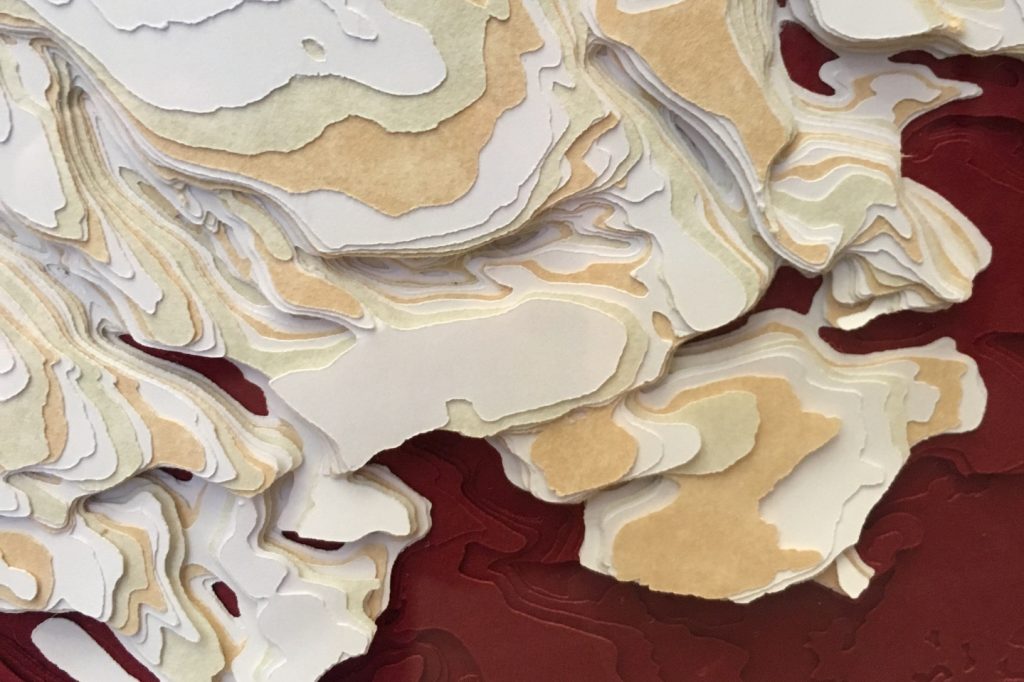 What do you envision your exhibit, The Art of Planetary Science, will look like in the future? 
I hope to continue doing art shows into the future, but I'd like to grow the project beyond that. I have a dream to develop an actual art fellowship program that pairs artists with scientists and research groups over an extended period in order to develop a collaboration. The goal would be to produce some sort of art based around the scientists' research and then display that in a public venue local to the artists where it can be enjoyed by the greater community.
This would be a great way to leverage the valuable skills that artists have to do science outreach on a broader scale. It would also help develop connections between the science and art communities, as well as between the artist and their own local community public. Plus, it could provide public art for libraries, airports, community buildings, parks, etc. I'm slowly working on developing this program, but like any project of this size I need to find a source of funding.
What is your favorite celestial object and why?
This is a very difficult question! A lot of my research focuses on on how heating and cooling from the sun can drive cracks to develop in rocks and break them down over time. This is a really important process on bodies like asteroids that are very rocky, but don't have things like wind and rain (as on Earth) to causing weathering. There's a particular asteroid I've always wanted to send a mission to called Phaethon because it has a really elliptical orbit that brings it inside the orbit of Mercury extremely close to the sun. We think that this thermal fracturing process could be breaking up rocks on Phaethon's surface and causing the pebbles to be tossed into space. These rocks are the source of a meteor shower every year called the Geminids. The Japanese space agency is currently developing a mission to visit it, so I can't wait to be able to see it up close.
I'm also a huge fan of Jupiter's moon Europa because it has these incredibly large, dramatic fractures in its ice shell. If you search for any image of Europa you'll see them all over it. These fractures develop because of the pull of gravity from Jupiter and from Jupiter's other moons, and I just think it's really elegant how the change direction of the pull of gravity as Europa moves in its orbit relative to the other moons causes fractures that are sweeping arcs and even scallop shaped.
For more by Jamie Molaro, visit her website, Instagram, and Twitter.