The world is a very different place than it was in 2016 when we last caught up with Anna Dumitriu, an internationally renowned bioartist whose expansive portfolio touches on issues surrounding infectious disease, synthetic biology, and robotics. Dumitriu's exploration of these topics is especially poignant today as the world continues to grapple with the ongoing COVID-19 pandemic, the unexpected knock-on effects on other diseases like tuberculosis and cholera, and an increasingly uncertain future.
In this interview with Art the Science, Dumitriu discusses how her work has progressed over the last five years, her relationship with the pandemic, and how reflecting on the past can help lead us toward a brighter future.
We last spoke with you in 2016. How has your artistic practice evolved over the last few years?
I think my practice has gained a lot of momentum over the intervening years since the last interview. In about 2015 to 2016 I started to really work with synthetic biology and most specifically things like CRISPR gene editing in projects such as "Engineered Antibody," which I made with the Liu Laboratory for Synthetic Evolution at UCI Irvine in California, and "Make do and Mend," which I created in collaboration with Technion in Haifa.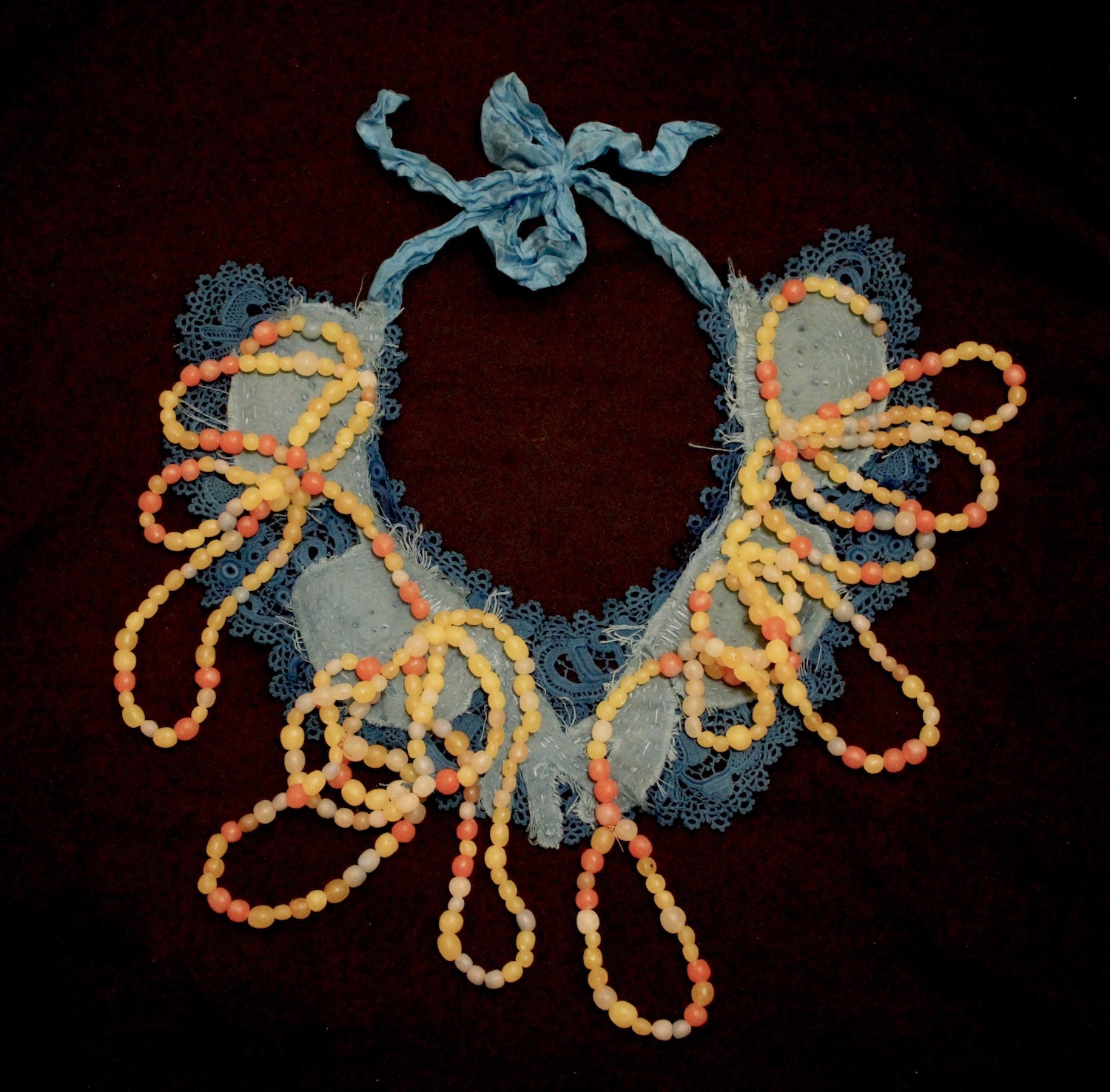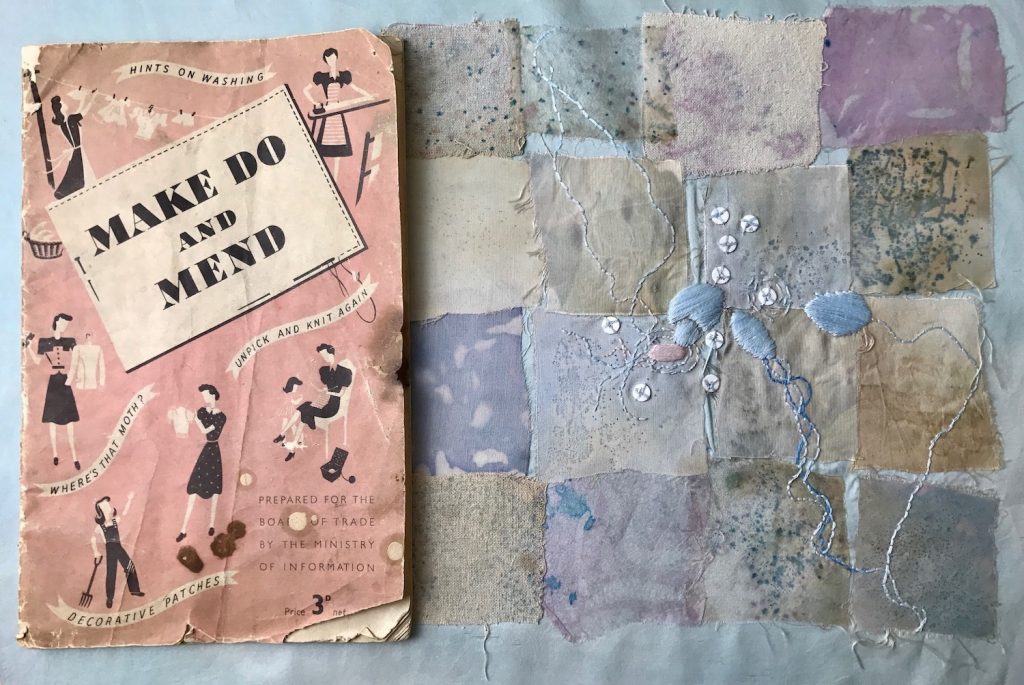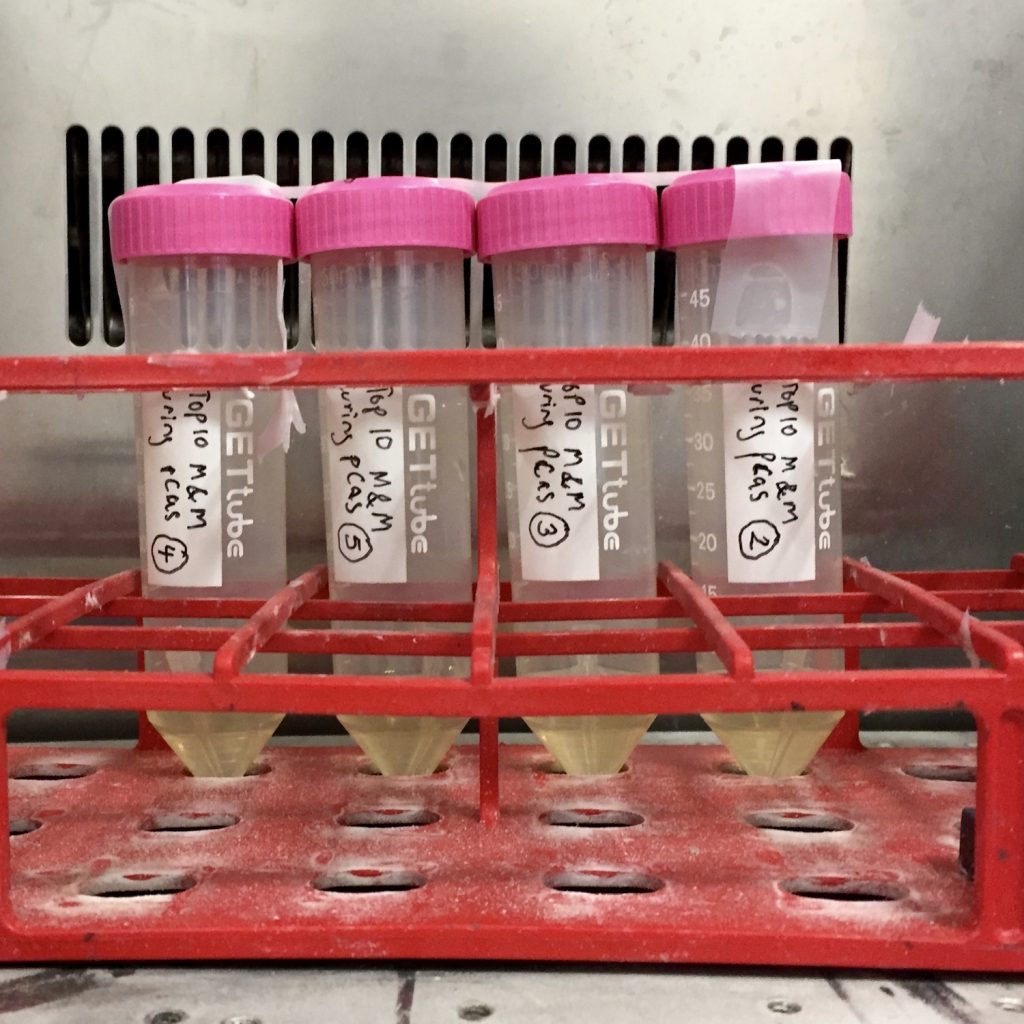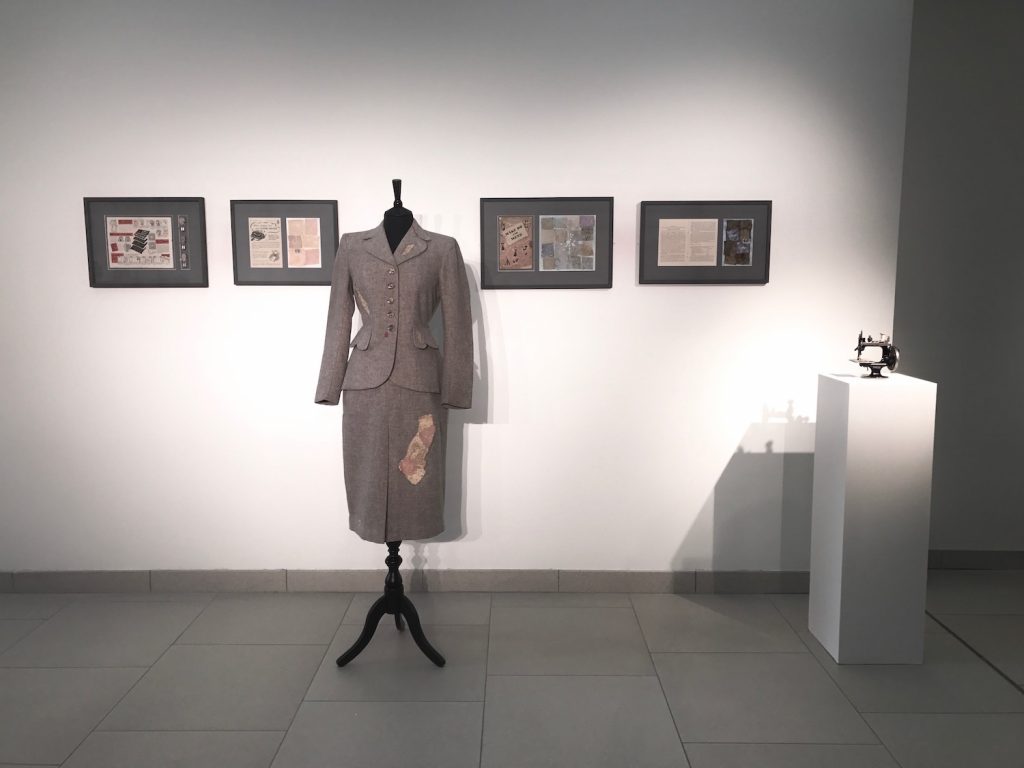 I developed the underwater robotic work "ArchaeaBot: A Post Singularity and Post Climate Change Life-form" in collaboration with the artist Alex May at LABoral and Gijon in Spain through an EMAP residency in 2018, and that has continued to be updated and has been shown all around the world, including Science Gallery Bengaluru in India and Ars Electronica Festival.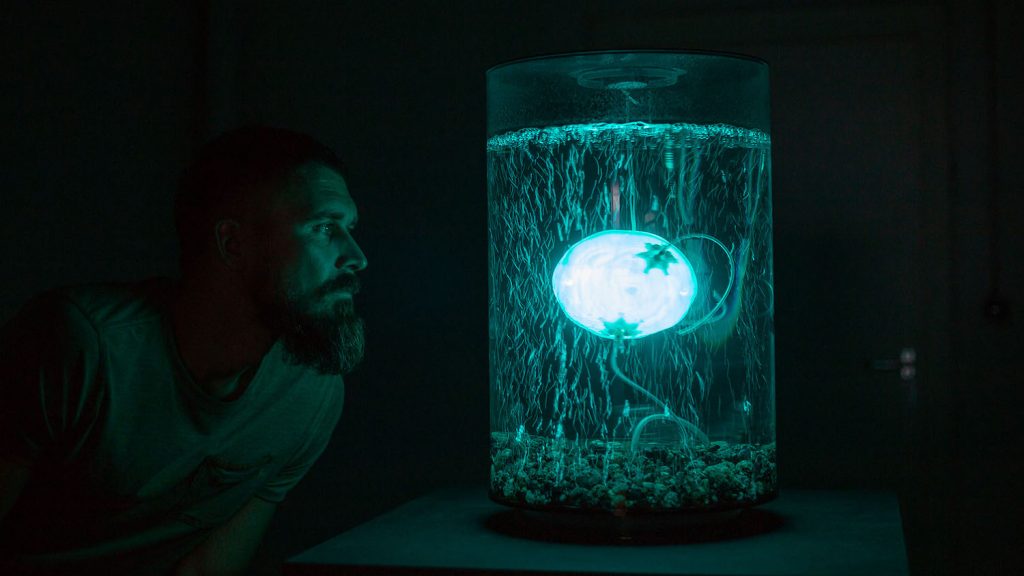 In 2019-20, also with Alex May, I developed "Cyberspecies Proximity," another robotic work, but this time a humanoid robotic exploring the ethical and societal issues of robotics in future cities. I also now work with CRISPR in plants and yeasts. This is through projects such as "Biotechnology from the Blue Flower," which explores new plant breeding techniques and their relationship to the German Romantic movement, and "Fermenting Futures," which investigates the significance of yeast biotechnology from a cultural and aesthetic perspective, and involves the production of a novel yeast that captures carbon and outputs lactic acid to make 3D printing filament.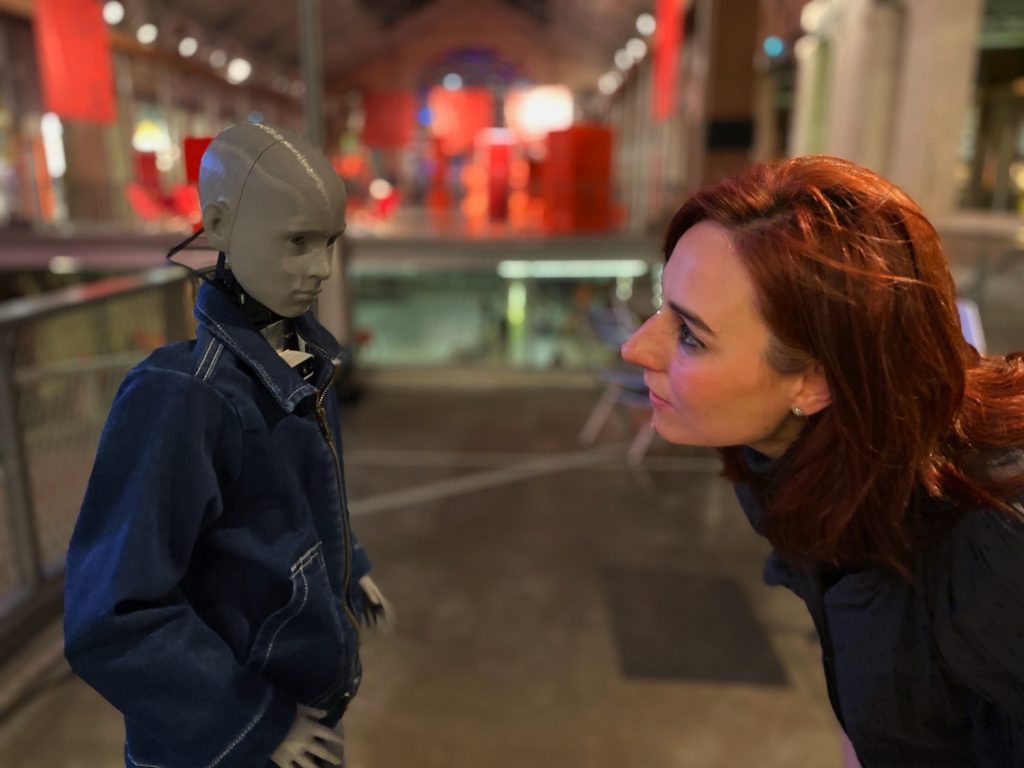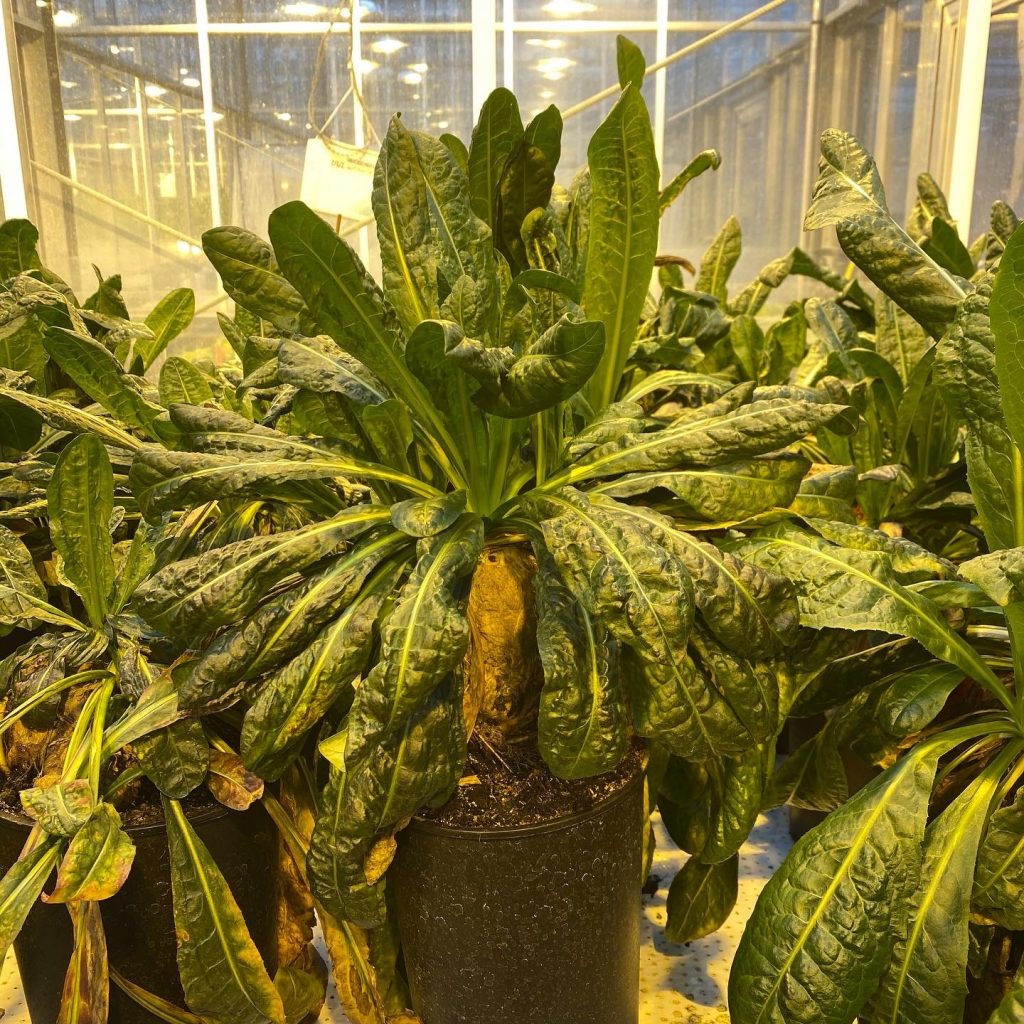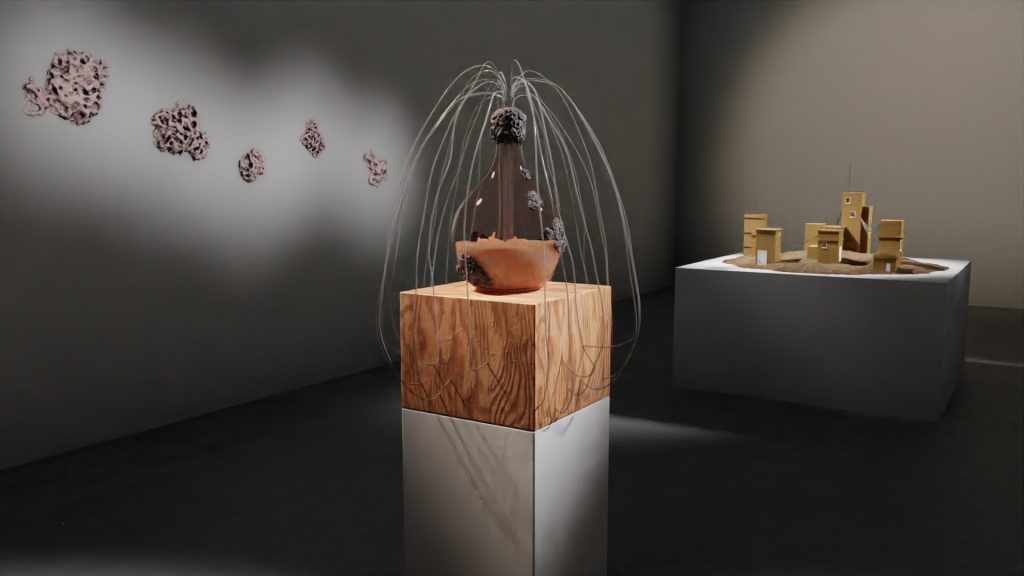 I also became artist in residence with the National Collection of Type Cultures at Public Health England, the oldest and most historic collection of pathogenic bacteria in the world, and through this produced works such as "Plague Dress," which includes actual Yersinia pestis DNA.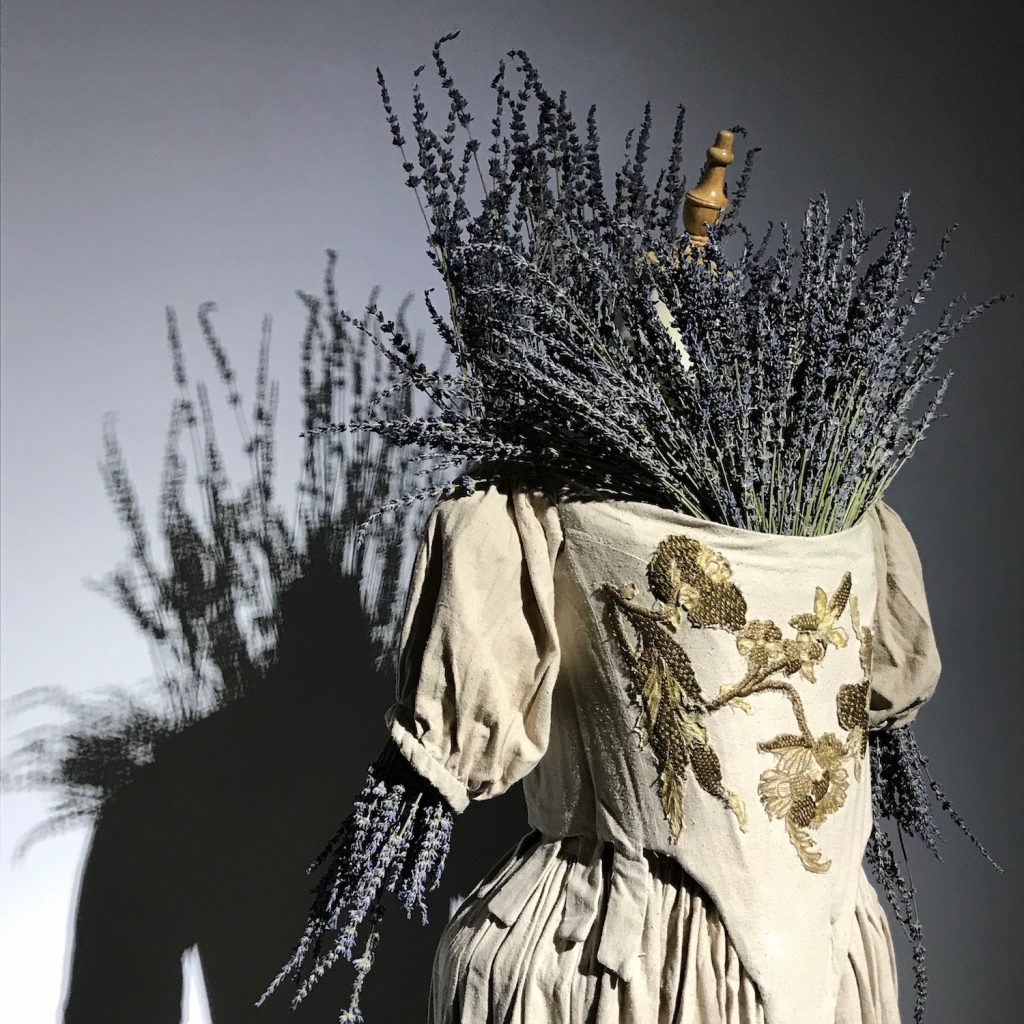 Much of your work deals directly with humanity's fragile relationship with pathogenic microbes. How has the pandemic influenced your perception of this topic?
Well it's given me more first-hand experience of what it's like to live through a pandemic but I don't think my experience was all that different from how I thought it would be. After all, films like "Contagion" got pretty amazingly close – years before this happened – and I've always been fascinated by Samuel Pepys's diaries from the time of the Great Plague of London. It was interesting to hear from my colleagues in healthcare/biomedical science about the impacts, often hidden, of the pandemic on their research fields. For example, TB diagnosis dropped off a cliff edge because the symptoms are pretty similar (fever, cough, shortness of breath, etc.) and people just couldn't get treatment. So that disease, which has been the biggest ongoing infectious killer pretty much forever, has got an even stronger foothold. Even in dentistry there was increased prescription of antibiotics because it was difficult to visit the dentist and people were given drugs without being seen/tested, so it will be interesting to see how that effects the field moving forward. Inspired by all this I developed a project around "The Collateral Effects" of the pandemic, looking at how it impacted things like antibiotic resistance, TB care, dentistry, cholera, and even how global politics during the pandemic affected drug trials, including in the UK.
You were recently commissioned to create a piece, called "Shielding", by ART/DATA/HEALTH. Can you tell me a little bit about what inspired "Shielding" and the thought process behind it?
"Shielding" explores the impact of the COVID-19 quarantine on women facing domestic abuse and the paradoxical meaning of home as shelter. During the early days of the pandemic lockdown, news stories around the world highlighted the significant upsurge in domestic violence and the need for increased support for victims of abuse from both governments and the charity sector, at a time when support was been much harder to access because of infection control measures and reduced capacity, especially in the early stages of the pandemic.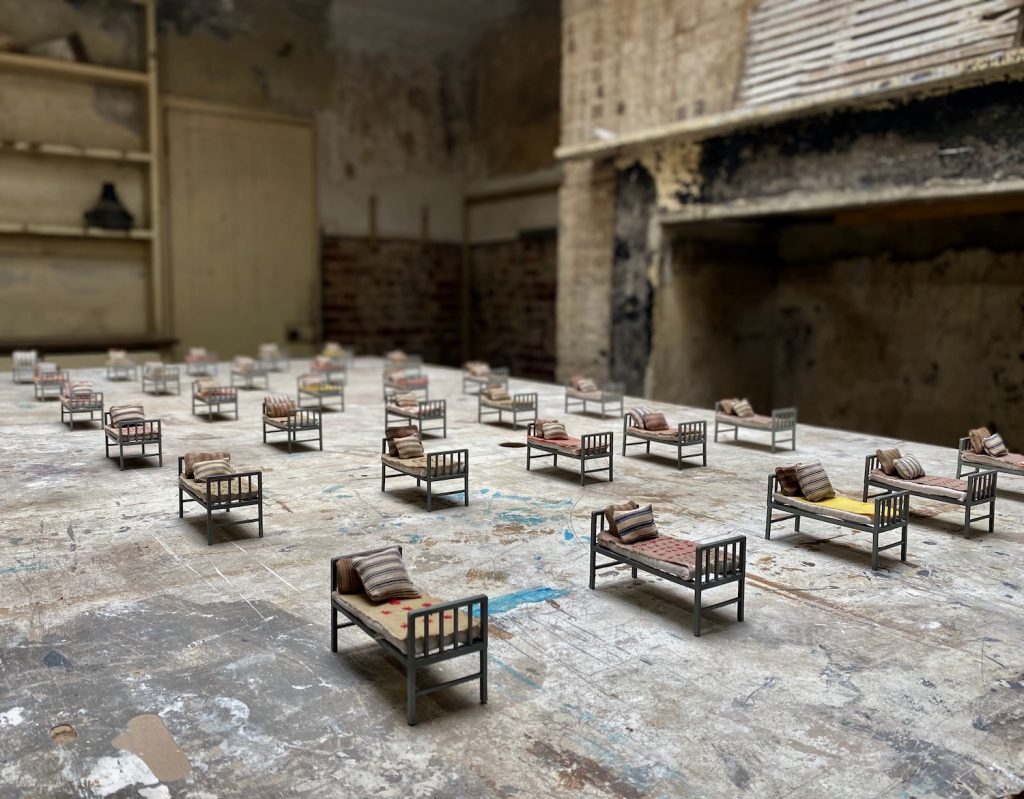 The artwork is inspired by Virginia Woolf's feminist essay "A Room of One's Own" (1929) which states that women need their own safe space in order to flourish and be creative. This notion of a safe space is set against the stark image of the hastily constructed temporary hospital ward that became such a familiar image in the news stories of 2020. Those locked down with abusive partners had no safe space in which to escape. Movement restrictions aimed to stop the spread of COVID-19 made violence in homes more frequent, more severe, and more dangerous. "Shielding" became a familiar term in the UK for protecting those vulnerable to COVID-19 who were asked to stay home (in North America the term is "sheltering in place") but the reality for those at risk of domestic abuse the home is not a place of safety and care, and helplines globally faced an increase in calls for help of up to one third.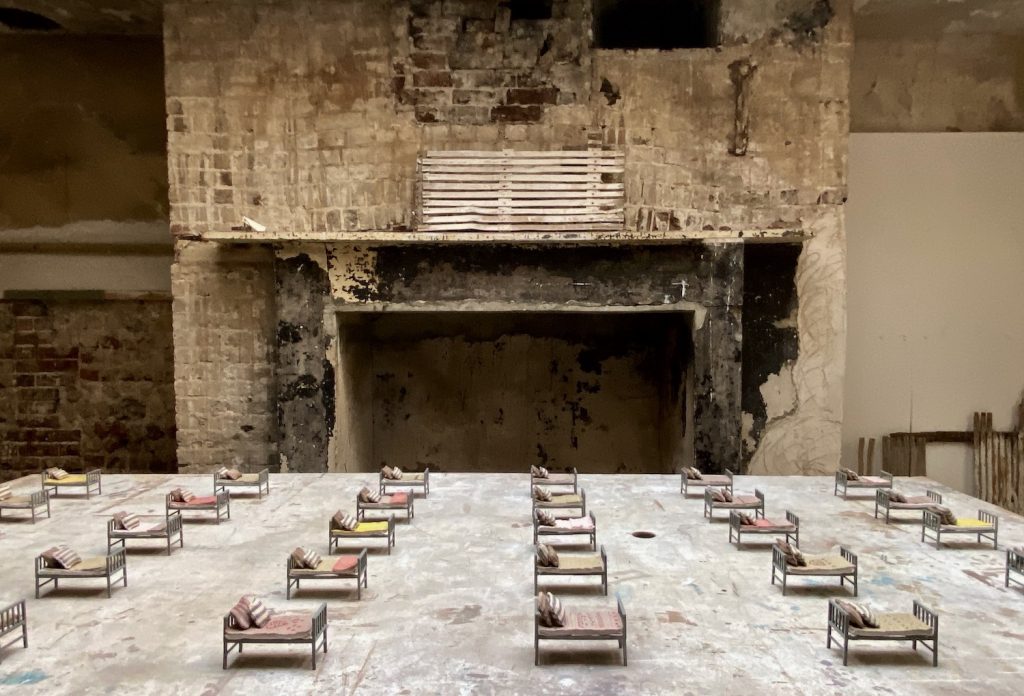 The installation combines traditional feminine crafts such as sewing, embroidery and natural dyeing with healing plants (such as turmeric), with 3D printing based on digital reconstructions of hospital beds from the first temporary hospitals in Wuhan, with their rows of identical beds, often with a bizarre jumble of colourful makeshift bedding sourced at speed from nearby factories. The doll-sized beds also reference Henrik Ibsen's play "A Doll's House" (1879) which deals with the fate of a married woman in a male dominated world.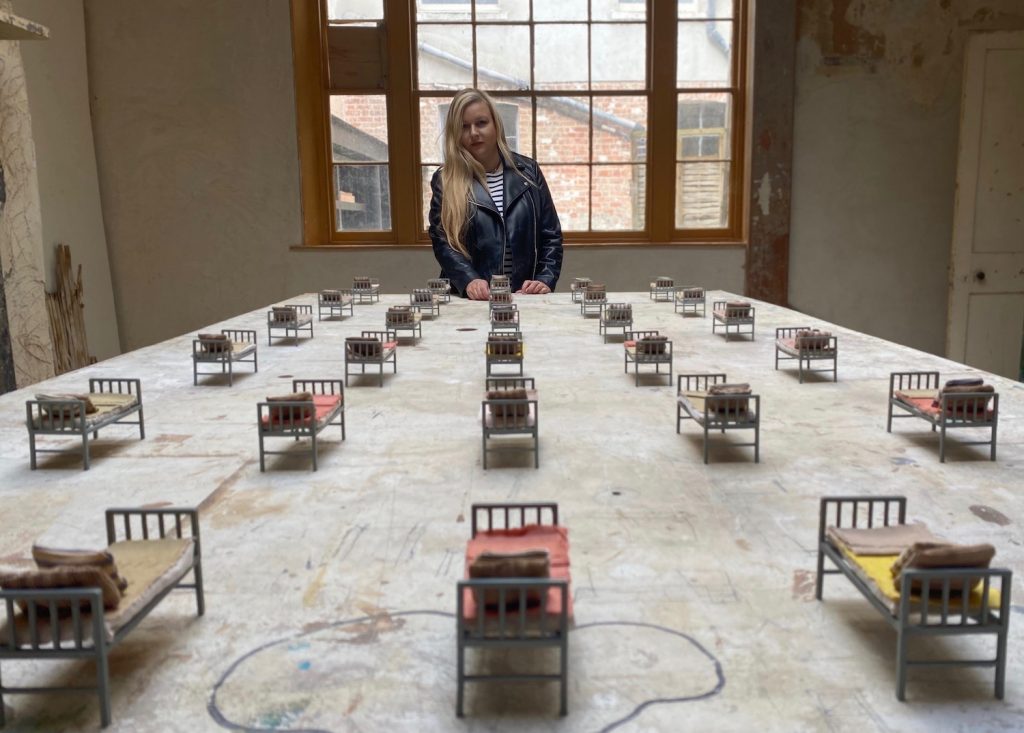 Why did you decide to include SARS-CoV-2 viral RNA in "Shielding" and how did you go about getting this material?
It is a frequent theme in my work to incorporate actual genetic material or other materials from the laboratory process in her artworks, such as in my "Plague Dress." The presence of these bio-materials, even in this safe non-infectious form, allows us to confront some of our feelings about the pandemic, whilst the artwork itself becomes an authentic secular relic of the sublime laboratory and research processes that we pin our hopes on.
"Shielding" has been impregnated with actual SARS-CoV-2 RNA (coronavirus) from a plasmid construct. This is a safe, non-infectious reagent for SARS-CoV-2 research (NIBSC 19/304), obtained from the National Institute for Biological Standards and Control, UK. SARS-CoV-2 RNA was supplied to me by researchers Dr. Ines Moura and Dr. Jane Freeman at the University of Leeds who are working with SARS-CoV-2 primers and the RNA construct in the development and use of a RT-PCR assay for SARS-CoV-2 detection in faeces. I've worked with Dr. Freeman on several previous works and I knew she was undertaking research in this area. We continue to collaborate on the "Collateral Effects" project.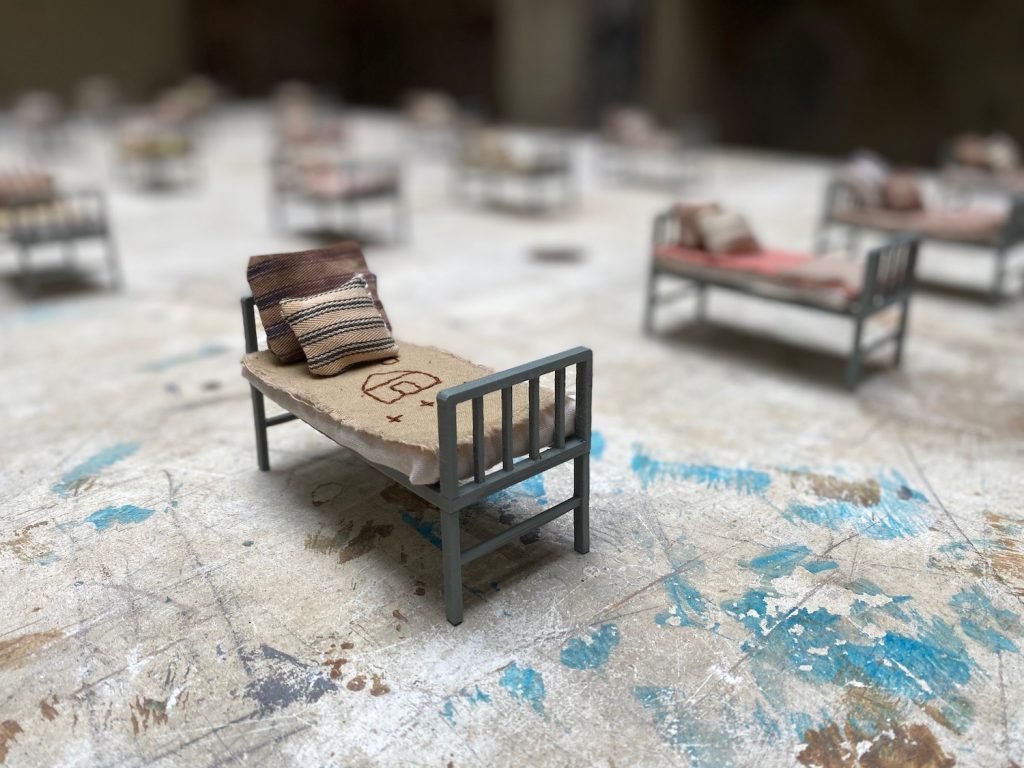 "Shielding" touches on a number of themes, including individuals' experiences of lockdown and the associated rise in domestic violence. What impact do you hope your work will have?
The aim of the work is to focus attention on the plight of victims of domestic violence at a time when everyone was asked to stay at home in order to 'stay safe'. In the future I hope it can help us remember this collateral effect of the lockdown and act as a memorial for people who suffered. I would love to have the opportunity to remake the work at a far larger scale, using metal 3D printing, and create new embroidered bedding for the beds, through workshops with people who have somehow been affected, where their stories can be shared/told.
Going forward, how do you see your work fitting in to our post-COVID world?
It's interesting you talk about 'fitting in' when I don't think that's something I've ever really tried to do.
I also fear that a truly post-COVID world is a long way off. I think it's more likely that richer countries will move on and low income countries will be left behind. After all, developed countries show little concern for many global health problems, for example tuberculosis which kills in excess of 1.2 million around the world in a 'good year'.
I guess you are alluding to the idea that maybe people might get bored with infectious diseases or else there will be an increased knowledge and interest in the field. I think those things will probably cancel each other out and we will find levels of interest will be similar. However, I think the main issue going forward is what has always been important to me, and that is to reflect on the development of future and emerging technologies and how we can learn from (forgotten stories of) the past.
One big issue is that we forget the past, despite the best efforts of conservators to help us hold on to our histories, and to this end I have been working on a project called "Unruly Objects and Biological Conservation" to deeply explore how the stories of people and objects can be kept for the future – and how bioart might be collected in the future. I've been collaborating with Professor Georgios Panagiaris (and colleagues) at the Department of Antiquities and Works of Art at the University of Western Attica in Athens, Greece for this project and creating a series of 3D sketches in diverse media (including marble, paint, plants, bacteria, and digital media) that challenge and reveal the work of the conservator, whilst also exploring how digital technologies, such as blockchain technologies, might be used to help conserve physical artworks, including complex bioart works.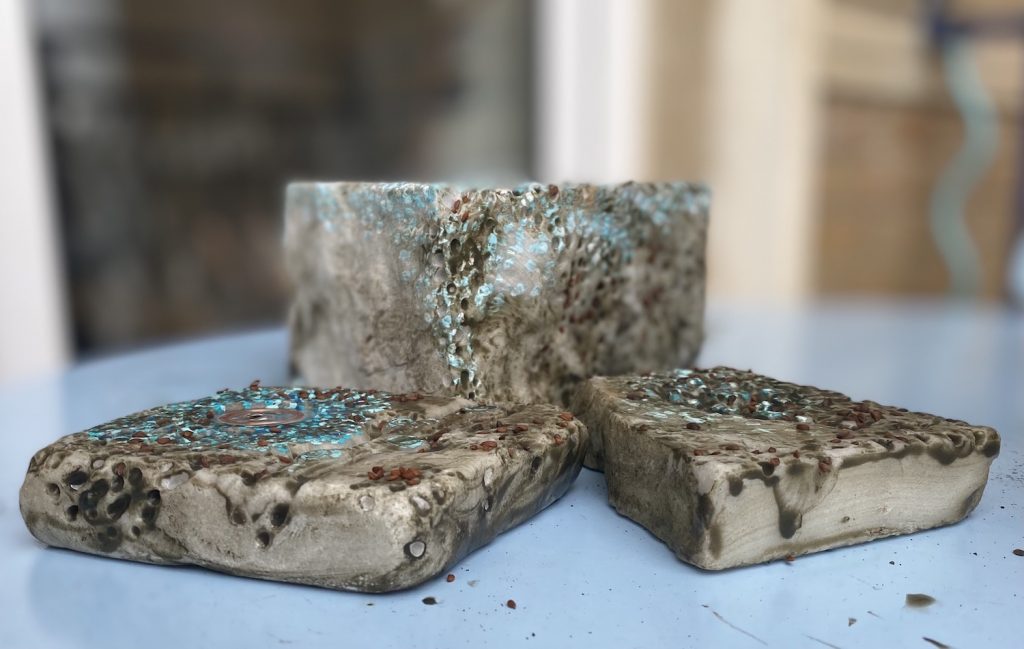 For more by Anna Dumitriu, visit her website, Twitter, Facebook, LinkedIn or Instagram.