At this point in time, I'm no stranger to loneliness. I've had many conversations with the plant on my desk, and some days I swear it answers back. Perhaps the last subject I thought to explore in an attempt to assuage the ache of isolation is the empty, black void of outer space. But I'm certainly glad I reconsidered.
Other Skies: An Exoplanetary Festival was an online event that ran on March 20, 2021 via New Art City's 3D virtual exhibition space. Organized by CLOT Magazine, SciArt Initiative, and Multiverse, Other Skies was a fascinating amalgamation of multi-media installations, musical performances, and educational lectures. The festival investigated what exoplanets might look like, how we communicate with and through space, and what it means for our place in the universe if we are not alone out here.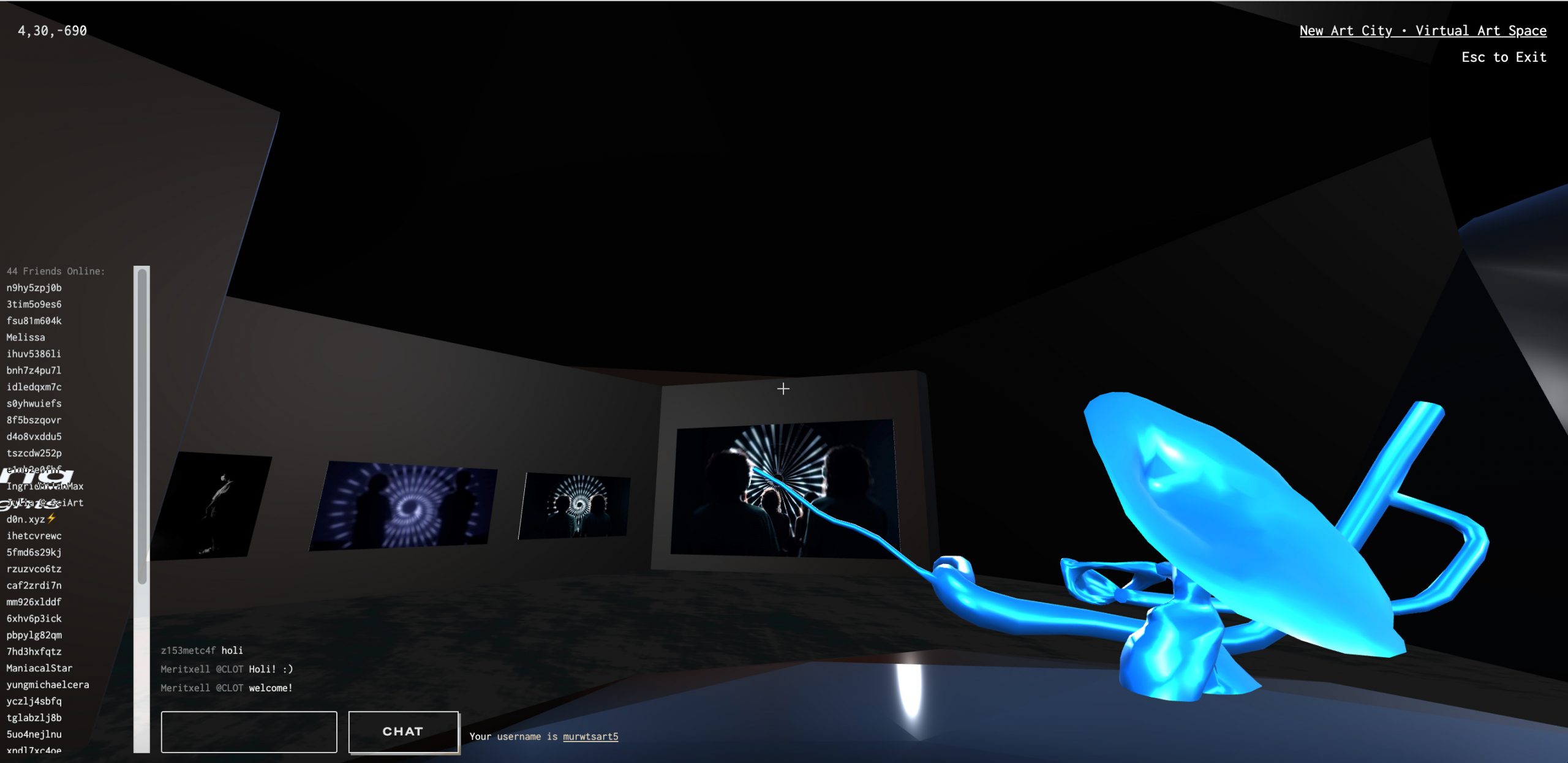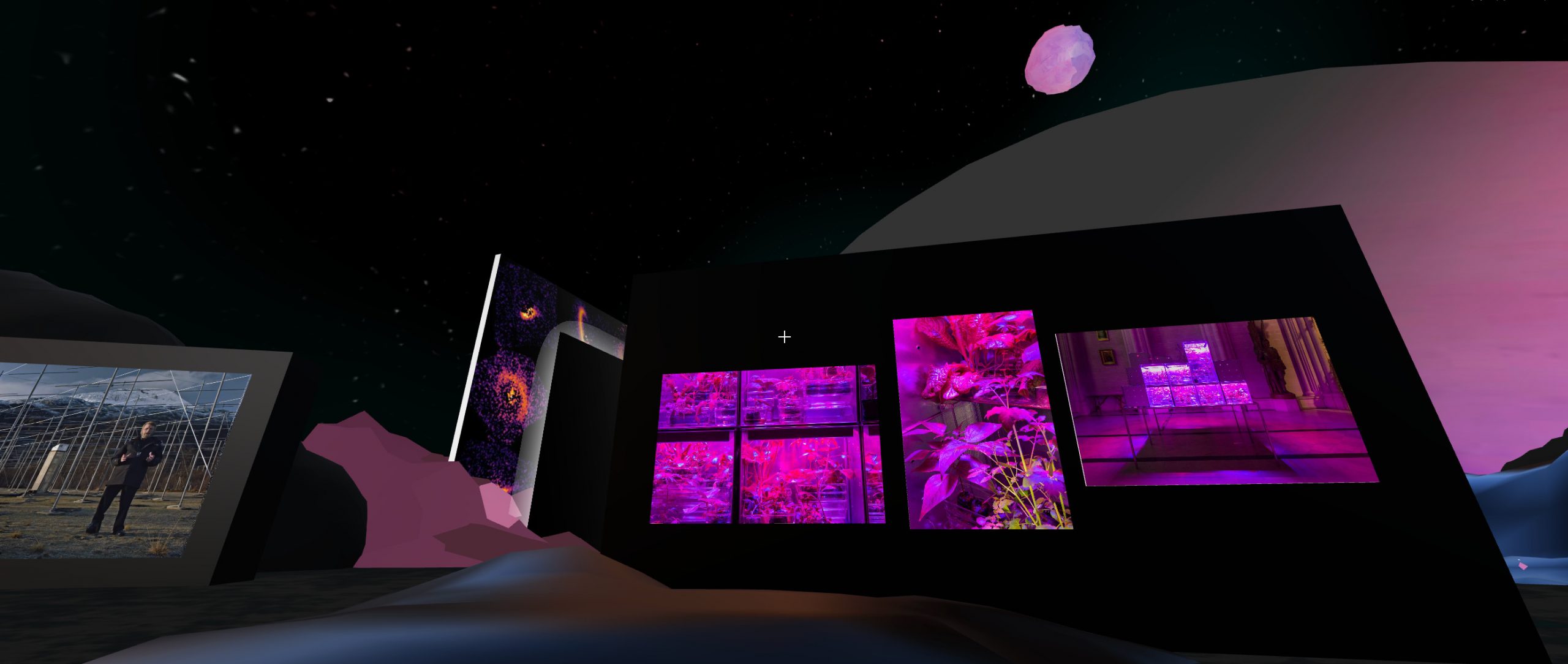 And, likely, we're not, according to Dr. Michael Albrow, a scientist emeritus at Fermilab and the festival's keynote speaker. Massive on the virtual livestream screen, Dr. Albrow used artist renderings of exoplanets to show the enormous variety and quantity of planets outside our galaxy and the high probability that life exists beyond Earth.
"Our planet is a lonely speck in the great enveloping cosmic dark," he said cheerfully, quoting Carl Sagan to emphasize how relatively puny we are.
I was particularly small that day. I was a little pink diamond with randomly-generated username "murwtsart5," floating amongst my fellow bizarrely-named, diamond-shaped patrons. We glided through the art exhibition, Exoplanetary Dust, which was impressively configured to portray the surface of an imaginary exoplanet. Artists' works were embedded in gleaming black rock formations and housed in towering domes. Like the main livestream screen, pieces with audio began playing as I approached, and captions appeared as my mouse hovered over them.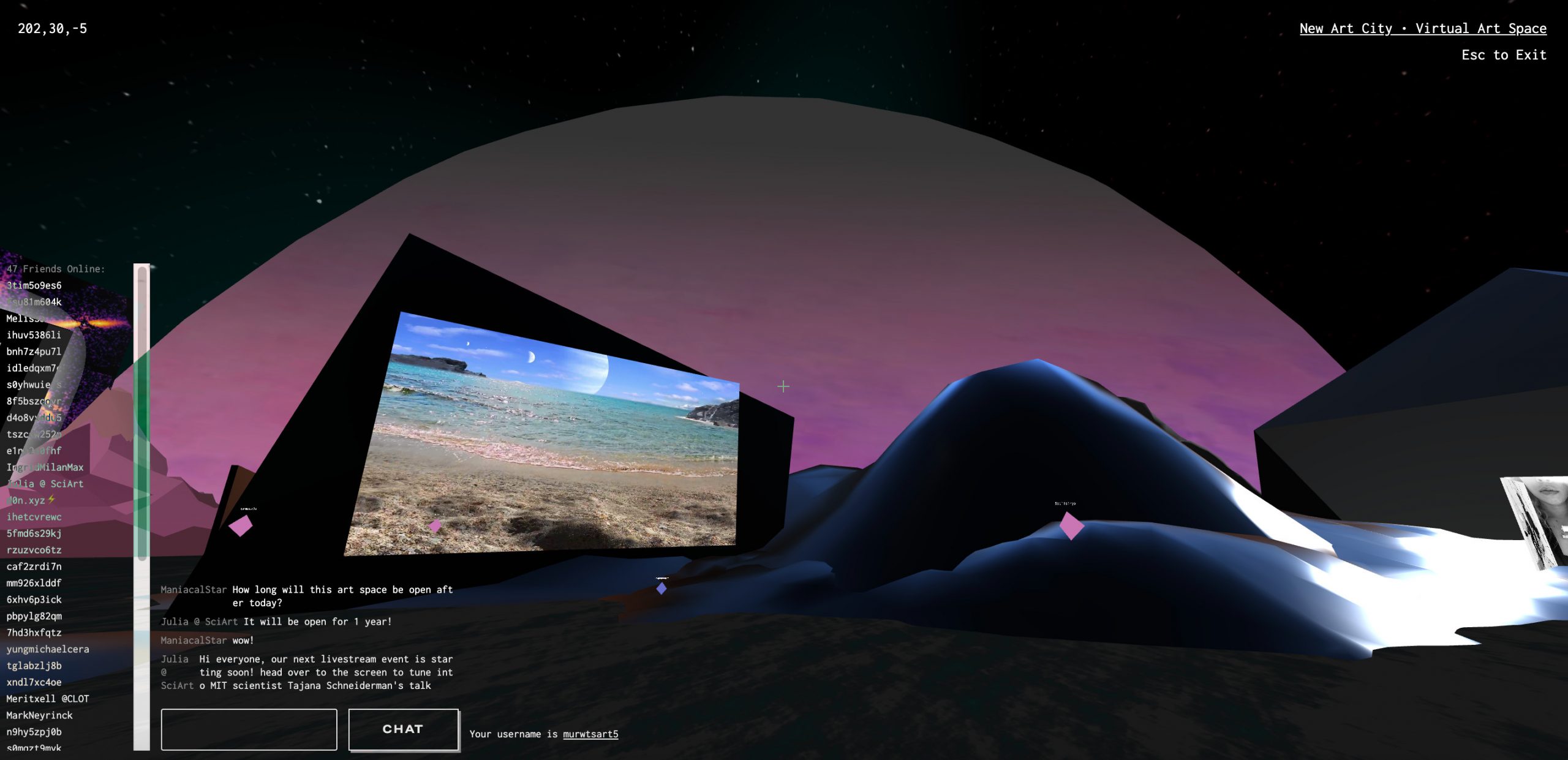 The exhibition included pieces like Vessels (2021), a series of nine images by Nicole L'Huillier and Daniela Catrileo, who collaborated with an artificial intelligence program to combine visuals of technological instruments for space exploration with organic elements. The images were accompanied by a sonic poem, the opening of which sounded like a voice calling, "Hello? Hello?". Forgetting for a moment that I was the silent murwtsart5, I opened my mouth to respond.
Another intriguing installation was Ani Liu's Olfactory Time Capsule for Earthly Memories (2017), a small capsule with three chambers. It contained, the caption said, "the unique scent of three memories of Earth: that of a loved one, that of a home, and that of a natural resource." In her artist talk, Liu emphasized her interest in imagining what human connection will look like as the possibility increases of humans taking trips through outer space.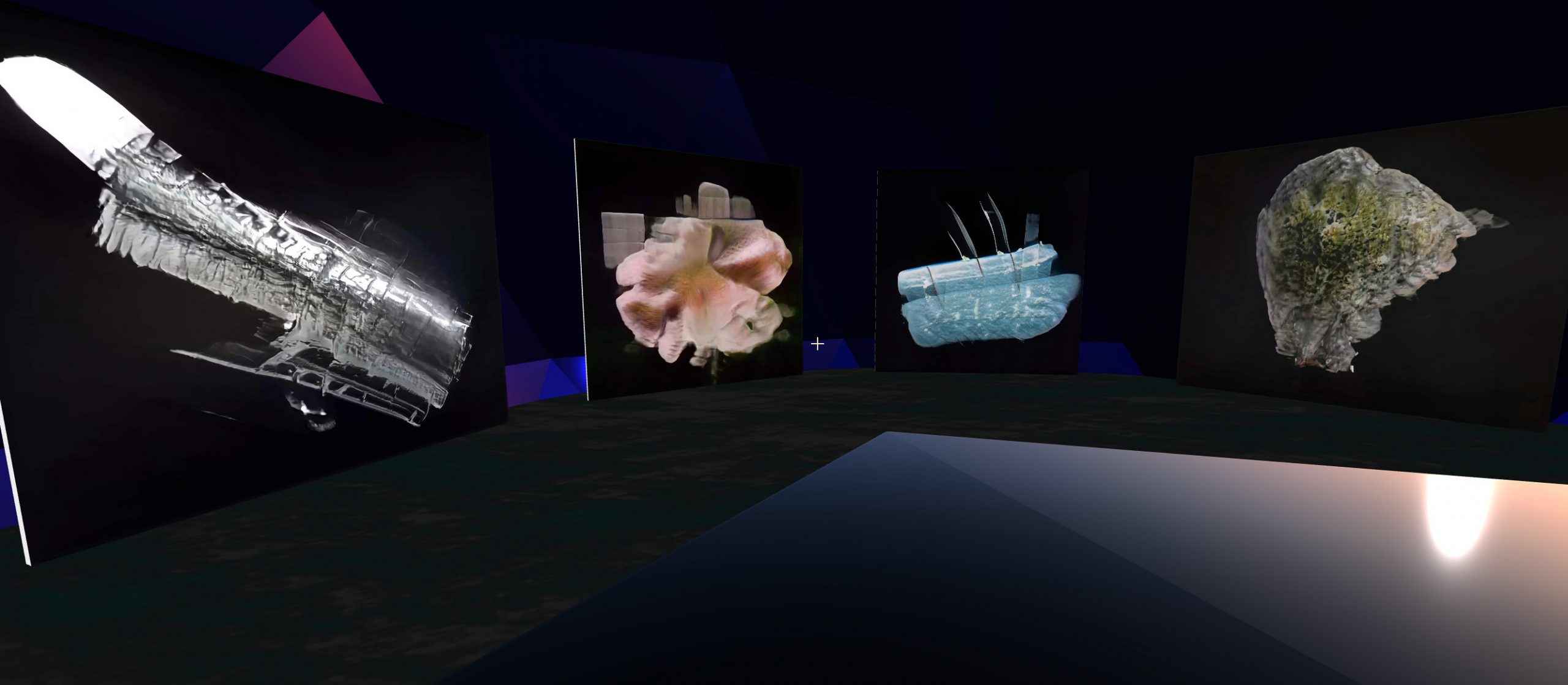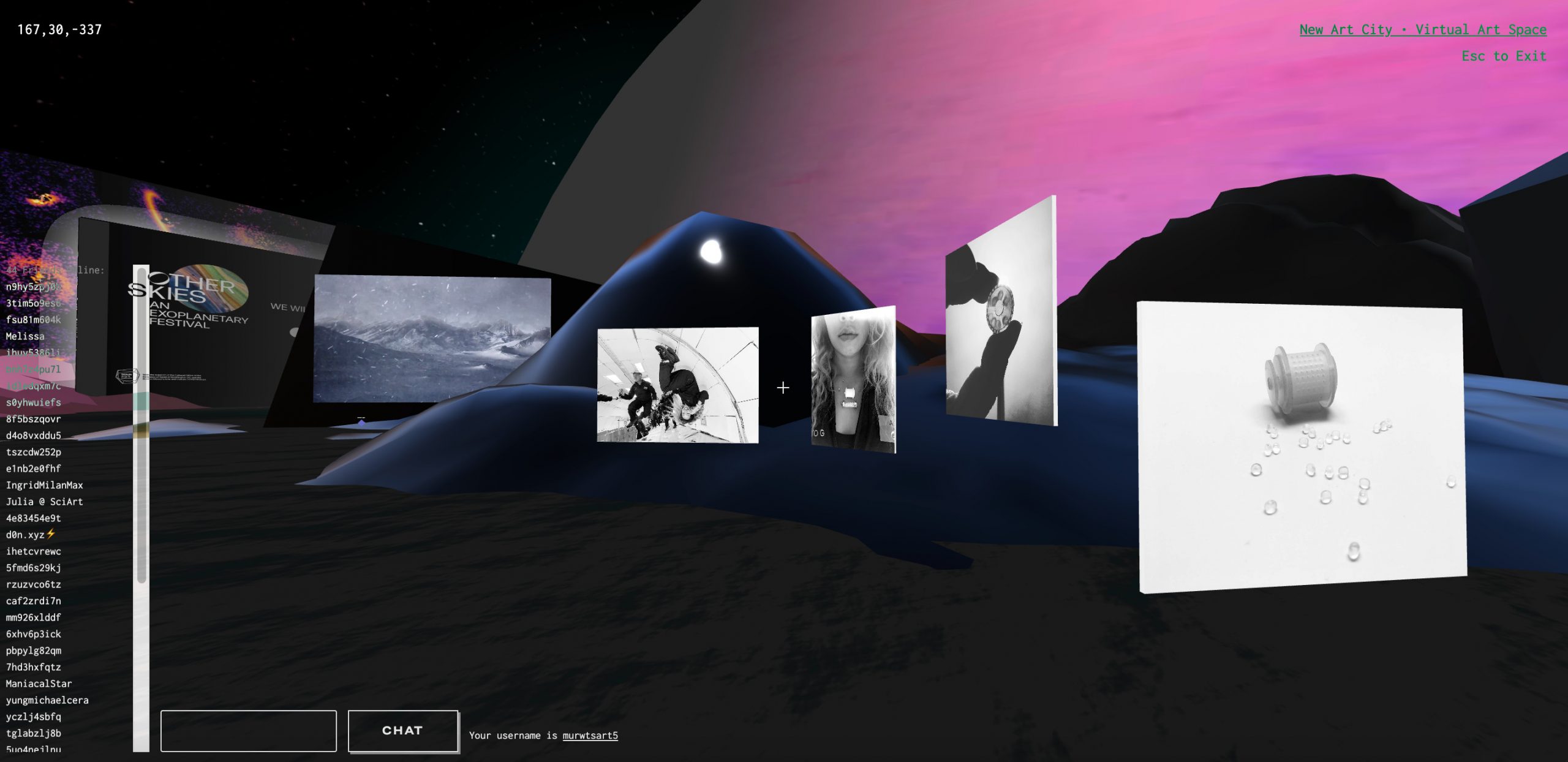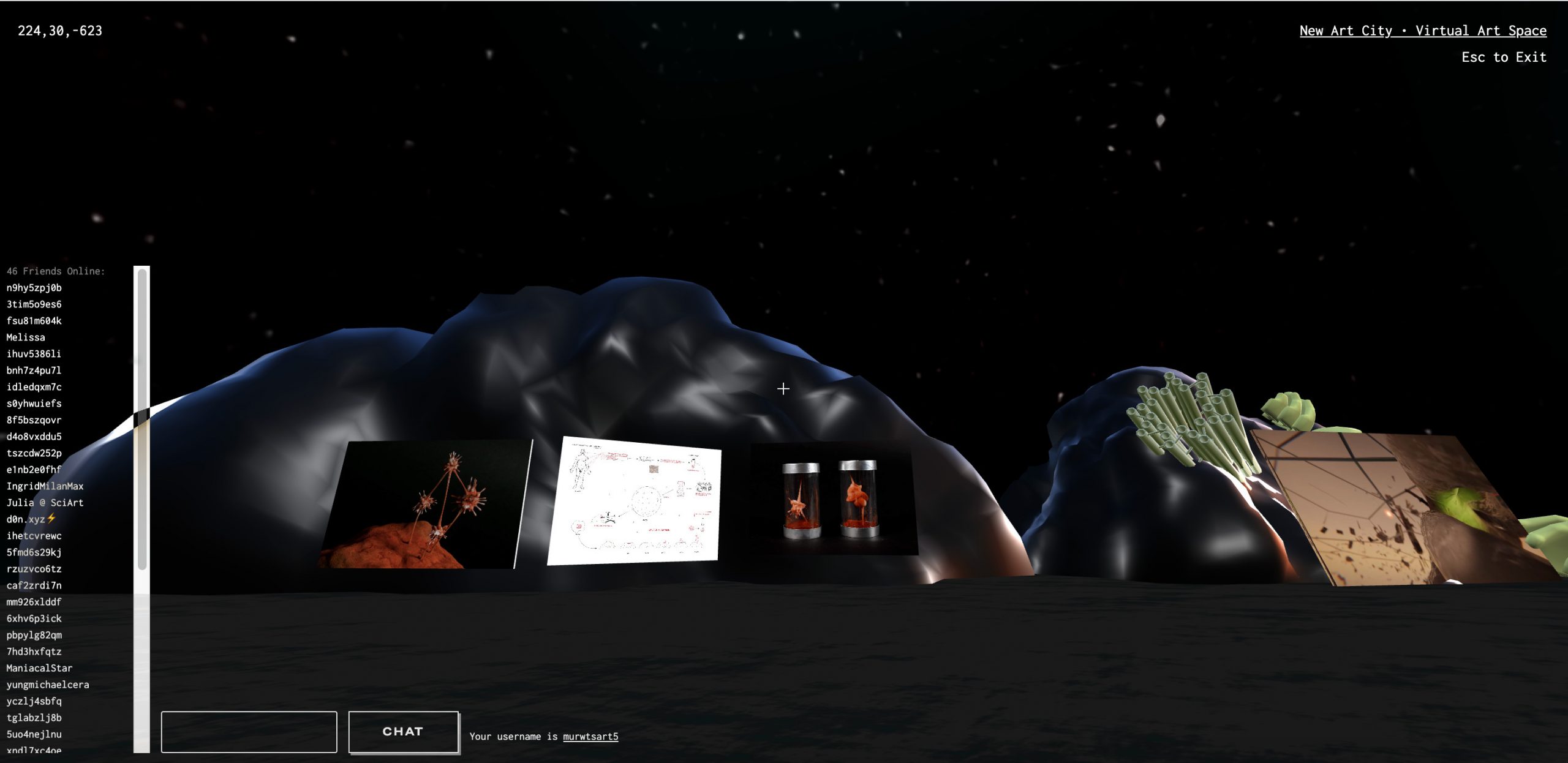 While Liu considered how smell can link us to Earth from space, composer David Ibbett explored how sound can connect us to space from Earth. The Multiverse Concert Series, performed via the main livestream screen, included songs from Ibbett's debut album, Octave of Light. It boasted one of the most niche concepts for an album I'd ever heard of—put simply, celebrating exoplanets by translating light waves into sound waves.
"If we can't see these planets, maybe we can hear them," Ibbett said excitedly as he unpacked this process. Powerful telescopes pick up fluctuations in a star's light as an exoplanet passes across it. A spectrograph splits those images into wavelengths, which we can analyze to determine which wavelengths the planet's atmosphere has absorbed. That tells us the atmosphere's chemical composition and, therefore, which exoplanets' atmospheres contain compounds that might hint at life, like water vapour.
Ibbett lengthened these light waves to lower their high frequency and "translate" them into sound waves the human ear can detect. The result was haunting pieces of music that let us listen to the possibility of extraterrestrial life.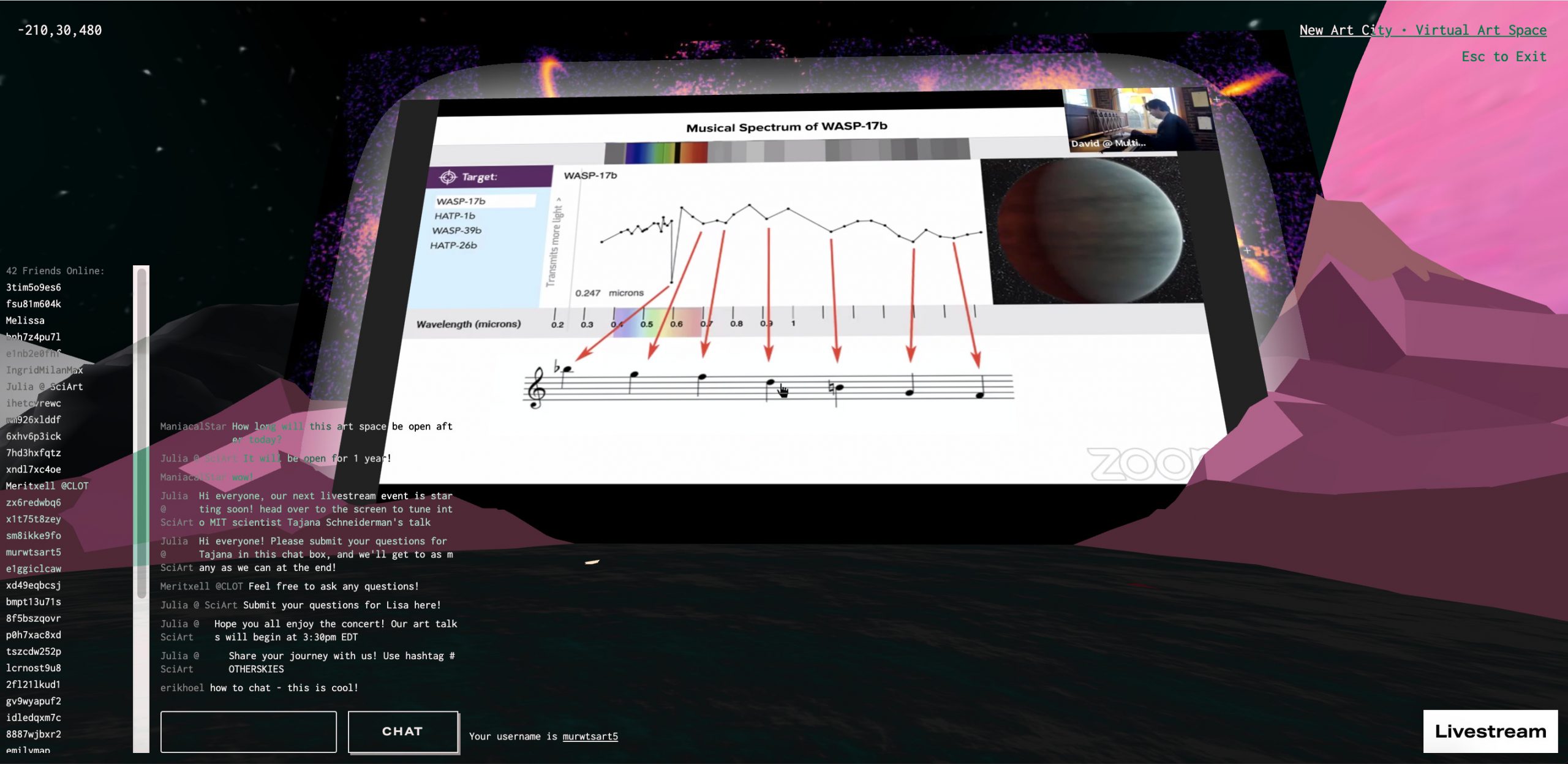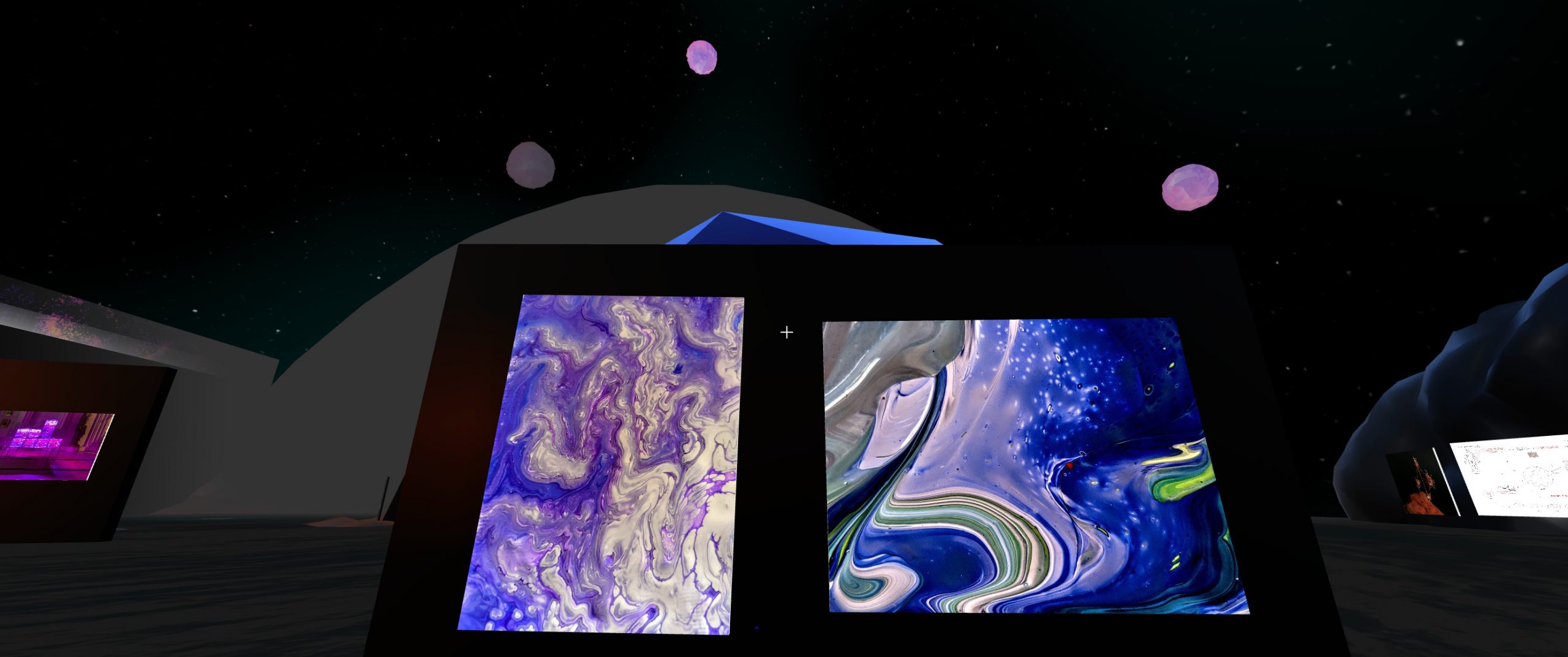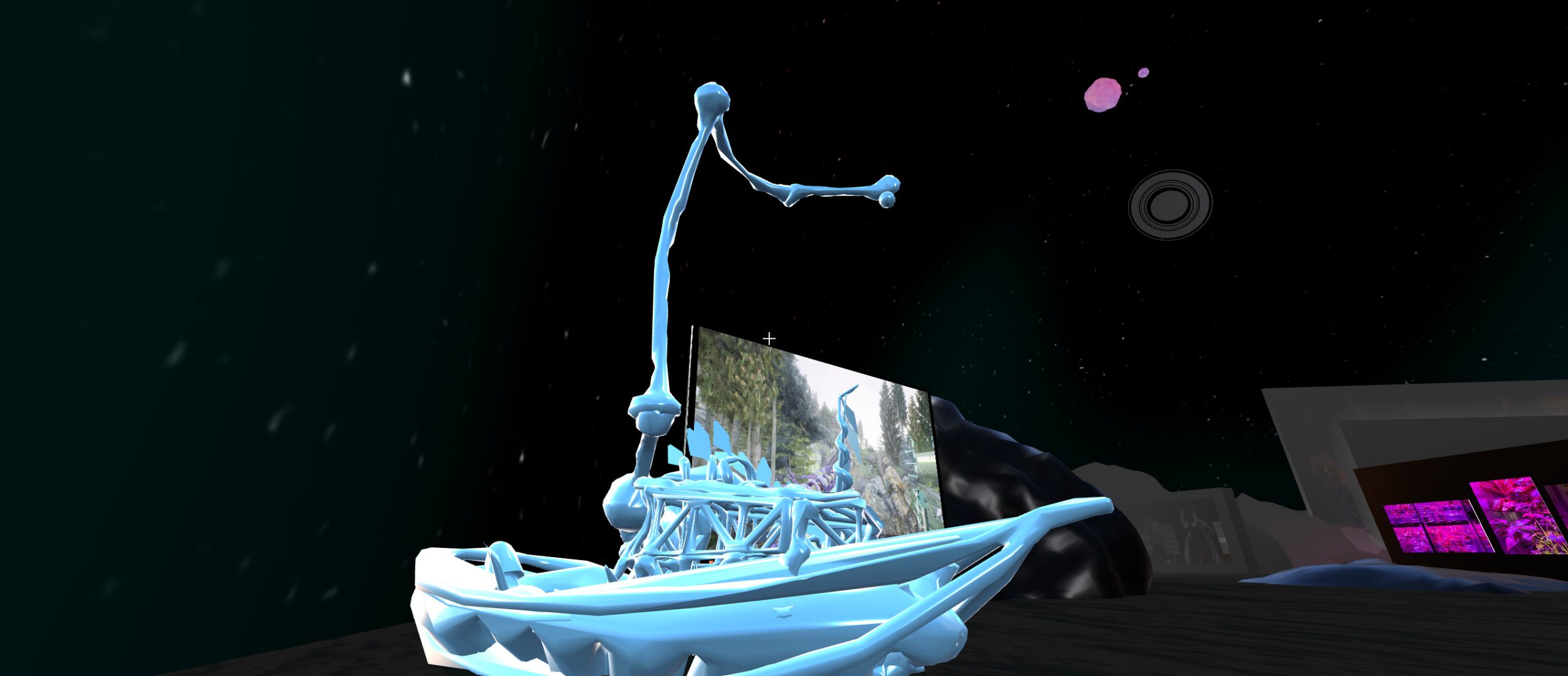 So, where does that possibility leave us? Potentially, in a spiral of existential peril, but luckily Dr. Lisa Messeri, an anthropologist of science and technology, has done a lot of overwhelming thinking for us. In her lecture, she discussed how finding another Earth-like planet may "facilitate finally knowing our place in the universe." When we face our minuteness and fragility, especially in conjunction with the possibility of extraterrestrial life, Dr. Messeri said there springs "a desire to feel connected, especially in the face of the cosmic expanse."
And I did feel connected, somehow, there amongst my diamond-shaped crew, with our upbeat chat stream scrolling by in the corner. Surrounded by creative articulations of our human instinct to explore, contact, and connect, I enjoyed my day-long vacation from loneliness. And when it strikes again, I'll definitely have interesting topics of conversation for my plant.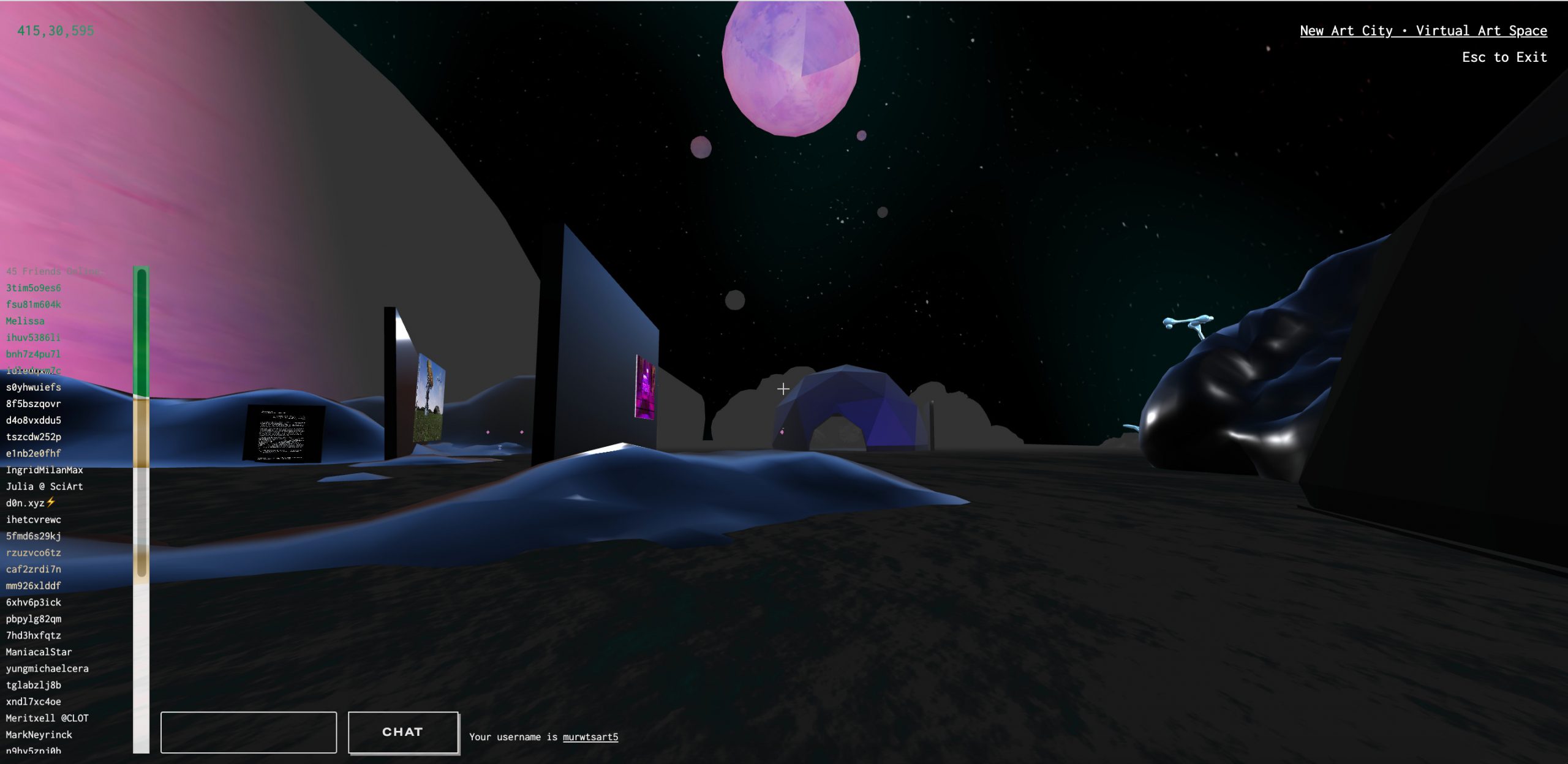 The Exoplanetary Dust virtual exhibition is now open to the public.