Name: Thomas Feuerstein
Which came first in your life, the science or the art?
Art and science ultimately ask the same questions: What is life? What determines our life socially, biologically, technically, and economically? However, the methods of art and science differ significantly in their implementation. Art is allowed to bring threads of different disciplines together in a transdisciplinary way and to explore stories speculatively, beyond the present, into a possible future. I am interested in making social, digital, and biological processes speak on various levels in my work. Artwork operates not only metaphorically on the symbolic level of signs, images, and significations, but also on a material and molecular level. This connects art to life and reality.
For example, I have been cultivating green algae for over twenty years. These organisms bind carbon dioxide and produce ingredients that form the basis for food, energy, or material resources. For me, these small plant cells act as a narrative knot that connects to the big problems of the present – climate, food, scarcity of resources. From these cultures, I have harvested pigments for paintings, sugars for fruit fly cultures, an alcoholic drink, and ingredients for a new molecule. A team of microbiologists is developing a bioplastic from this for a new project.
I call the sculptures in which I grow the algae MANNA MACHINES. They operate under real conditions during the exhibition, but also function as a symbolic and aesthetic apparatus, absorbing strands of reality in order to concentrate them artistically and socially.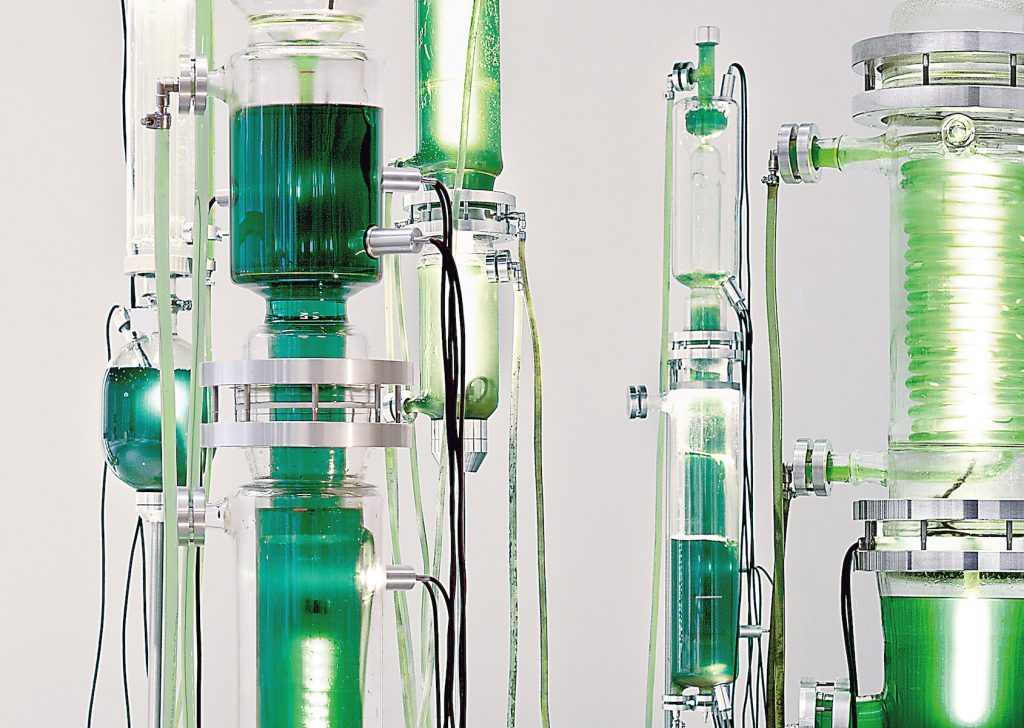 Which sciences relate to your art practice?
Since the early 1990s, my main interest has been information and biotechnologies, which are still the central themes today. They transform and determine our lives, and as they change, our lives change. For me, it was, and is, obvious to reflect on the technologies that fundamentally influence us and our coexistence, and make them part of my work. This makes art contemporary for me and actualises the question of the human condition.
In this sense, my artistic vision is to create a landscape or factory of images, language, objects, and molecular processes in which the distinctions between art and science, nature and culture, past and future are intertwined. In other words, an atmosphere in which scenarios and processes from biology, chemistry, cybernetics, and science fiction overlap.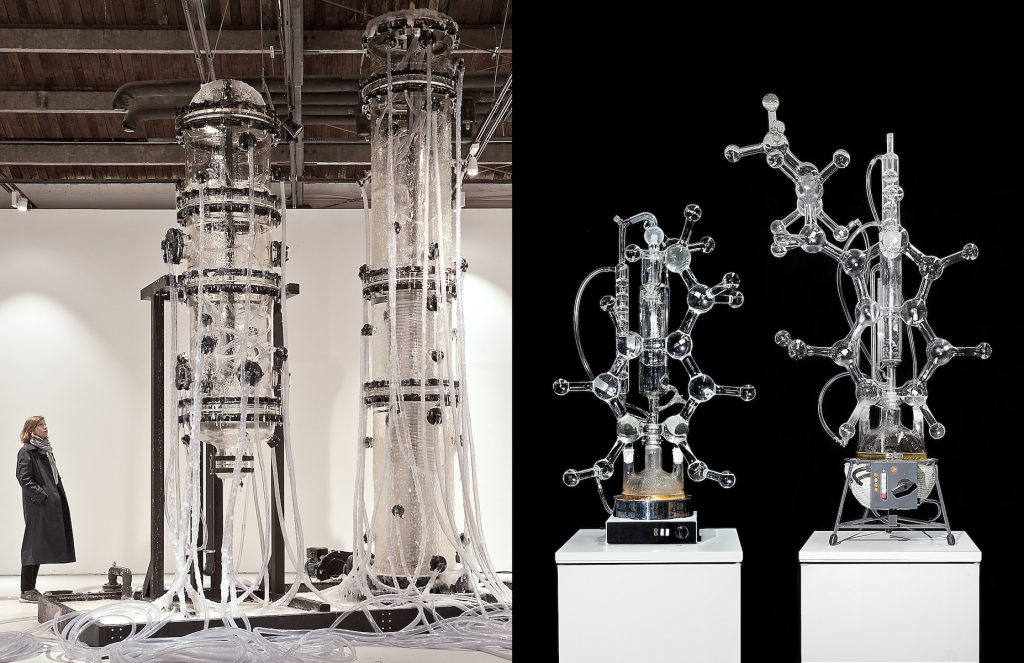 What materials do you use to create your artworks?
All, I would not exclude any material or element. I often build sculptures and installations which produce materials for other works. In the sculpture FUTUR II, for example, algae are hydrothermally carbonized and pressed into crayons, which I use to create charcoal drawings.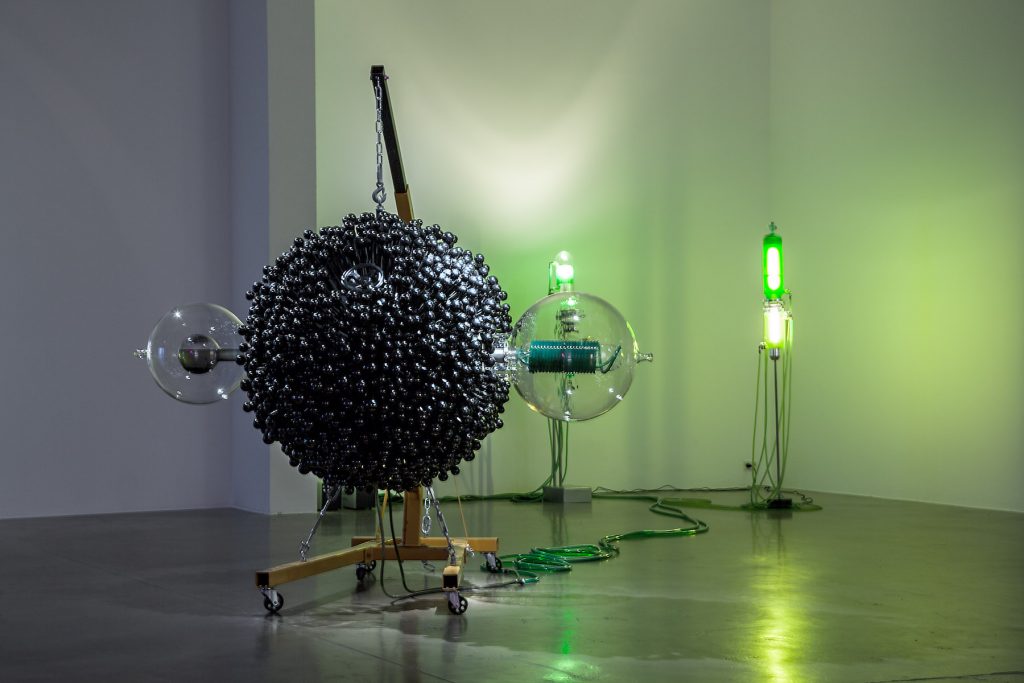 I am fascinated by organic materials which produce images, sculptures, and objects in the process of growing, especially bacteria, fungi, and myxomycetes, but also human cells.
The installation PANCREAS decomposed the cellulose of books or paper into glucose, which was used to cultivate human brain cells in a glass reactor.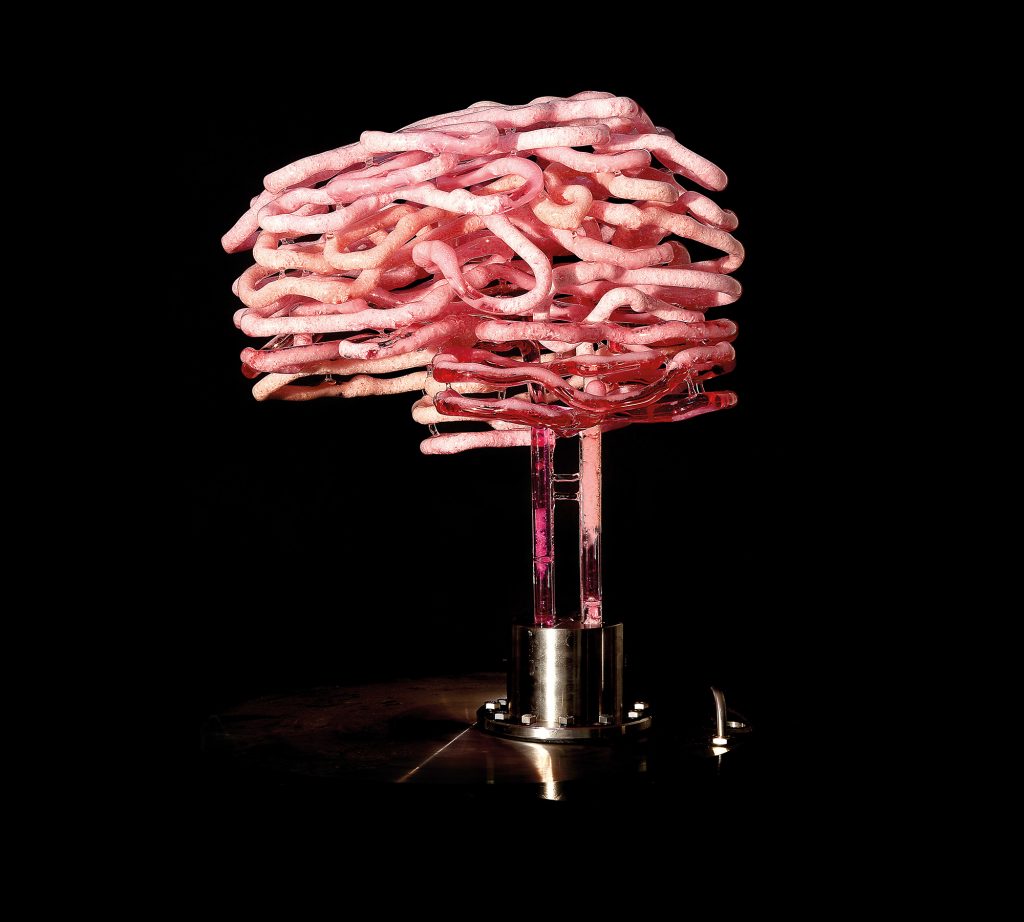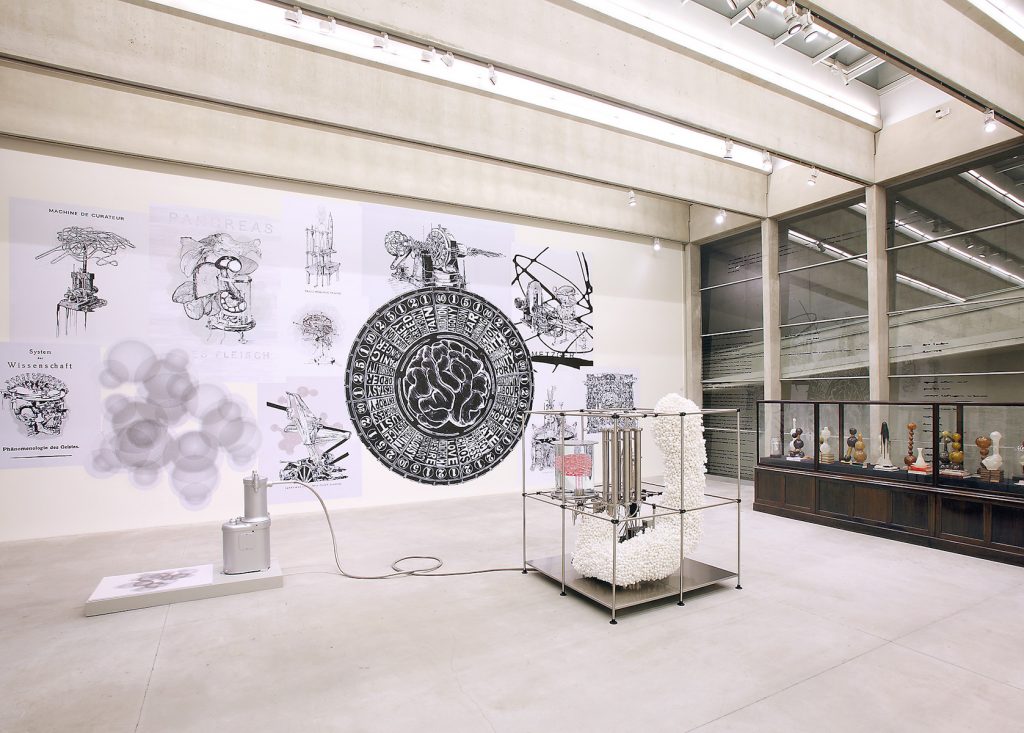 For another installation, PROMETHEUS DELIVERED, human liver cells were fed with nutrients from chemolithoautotrophic, or stone-eating, bacteria. This allowed the sculpture to grow, and in so doing, turned inorganic stone into organic flesh.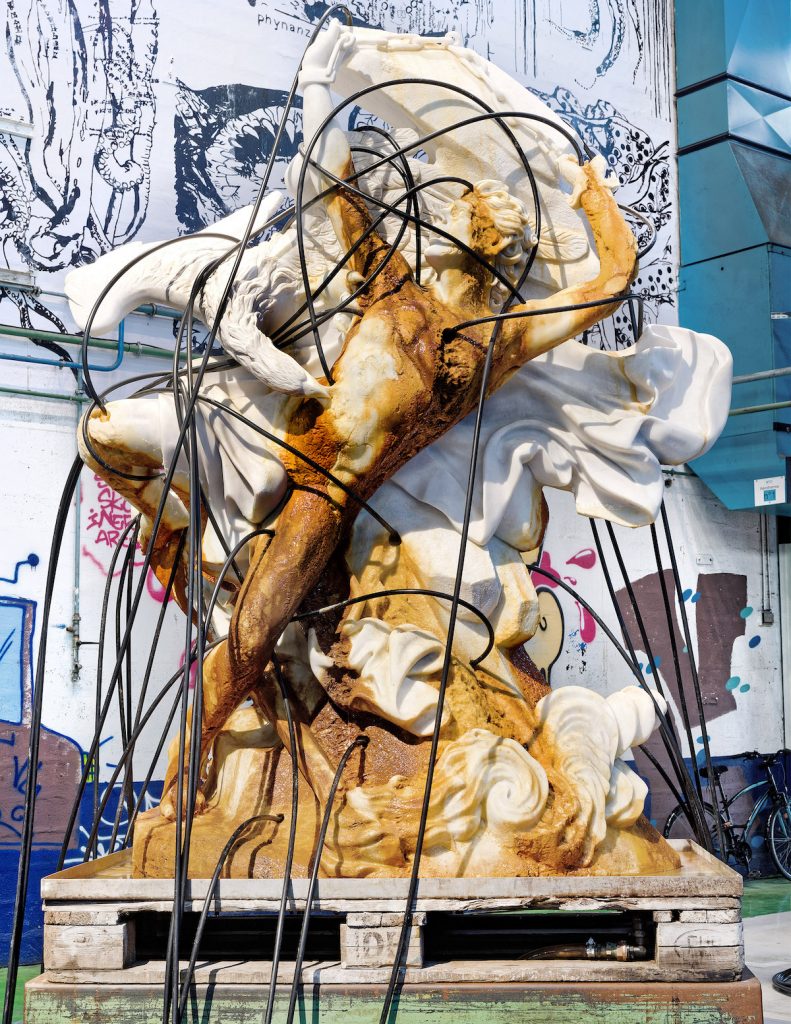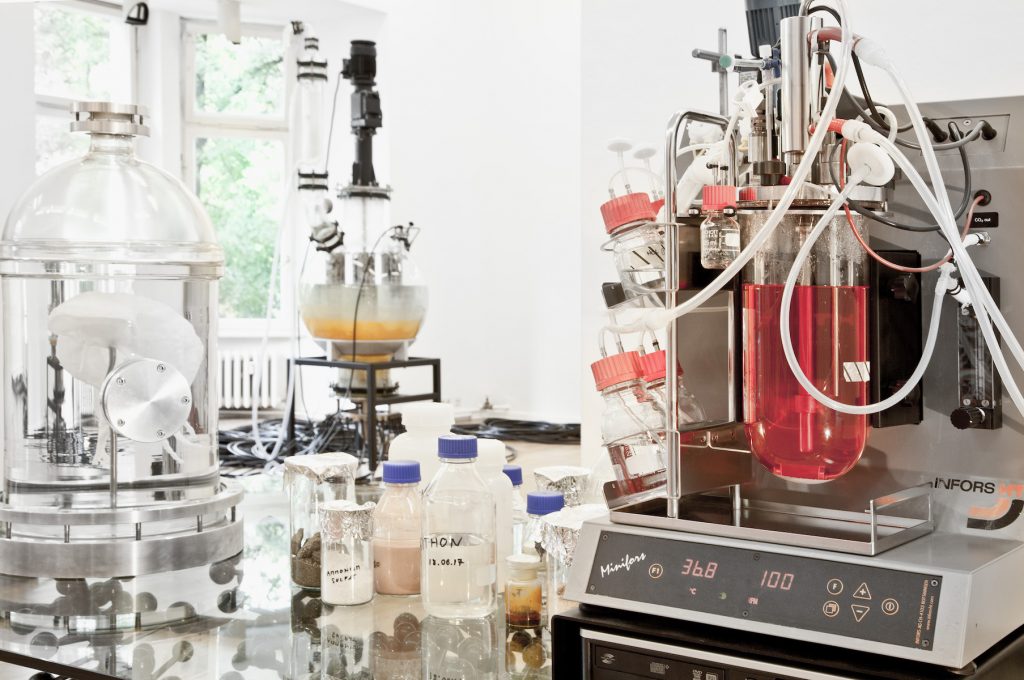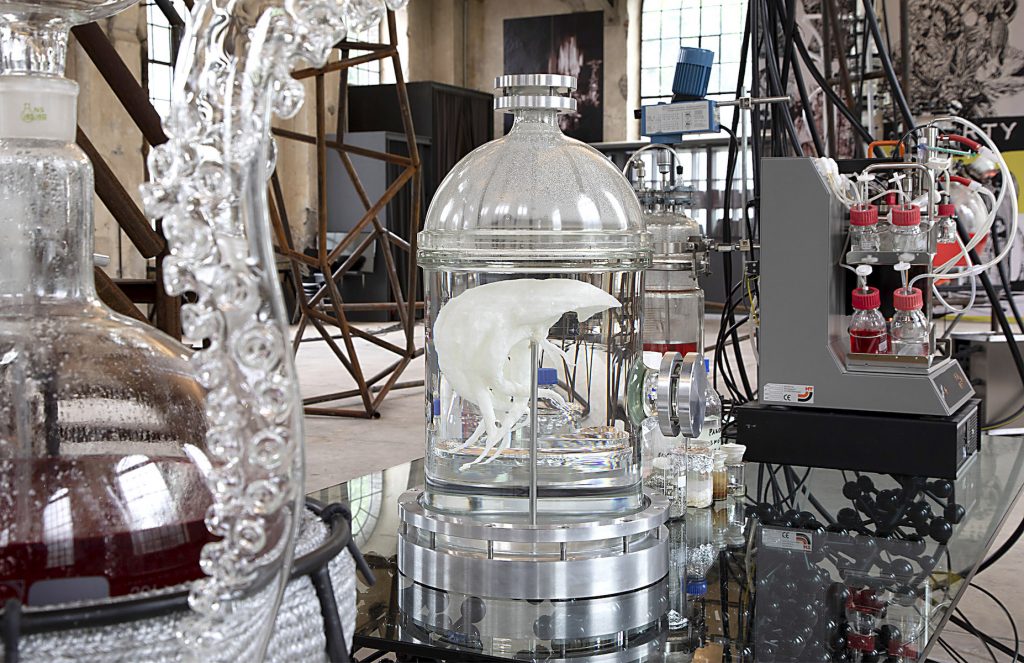 Artwork/Exhibition you are most proud of:
I am always pleased when my work functions aesthetically and technically. I am most pleased when a work acquires a kind of self-determination, acts like a living individual, and begins to communicate with other works in the exhibition and with the visitors.
In addition, there are early works that at the time were not appreciated in art discourse and are better understood today. For example, the installation Proustmaschine, which in 1994 already used an artificial neural network to generate an infinite novel from press news. Or Onko-Shirt, where in 1998 I worked with biologists to grow my own skin cells for parchment and leather.
Which scientists and/or artists inspire and/or have influenced you?
There are many of them and new ones are constantly being added. They are artists and scientists from ancient times until today. In the 20th century, especially, conceptual artists like Robert Smithson or scientists like Lynn Margulis and Erwin Schrödinger.
"SciArt" is an emerging term related to combining art and science. How would you define it?
Art has always been a form of knowledge and has used technology. The separation of science and technology is a phenomenon of the 18th century to keep noble art away from the dirt and misery of the industrial revolution. Art was supposed to "save" metaphysics, and keep it from physics, chemistry, biology, real life, and social miseries. Art for me is not about compensating for reality, but instead has the function and aesthetic power to perform realities. For me there is no need for the term SciArt, because athomaccording to my definition, art in the original sense of ars and téchne already includes science as an integral part.
For more by Thomas Feuerstein, visit his website and Instagram.