Portuguese fibre artist Vanessa Barragão creates stunning underwater seascape tapestries that carry a message about the environment. Armed with latch and crochet hooks, discarded yarn scraps, and visions of the sea, she handmakes immense pieces that often center around coral reefs. Now, her environmental artwork has stolen the spotlight around the world.
We last spoke with Barragão in early 2019. Since then, she has been busy crafting more tapestries and moving her studio to her hometown, the root of her artistic and environmental passions.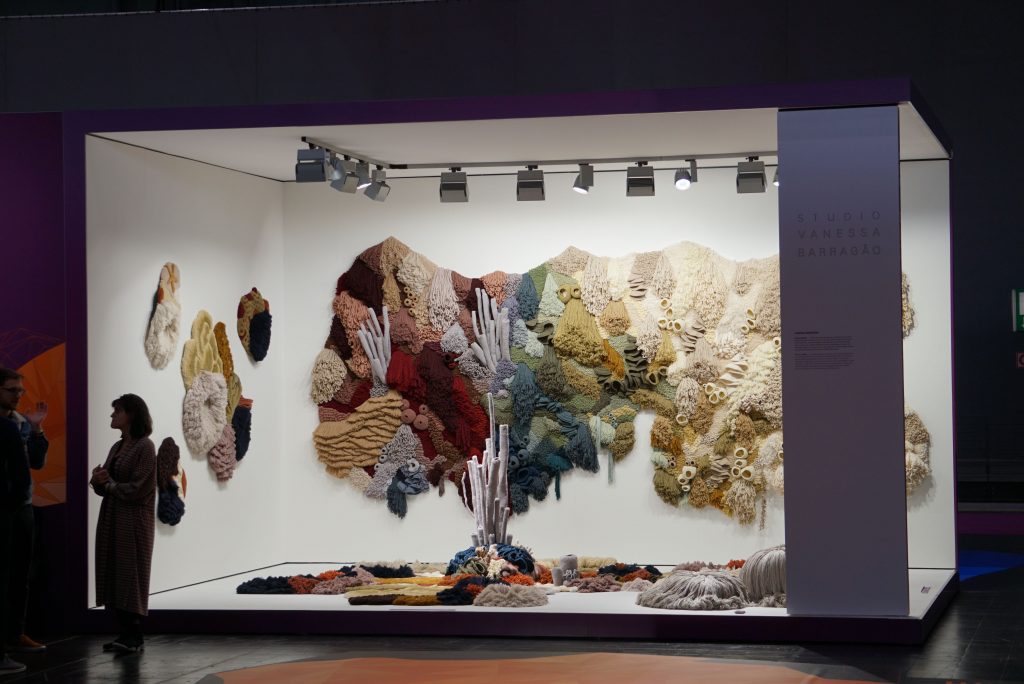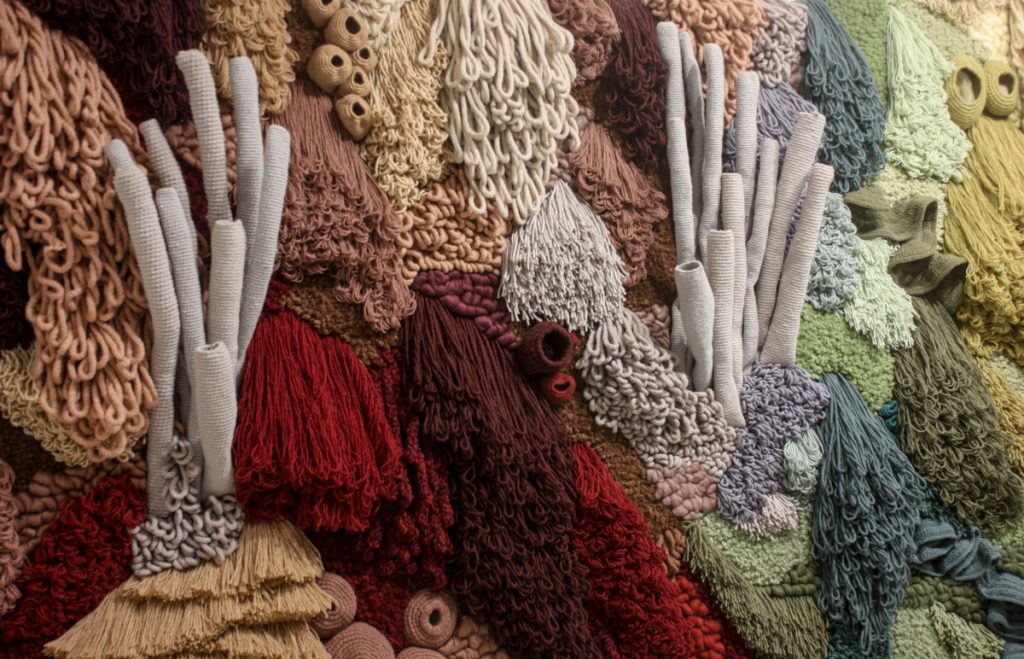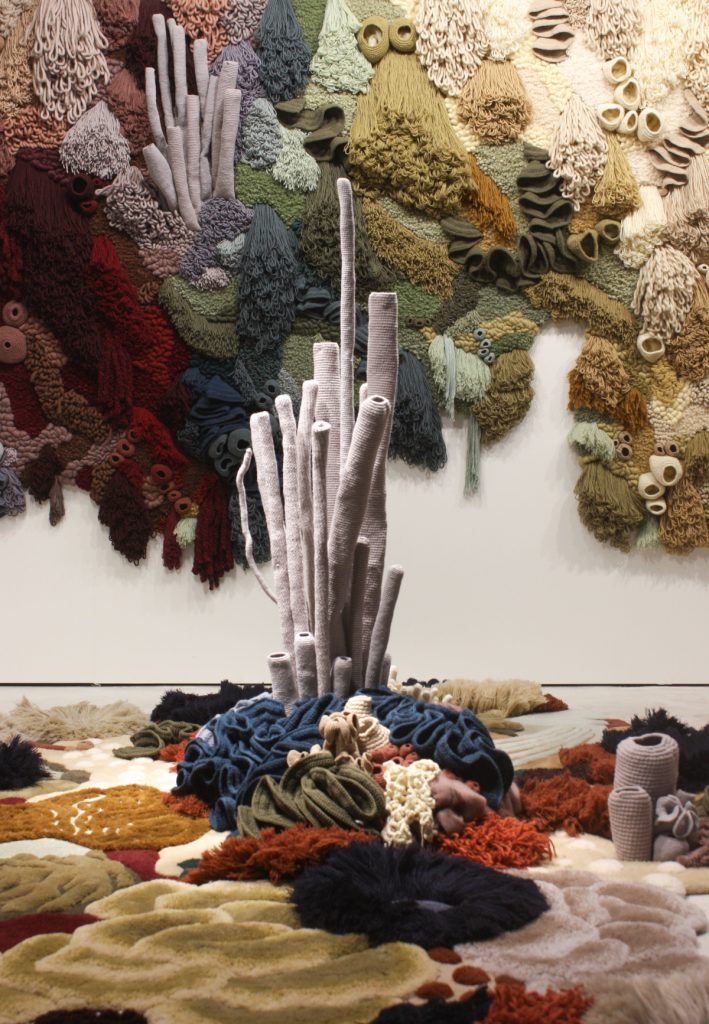 Barragão's love of fibre art was passed down to her at a young age. "I started learning this with my grandmothers when I was a kid," she recalls. "They taught me how to crochet, and this was the first technique I learned."
Her fascination with the sea also began in childhood. Growing up in the coastal city of Albufeira, Portugal, she spent much of her time splashing in the water and playing on the sandy shore. Barragão also remembers traveling with her parents to the Caribbean Sea, where she first encountered coral reefs. She was struck by their impressive beauty. However, on subsequent trips back, she noticed the reefs' declining colour and biodiversity. Those memories of the sea and the fragile life it supports lingered in her mind.   
Her passions for both art and the sea traveled with her to university, where she studied fashion design and crafted clothing collections inspired by the water. There, she also learned more techniques to make her own textiles and clothes. However, early in her career, she grasped the unsustainable nature of the textile industry.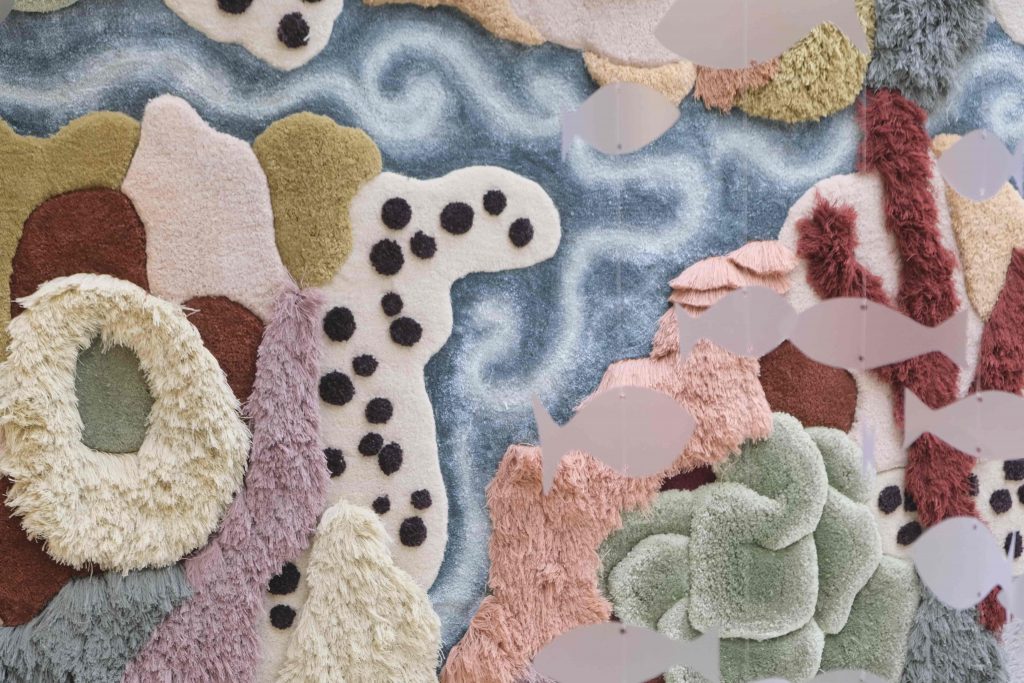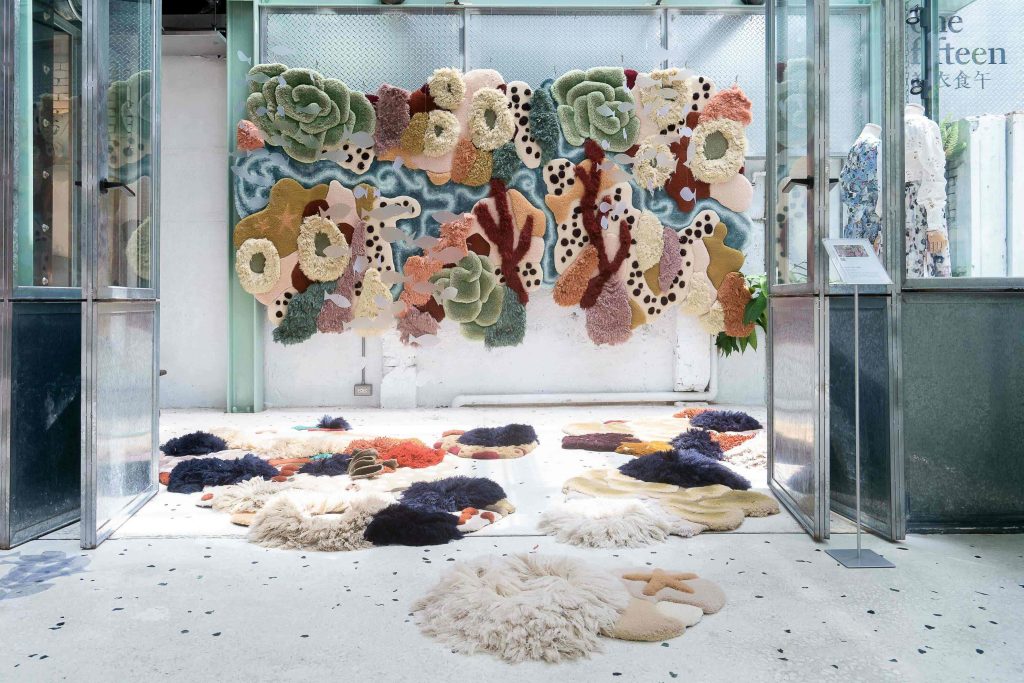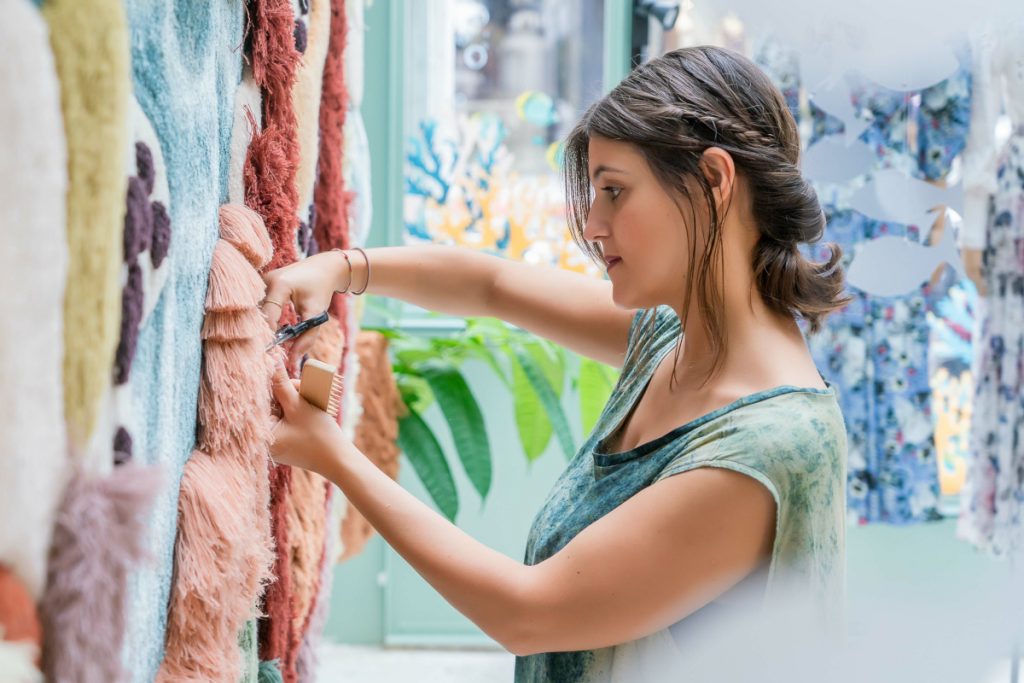 "When I started this project, I was working at a rug factory, and I realized how much trash they create," Barragão says. "I decided to start using [the trash] because I saw how many things that were good. Good yarns were going to the garbage."
Now, she has connections with several factories that give her leftover yarn and deadstock materials. "They are happy, and I am happy as well," she says, explaining the mutually beneficial arrangement.
With her works, Barragão hopes to raise awareness about pollution and climate change, which she describes as "a big killer of the sea." She uses ancestral textile practices, including latch hook, crochet, hand-tuft, embroidery, weaving, and macramé, to create her works, which usually feature coral reefs and related habitats and lifeforms.
Barragão says that many people who view her work have never seen coral reefs and have little understanding of undersea environments. "Many times, people don't understand why [the corals] are white in the pieces. They just think because it's nice or because it fits better in their houses. But no, there is a message," she explains. The beautiful white corals portrayed in Barragão's tapestries represent bleached corals that died from polluted and rapidly warming waters.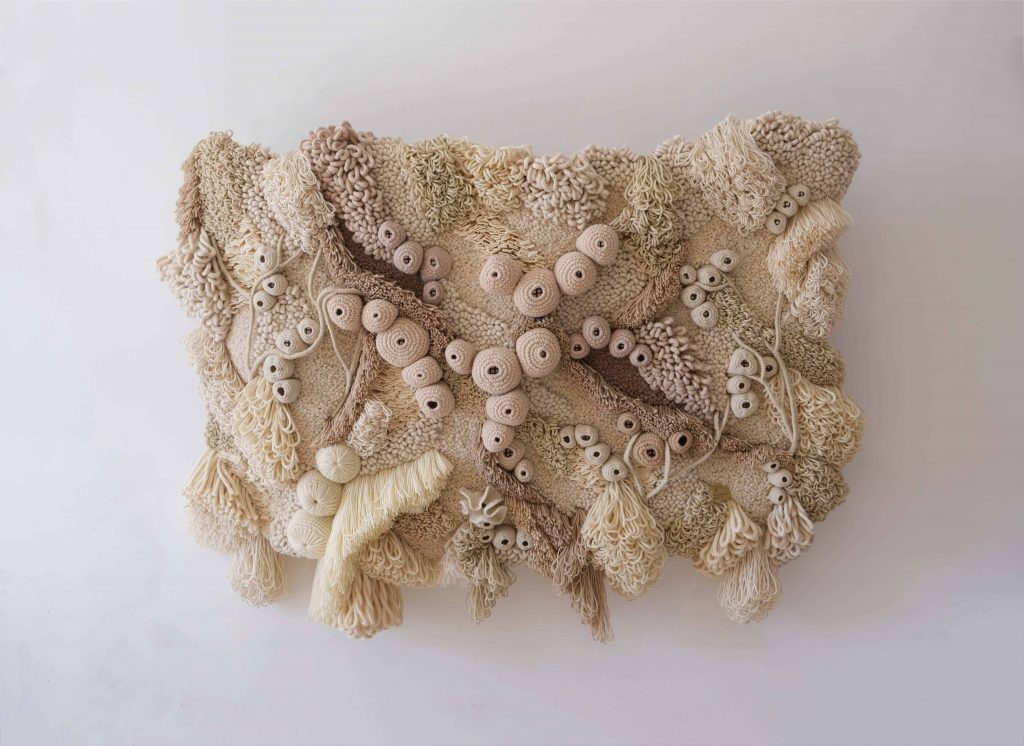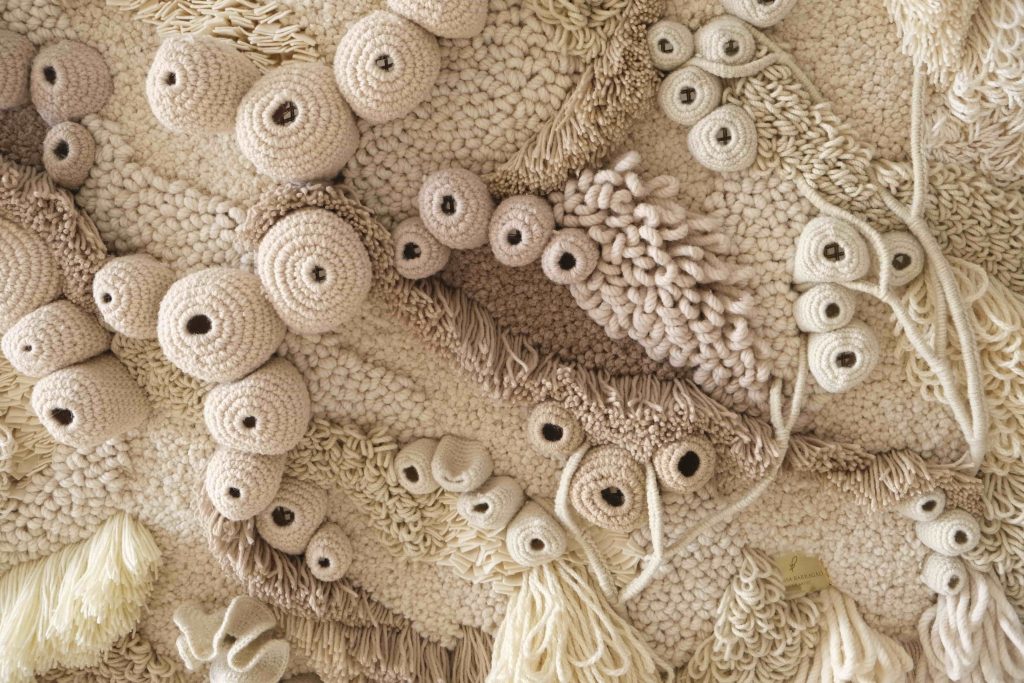 By using art to present how human actions harm coral reefs, fish, plants, and other species, she hopes to change how people think about the environment and, ultimately, their behaviours. "Art is a good way to show [the effects] and to…make people think about these kinds of things and change their habits," says Barragão.
In the past year, she has created numerous new tapestries. Her favourite is the Botanical Tapestry, which is her largest recent work and took five months to complete. This piece, which represents a world map and features threatened plant species and corals, is now prominently displayed in London, England's Heathrow Airport. Other highlights include her works being featured at Onefifteen in Taiwan, the Domotex trade fair in Germany, and the Super Bowl in the United States.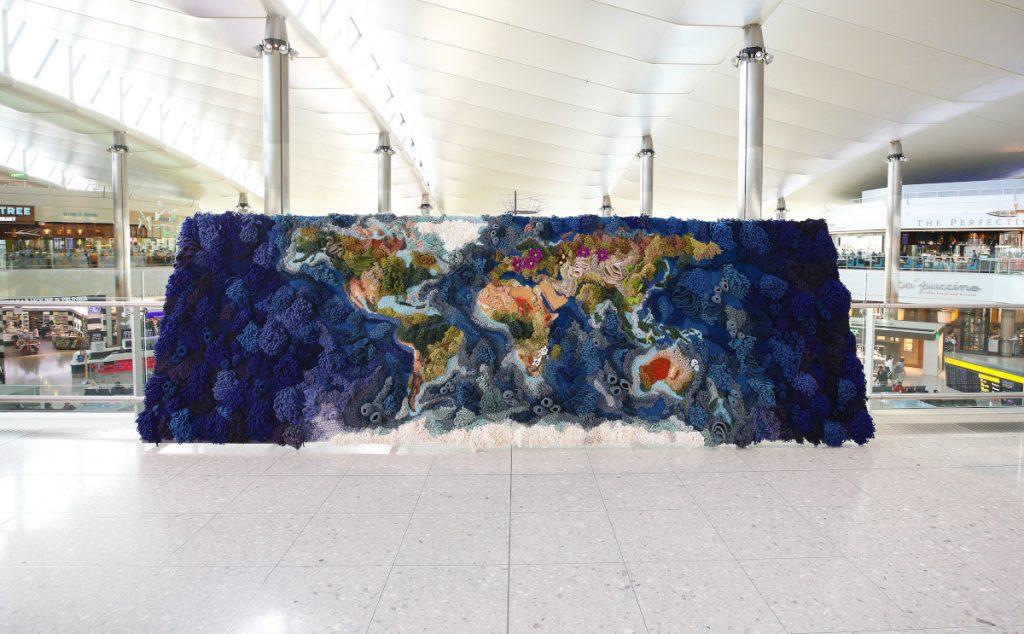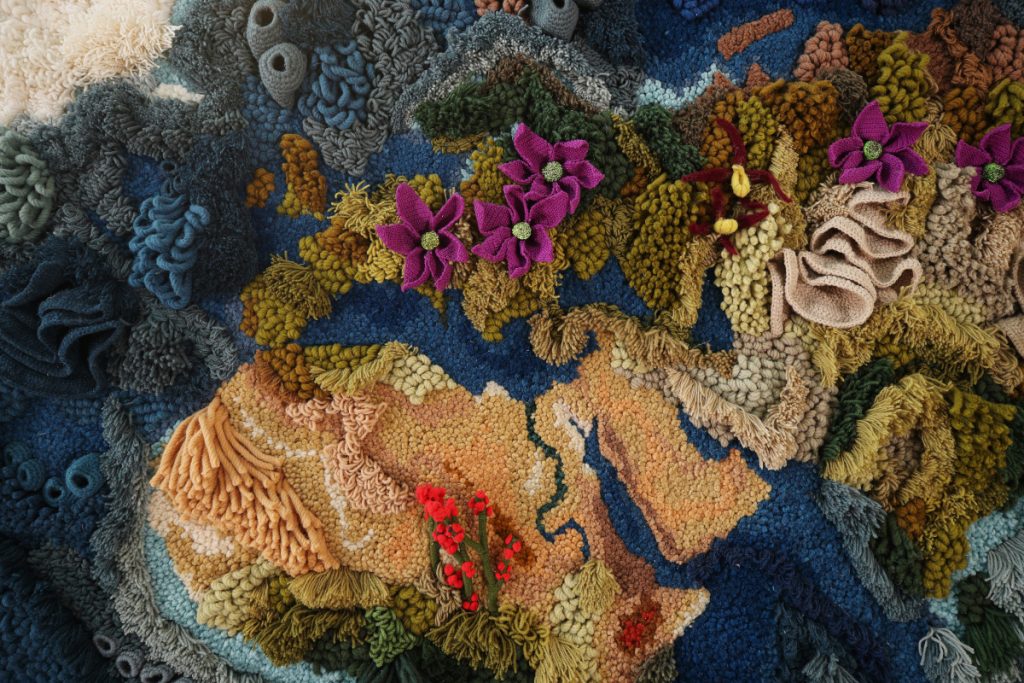 One of this year's biggest changes for Barragão was moving back to her hometown of Albufeira. "Here, I have more quality of life," she says. "Everything is better here. The [studio] space is better [than where I was]. It's really close to the sea."
Another benefit is that her family resides in the town. Many of her family members, including her sister, mother, aunt, and grandparents, are part of her studio and help with management and production.
"My grandmothers are the ones who are creating the crochet that I apply on my pieces," Barragão explains. "They are the ones who introduced me to the handmade techniques, so I think it's great. They are very happy to be helping me."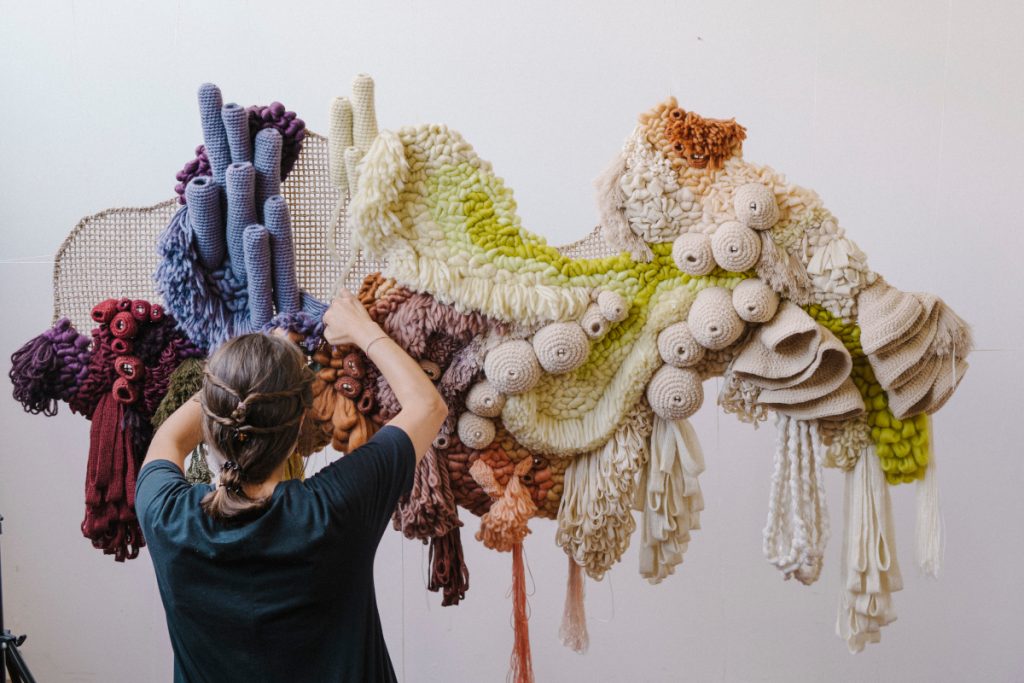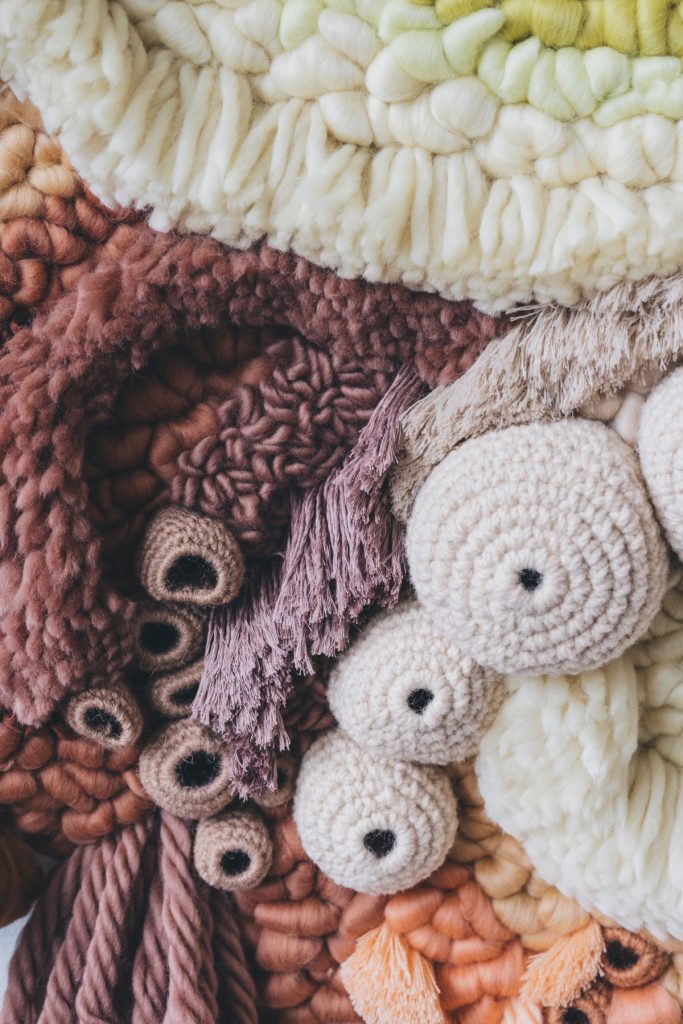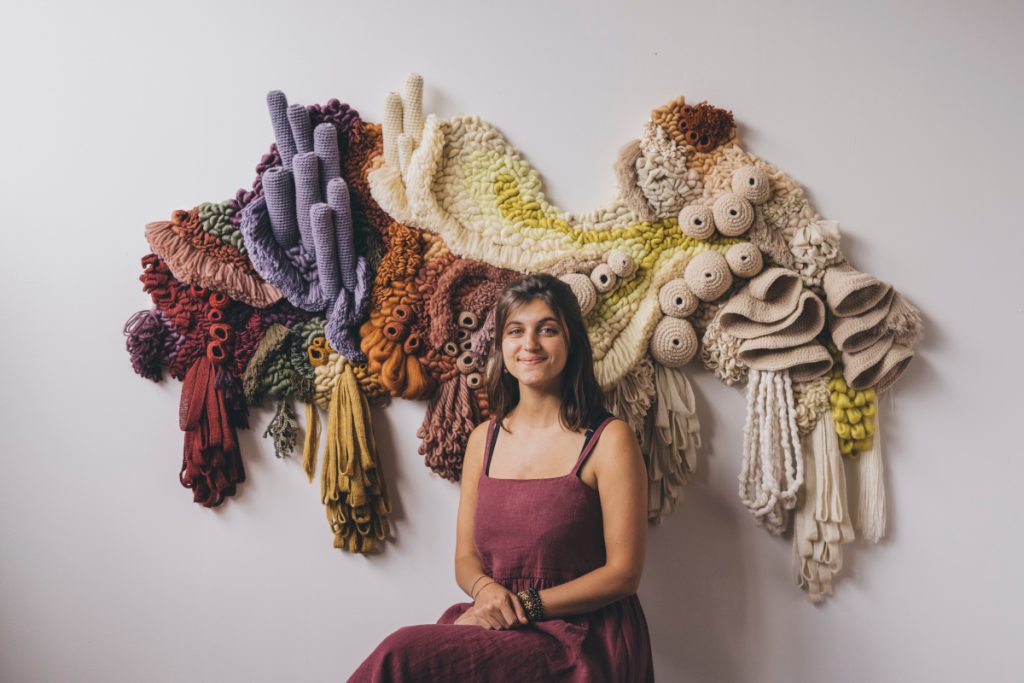 Overall, Barragão's artwork reflects her values of family, sustainability, and creativity. She takes great care in explaining her how her eco-friendly handmade techniques and use of recycled materials benefit both the environment and her artistic practice.
"Sometimes we don't need to have money to create something because we have everything around us. We just need to be creative."
For more by Vanessa Barragão, visit her website, Instagram, or Facebook.