Angela McQuillan's career has taken her to some interesting places. She's worked in a cancer research lab, attended art school, displayed her work in an international airport, and gone fishing for pond scum in neighbourhoods across Philadelphia. But no matter where her creative practice takes her, the sciartist and curator is clear on one thing: science and art belong together.
"Artists can explore and contextualize the boundaries being pushed in science," she explains, "and better translate and communicate these advances to broader audiences."
In all of her work, McQuillan truly puts these words into practice. In this interview, she tells us more about her multi-faceted art making process, and why it's high time for scientists and artists to work together.
Which came first in your life, the science or the art?
That is a tough question to answer. I have been interested in making art for as long as I can remember. I have always loved drawing and painting I would spend a lot of time doing this as a kid. My parents were both research scientists when I was growing up, and quite frequently I would go into the lab with them on weekends. I have fond memories of sitting at the lab bench watching my mom pipette her samples while making drawings with highlighter pens on discarded graph paper. I would say that both disciplines have always been an integral part of my life.
When I first went to college I did not major in art because I was afraid that there weren't enough job opportunities. I went to school for Biology instead at the University of Texas at Austin. My first professional job was in science, I worked as manager of a cancer research lab and later moved on to pharmaceuticals. I realized over time that I had a serious passion for making art, that there was some kind of inherent need within myself to create that I just couldn't ignore, so I decided to go back to school to pursue a career in the arts. For a while I was working in a science lab during the day and spending the evenings in the studio while I worked on a BFA in Painting and Drawing. At the time I was interested in the relationship between art and science, but wasn't able to fully explore the connection until later, when I started working as the Curator of the Esther Klein Gallery in Philadelphia. I also run a BioArt Residency program at the University City Science Center.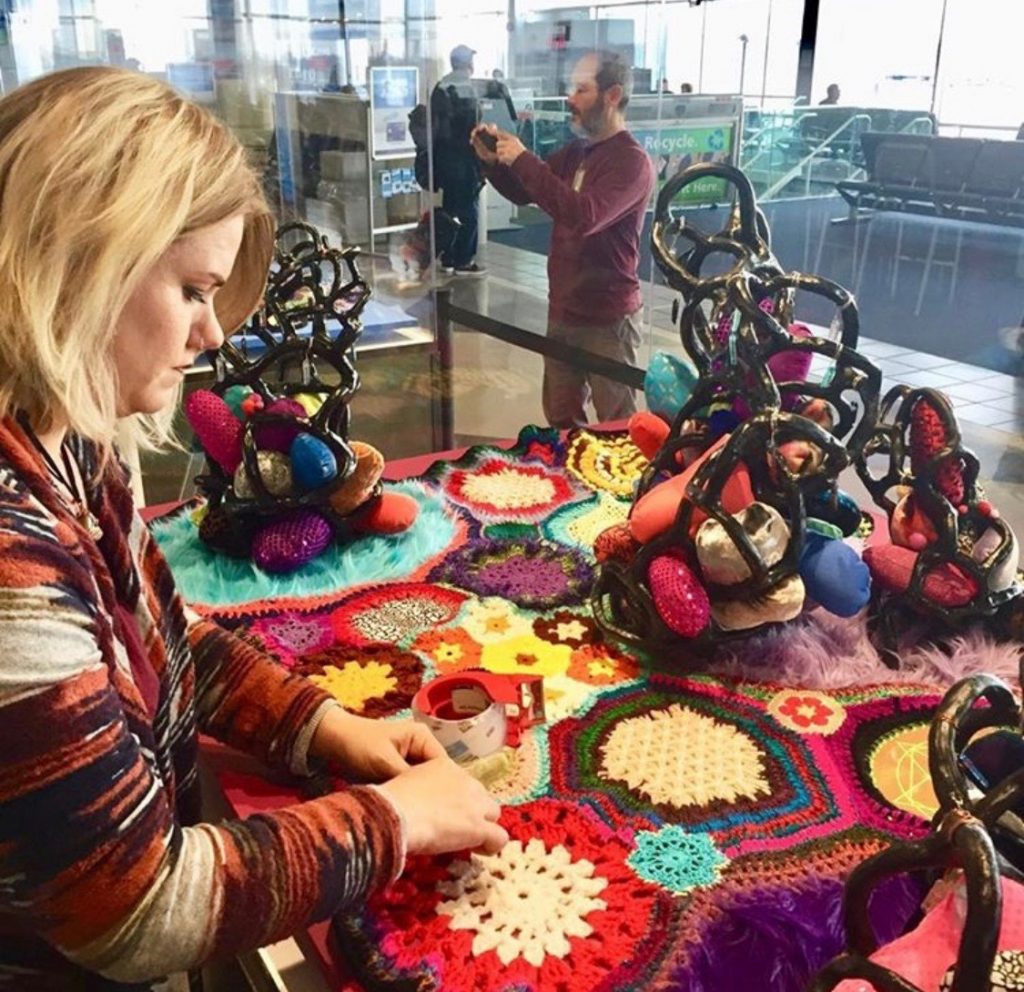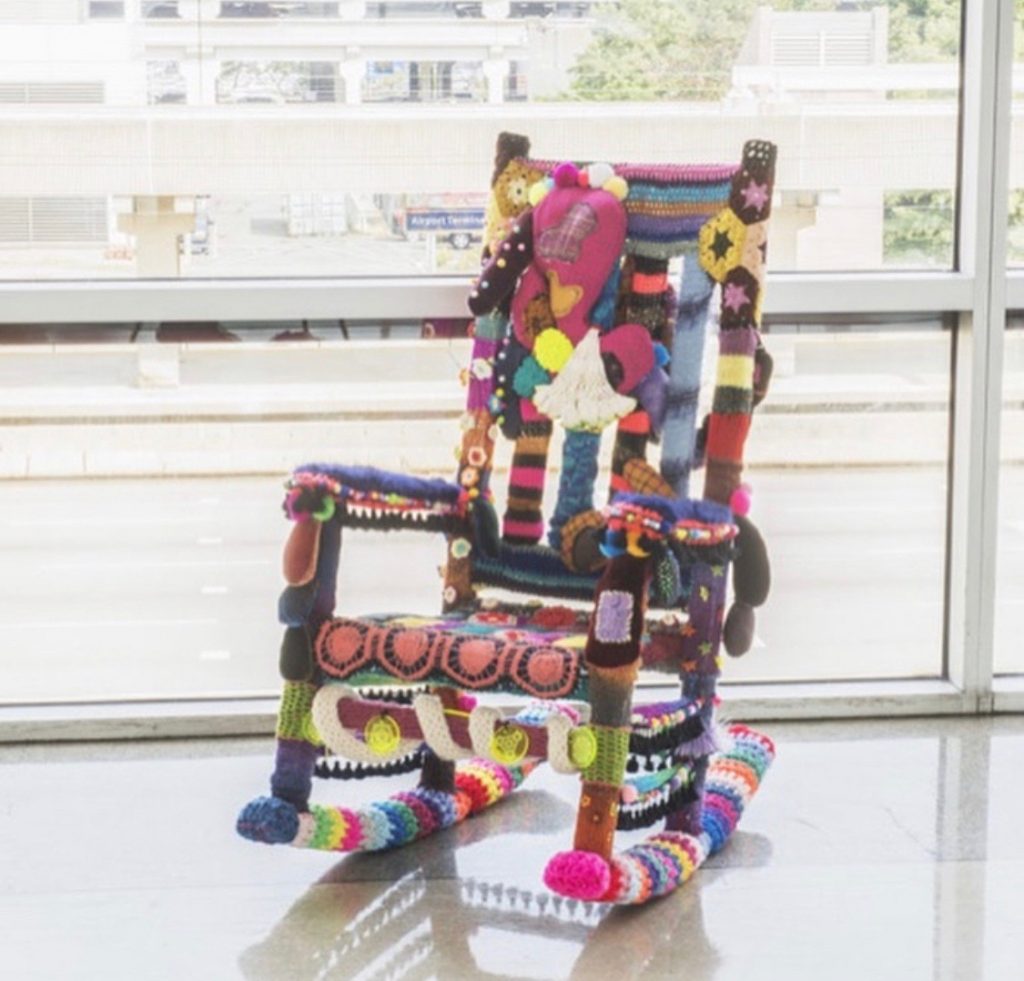 Which sciences relate to your art practice?

My art and curatorial practices are both most related to the biological sciences. In my personal work, I am attracted to processes that happen on a microscopic level. During my time spent working in the lab, I did a lot of work using fluorescent microscopy, and I feel that this type of imagery has highly influenced my work to this day. My work focuses on the forms and patterns that are found in nature, and I use this as a starting point to invent my own weird and speculative organisms that resemble images of cells and anatomic structures. In my curatorial practice, I am very interested in showcasing artists working with biology, particularly those who are working with living organisms as an art medium. Some of these exhibitions have featured live bacteria growing in petri dishes, DNA extracted from gallery visitors and visualized on a gel, protocells under a microscope, and the world's first lab grown tooth. I think that biotechnology is advancing so quickly that it is really important for artists to interpret these developments in order to create a dialogue around what our collective future holds.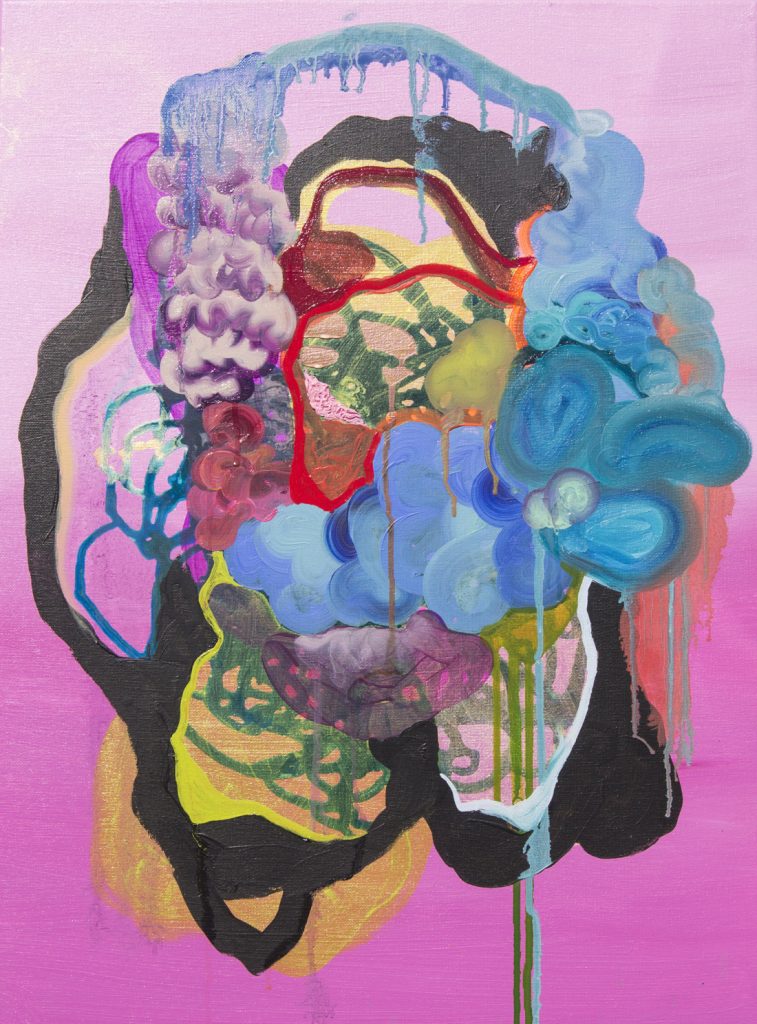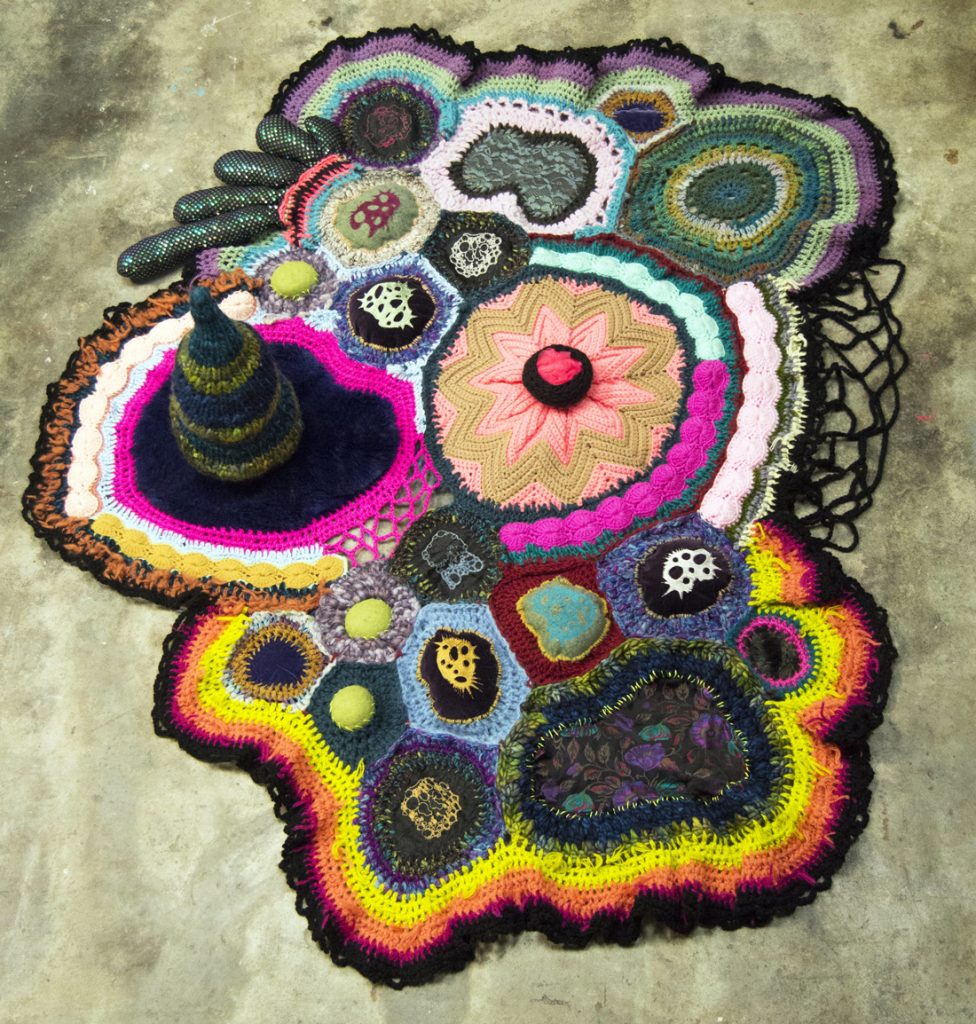 What materials do you use to create your artworks?
I like to switch around and I have a hard time committing to one medium. I have always loved painting and it's what I studied in school, but in the past few years I have been really interested in fiber art and textiles. It seems like there are many artists who draw a connection between fiber art and biology, there is something about the organic quality of textiles that translates easily to forms found in the natural world. My work is very textural, I love juxtaposing materials like velvet, silk and ceramic to create modular pieces that combine to form a larger complex whole, much like a body, a cell or an ecosystem.
I also make digital artwork. For a while I was creating digital collages of microscopic organisms found in local ponds and rivers in Philadelphia, which were highly influenced by Victorian microscope slides from the 1800s. I am currently learning 3D modelling, which is the new direction I am heading in for my future work.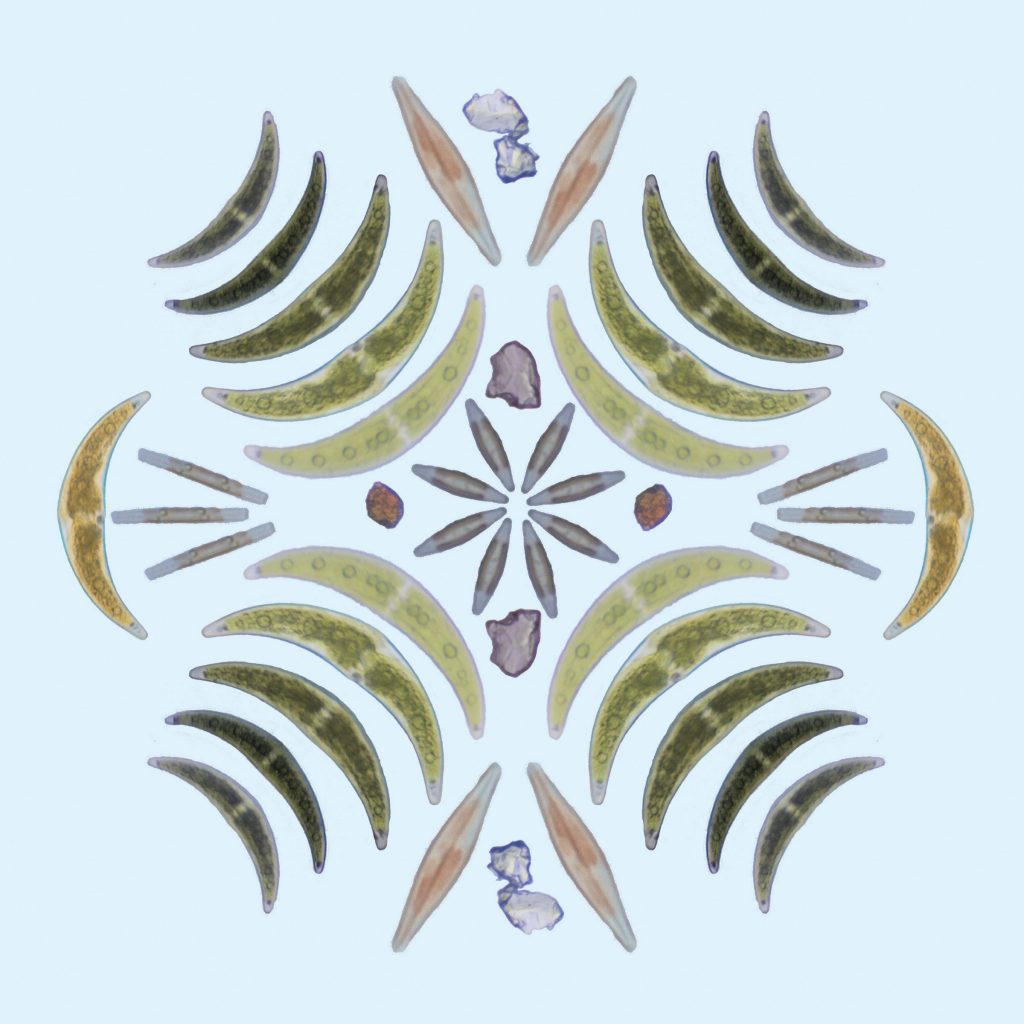 Artwork/Exhibition you are most proud of:

I currently have a show up at the Philadelphia International Airport called Chimera. The title references the biological definition of chimera: "an organism or tissue that contains at least two different sets of DNA." The dictionary, on the other hand, defines chimera as "something to achieve, a fantasy, a dream, and a figment of the imagination." Chimera is a collection of sculptural objects that resemble cells, human organs, and living vessels. They are fantastical hybrids of my imagination and represent biodiversity, the importance of an ecosystem, and a respect and curiosity for worlds that have yet to be discovered. It is a large installation created by crocheted yarn, sewn soft sculpture mixed in with ceramic sculpture, laser cut acrylic, and crystals. This is the largest crocheted piece I have ever made, and it took me a while time to complete. I am also proud of this installation. When I was first coming up with the idea, I knew that I wanted to work in clay, but I had absolutely no experience with the medium. I feel like I definitely learned a lot about materials during this process.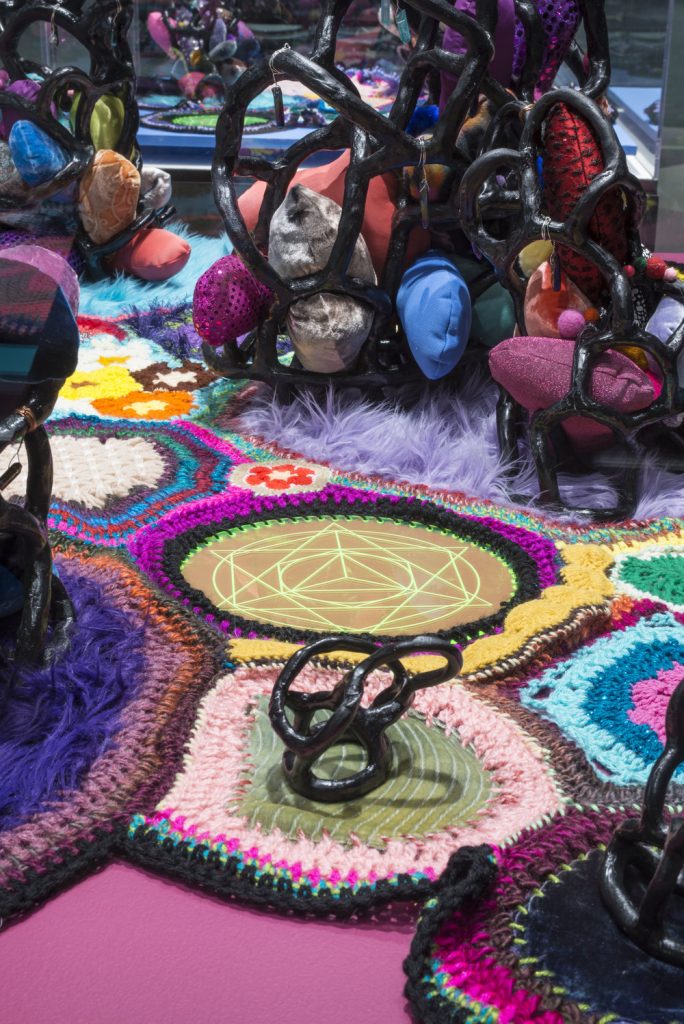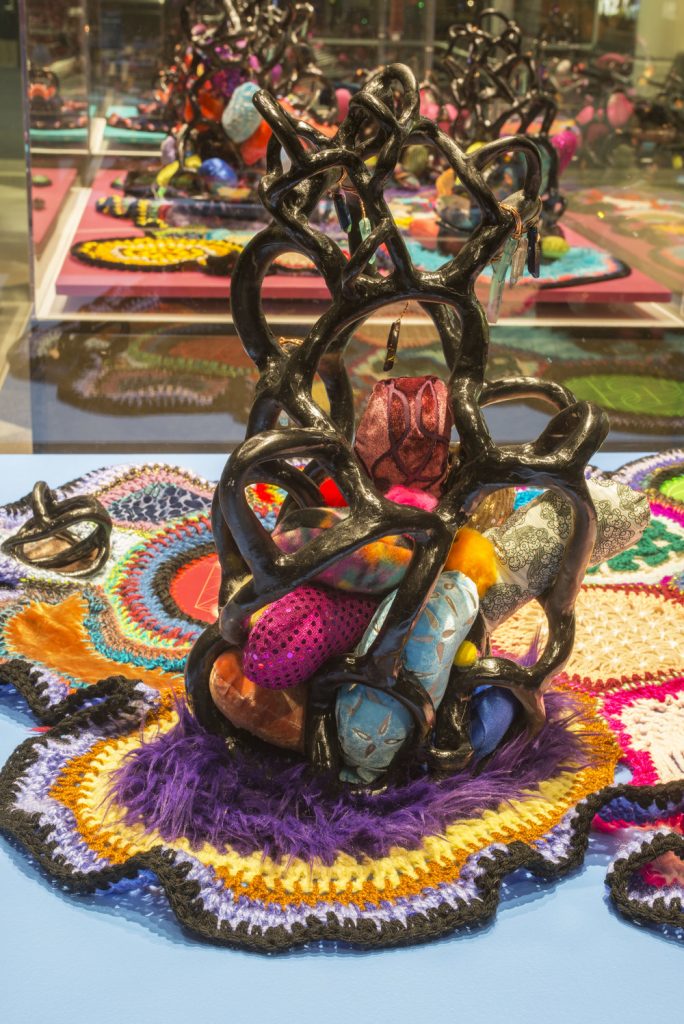 Which scientists and/or artists inspire and/or have influenced you?
Conceptually I have been influenced by the work of Oron Catts and Ionat Zurr and their work using living tissues as a material for art making. I first learned about their work back in 2000, when they created the world's first lab grown steak. Their work originally sparked my interest in BioArt and all the possibilities of using semi-living organisms as materials, and it was what eventually led me to start a BioArt Residency program in Philadelphia.
Aesthetically my work is known for being very colorful and maximalist, and I feel like one of my biggest influences in this regard is Yayoi Kusama. I reference her accumulation of objects in a lot of my work, especially using soft sculpture. I absolutely love her work and her life story is also very inspiring as she rose to fame during a time when women were completely marginalized in the art world. I also love the work of Lynn Hershman Leeson, which I've been getting into recently. She is a pioneer in feminist and new media art and has spent her career exploring the relationship humans have with technology.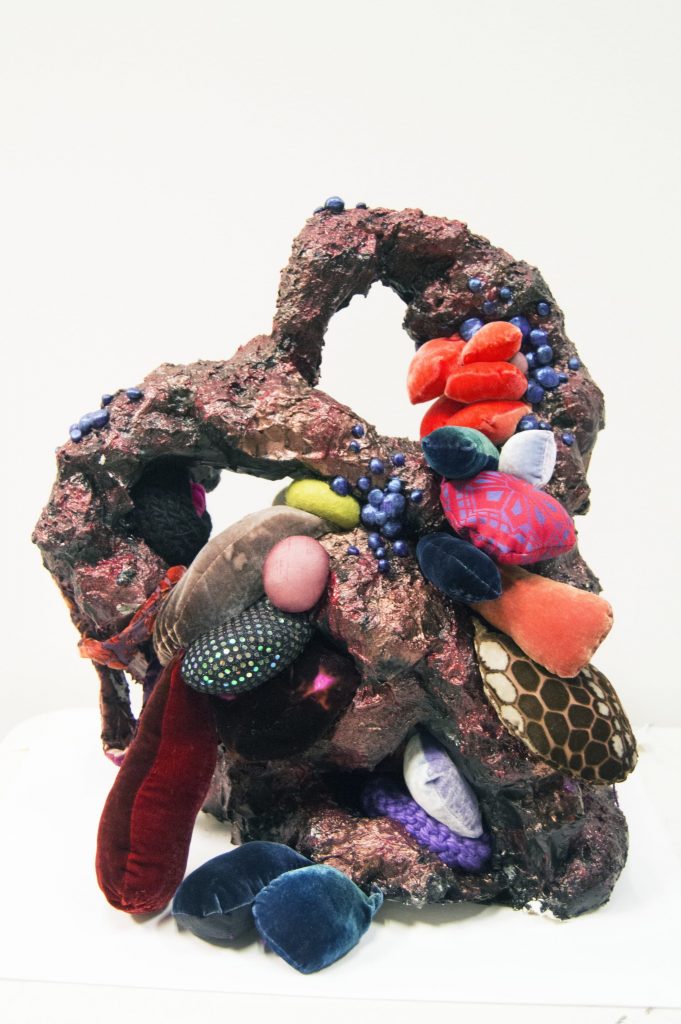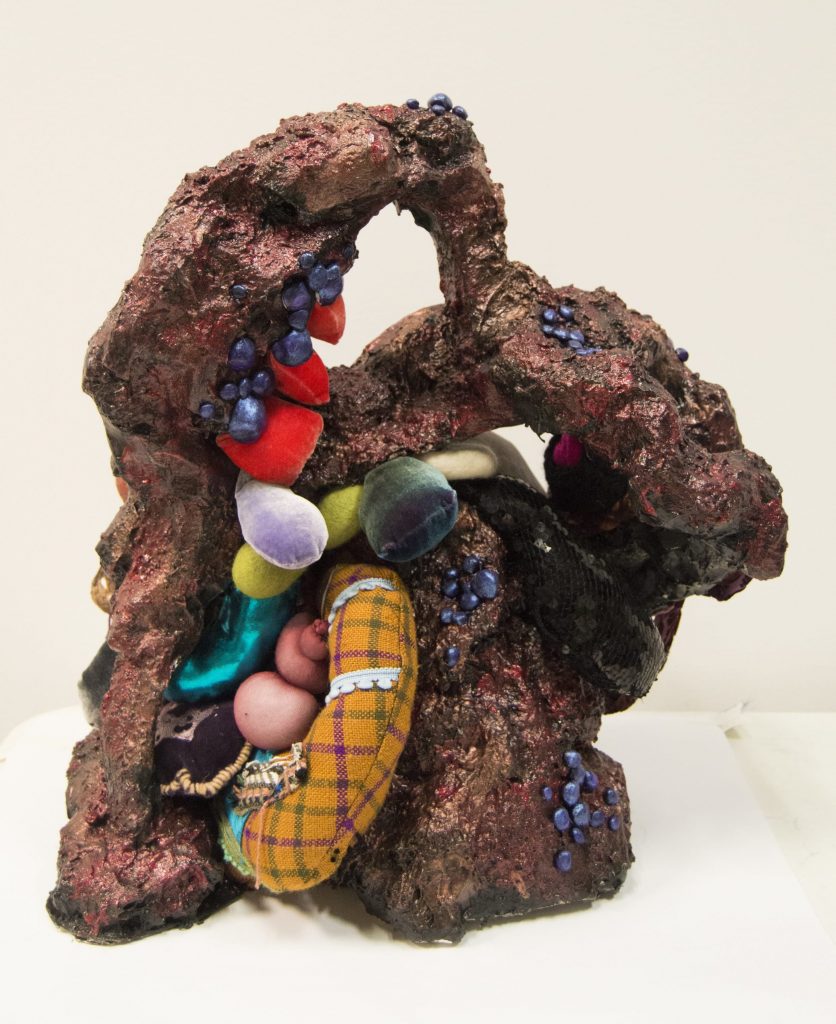 Is there anything else you want to tell us?
I think that the science-art movement has grown significantly since its first inception in the 1970s, but (in my experience) many people still view it as a fad. I want to address this and say that new trends in science not only impact healthcare and business, but also culture and society.
It is important for people to understand that biology is quickly becoming more like engineering, which means that we have the ability to easily manipulate living entities to suit our needs and desires. This is both exciting and terrifying, since these technologies have the potential to completely change life as we know it. It is essential for us to engage in the cultural issues involved with new scientific information and have all people (not just scientists) participate in an open dialogue about what it means to be alive in the world today.
Both the arts and science sectors have been negatively impacted by drastic cuts at the federal and state levels. Strong scientific information should be a critical component of decision- and policy-making. There is an urgent need for artists working with science, and for increased collaboration and cross-disciplinary communication between artists and scientists.
To find out more, check out McQuillan's artwork, the Esther Klein Gallery, or the BioArt Residency program. You can also follow McQuillan on Instagram.