Name: Marian Jazmik
Which came first in your life, the science or the art?
The art. I have always loved to stitch. It was at high school that my interest in textiles developed. Following university, I went on to teach art and design textiles at the local high school for well over 30 years.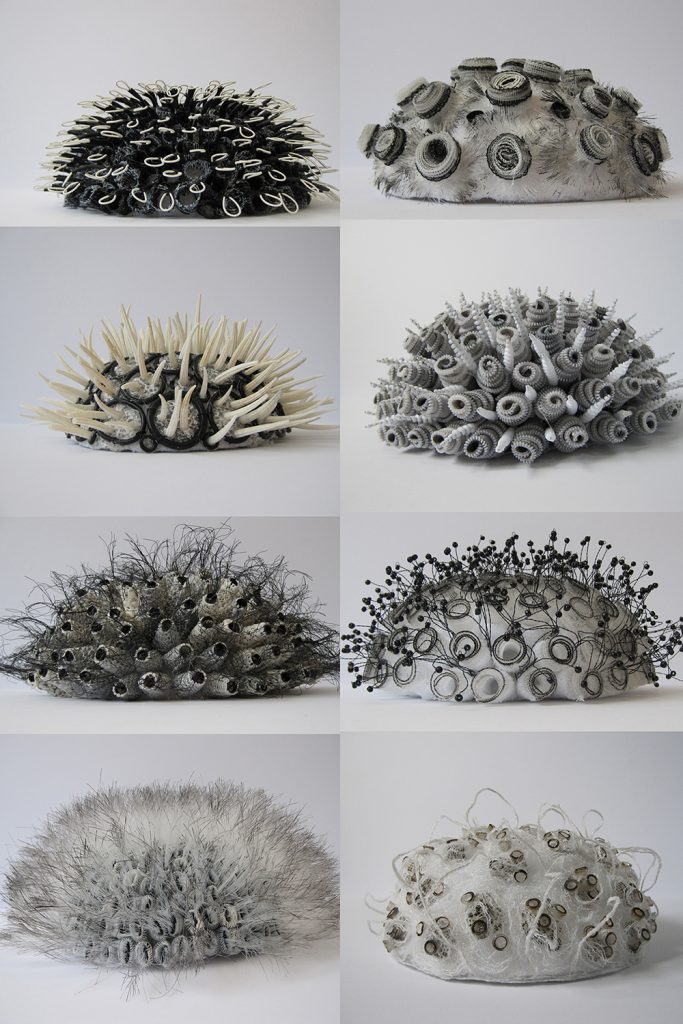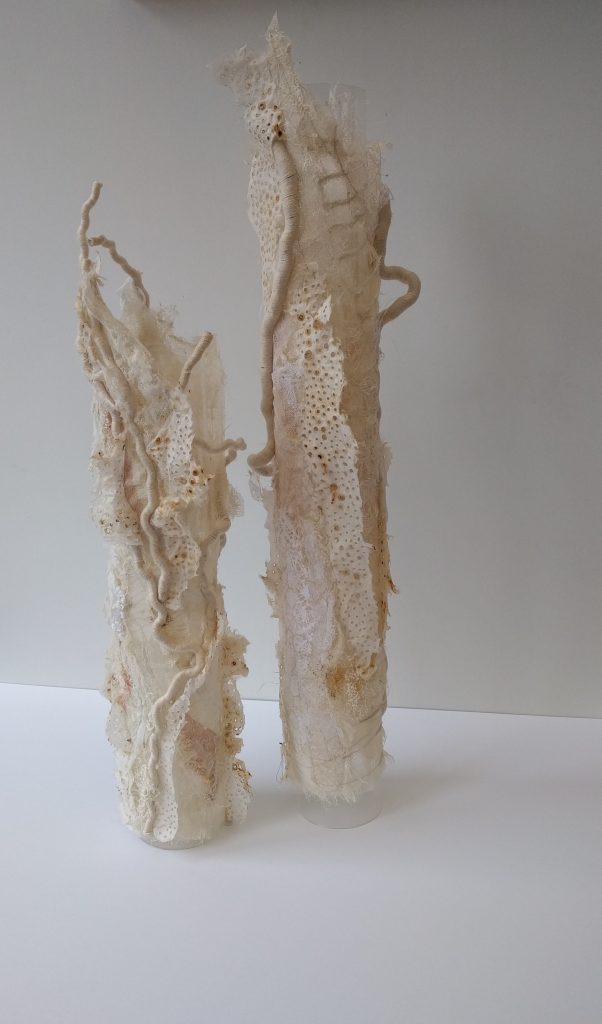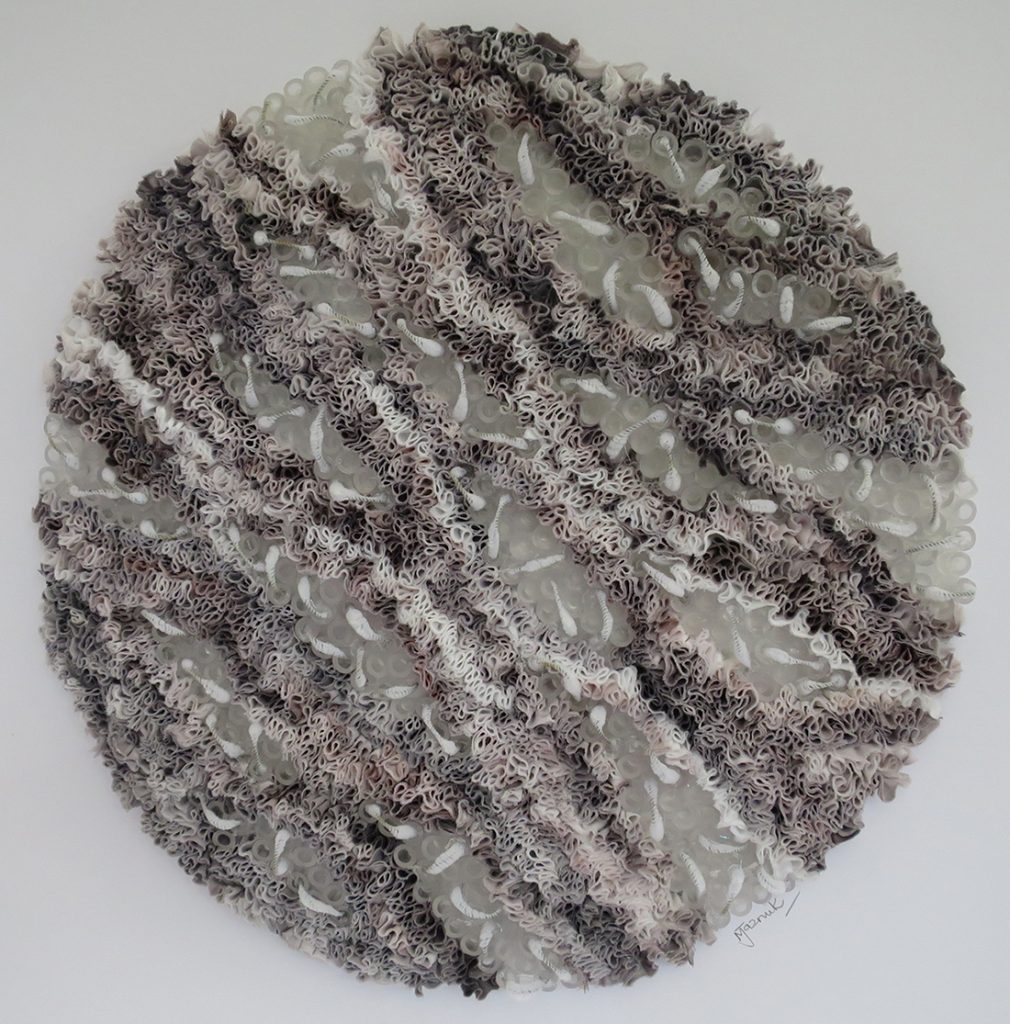 Which sciences relate to your art practice?
Studies of the natural environment are my main interest. Now retired, I love to walk, and I use macro photography to capture inspirational surfaces I come across—lichen, fungi, tree bark, foliage, shells, mould, and algae are all a firm favourite.
The observation of surface textures found on natural objects is my driving force. I am particularly interested in the effects of decay upon the surface structure and form.

What materials do you use to create your artworks?
My chosen medium is textile materials. My work is driven by the construction, manipulation, and deconstruction of these fabrics principally by heat. I use free-motion stitching on the sewing machine to add texture, depth, and detail to the pieces.
Concerned with the environment, I also use mixed materials—wires, plastics, etc.—that are found in the home that would normally go to landfill.
Led by experimentation, my work evolves into highly textured 3D sculptures, wall pieces, and vessels.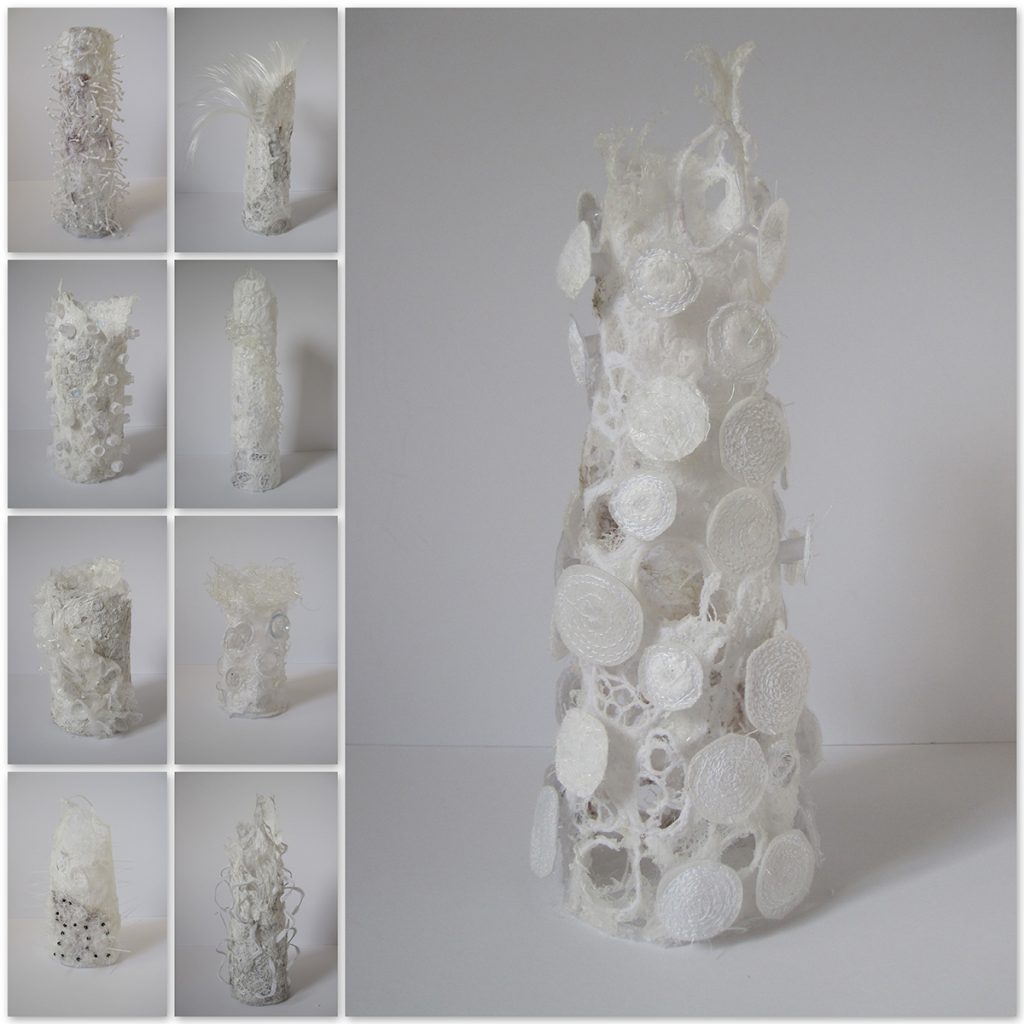 "The observation of surface textures found on natural objects is my driving force."

Marian Jazmik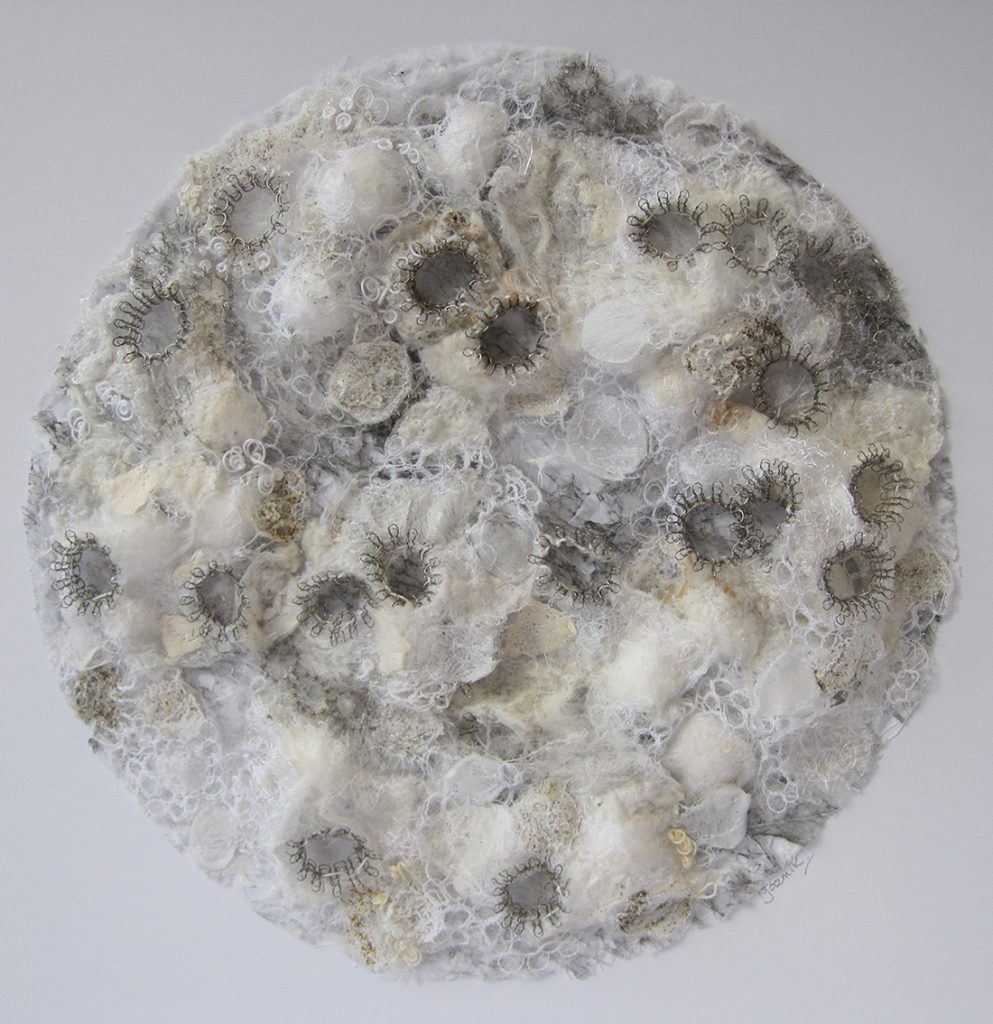 Artwork/Exhibition you are most proud of:
Since retirement, I have been able to create a quantity of my own work. I am most proud of my first solo exhibition Beyond the Surface at the prestigious Knitting and Stitching shows in London and Harrogate in 2019. This exhibition highlighted my creative journey and allowed me to exhibit all my experimental/sample work, as well as a range of 2D and 3D sculptural work. Following this successful exhibition, I was commissioned to write a book about my work to be published in August 2021, Textures from Nature in Textile Art.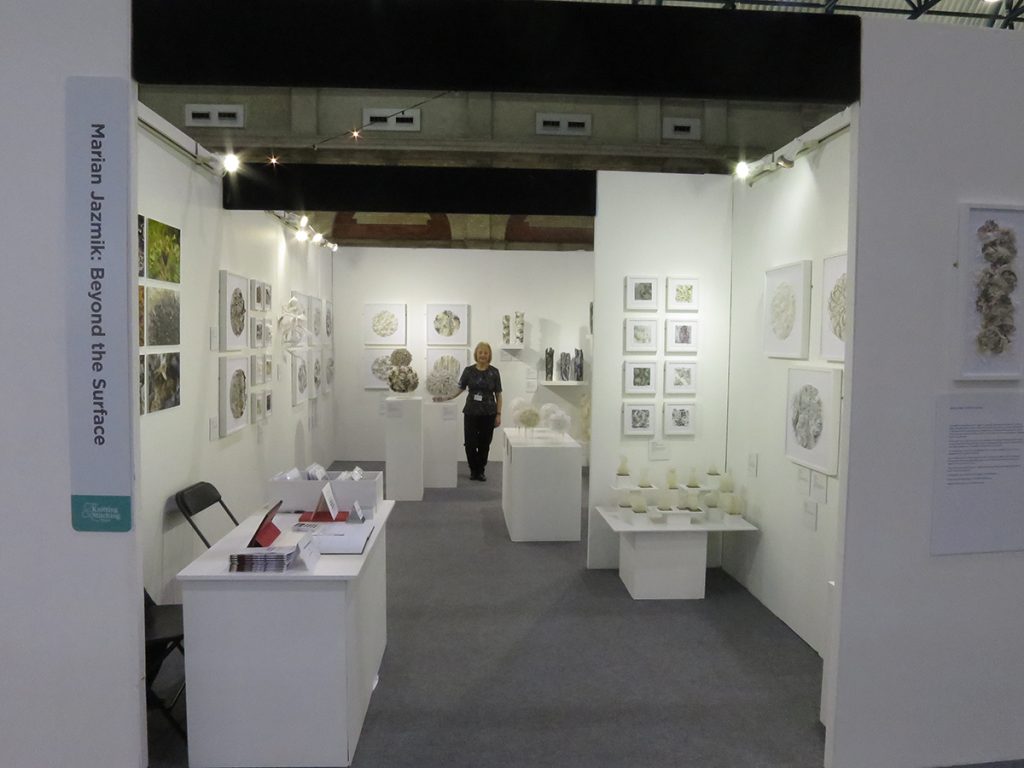 I am a member of Prism, an international textile exhibiting group, and S.E.W (Society for Embroidered Work). I am most pleased with the series of work that I produced for the Prism exhibition in London, Fragility. It consisted of a series of textile art spheres inspired by seed heads and their delicate but functional structures. In 2020, I exhibited these at the Manchester Open Exhibition and was delighted to be shortlisted for the Sculpture, Material, and Form award.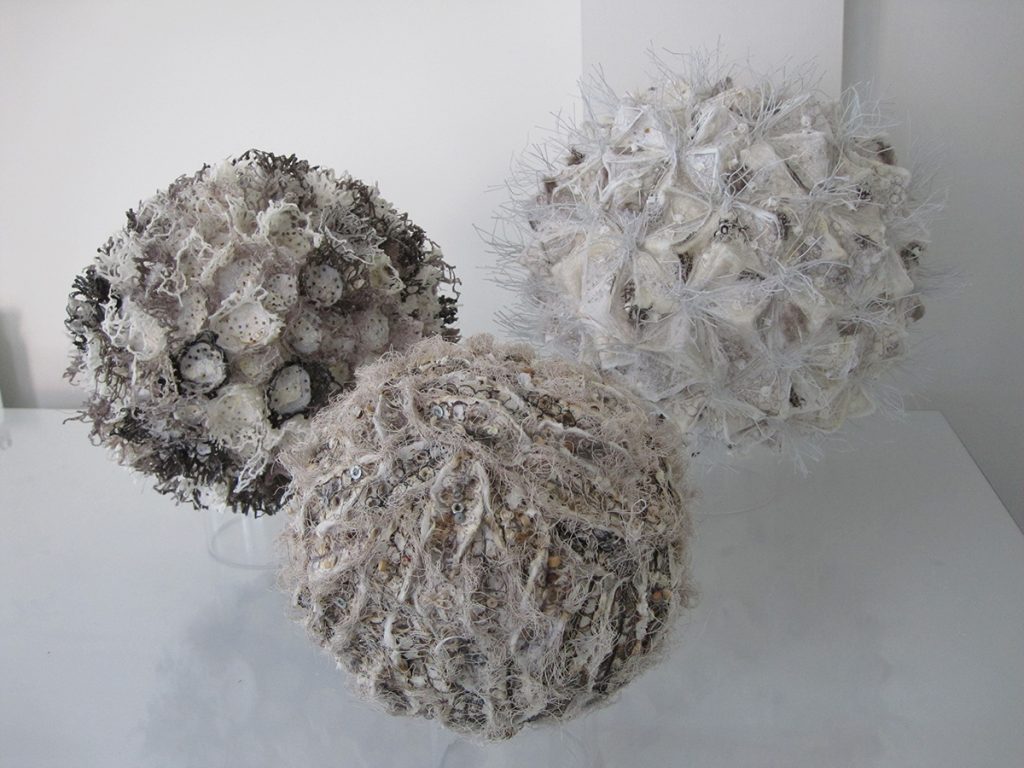 Which scientists and/or artists inspire and/or have influenced you?
I've never forgotten a visit to the Whitworth Art Gallery in Manchester many years ago and seeing the work of Michael Brennand-Wood. I was so enthused to see his 3D textile/mixed media pieces. His sculptural works continue to inspire.
SciArt is an emerging term related to combining art and science. How would you define it?
I would define SciArt as art produced in any artistic medium which has been inspired by a study/observation of any scientific material.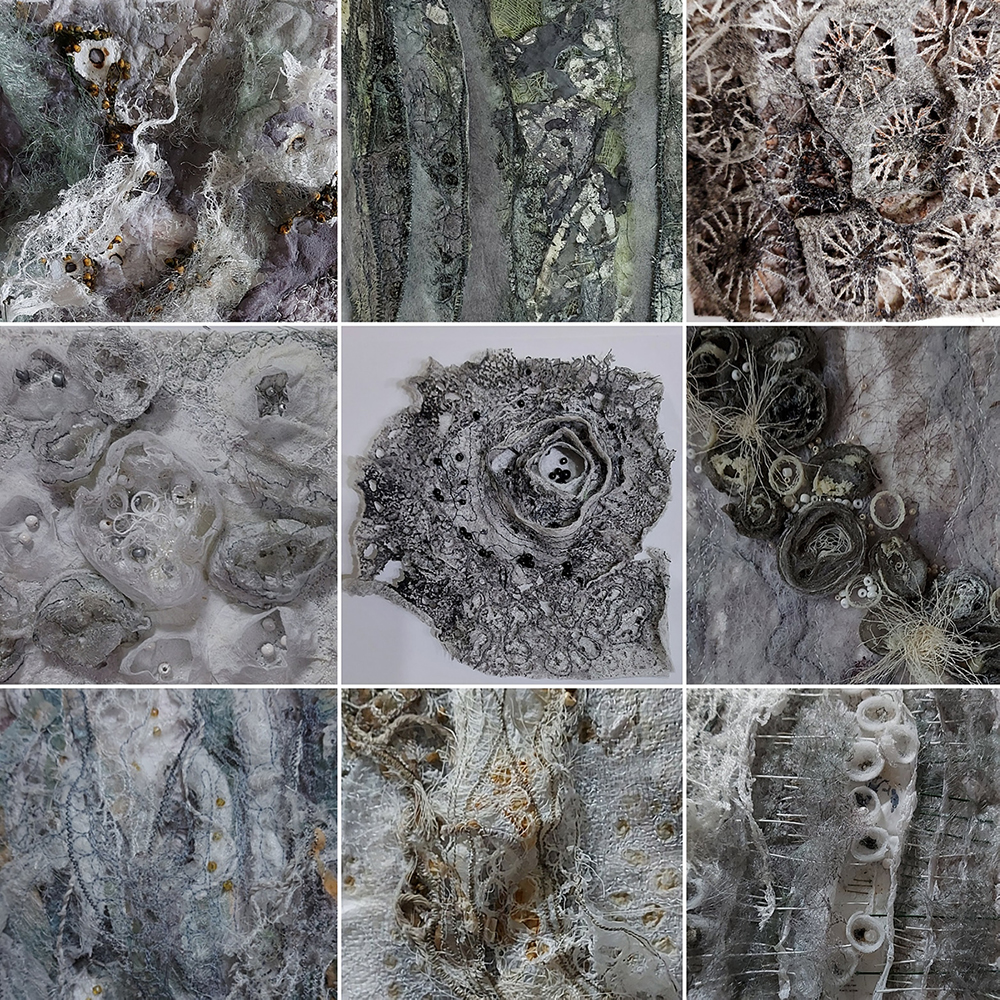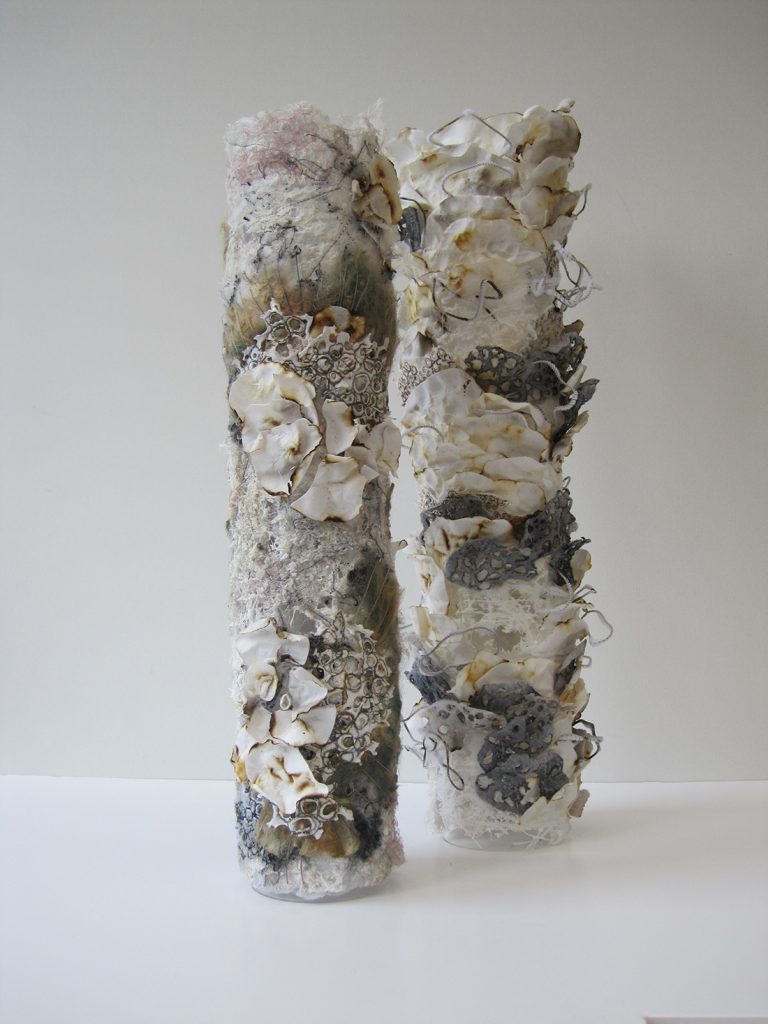 For more by Marian Jazmik, visit her website, Instagram, or Twitter.
*
Featured image: Erosion (2020) by Marian Jazmik, 34 cm diameter