Coding is often used as a functional tool, such as for building websites or analyzing data. But for creative coder Zach Lieberman, code is an artistic medium.
"Once I discovered code, I was always looking for ways to explore artistic ideas with software," says Lieberman. "I like it—there's a lot of beauty in math. You just need to look for it."
Creative coding means using software to make artwork. While traditional coding software is created for a functional purpose, the goal of artistic software is usually more expressive, incorporating visuals, interactive systems, music, and more.
Lieberman, an artist and educator based in New York City, began his career studying fine art, far from the realm of science and technology. However, everything changed after he discovered Adobe Flash, an animation tool that allows you to code movement.
"Here was this simple and elegant way to animate—you could write text, and the computer would turn it into movement," Lieberman recalls. "I was hooked."
He has been a creative coder ever since.
Between January 17 and March 1, 2020, Lieberman's first solo exhibition in Washington, DC was on display at ARTECHOUSE. ARTECHOUSE, which opened in 2017 and now has two other locations, sits at the "crossroads of art, science, and technology." The innovative art space hosts rotating exhibitions of artworks that move across the walls, paired with music and sometimes interactive displays. It showcases how 21st century art is evolving with science, technology, and culture.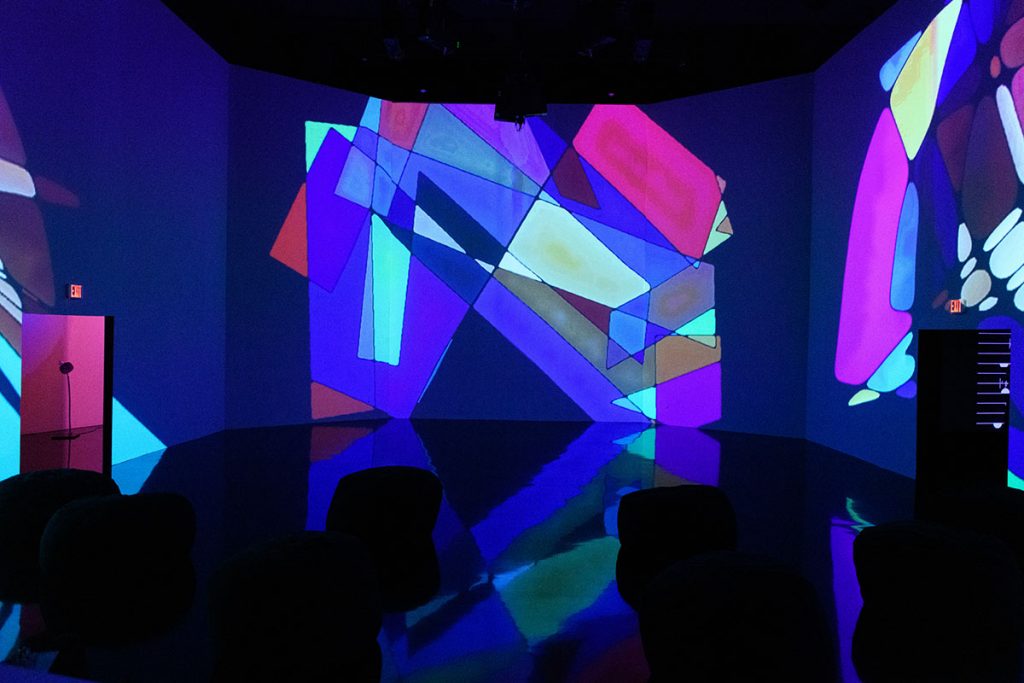 Lieberman's exhibition, Future Sketches, found a fitting home here. His goal for this exhibition was to help people "feel what code feels like."
The large projection space in ARTECHOUSE truly allowed visitors to feel the code and "live in the sketches." Lieberman said he loved seeing photos of visitors experiencing his work in the art space.
The large main hall of the space housed the "Sketch Lab," Lieberman's diary of daily code "sketches" displayed on the open white walls. They moved across the walls and faded into one another with pulsating music accompanying their motion. 
Off to one side was the "Code Lab," where visitors could see Lieberman's students' work. Each artwork was the creation of a student of the School for Poetic Computation, which Lieberman co-founded with the vision of exploring code, design, hardware, and theory. In this area of the exhibition, visitors could see how students altered, or "re-coded," other creative coders' original works while simultaneously visualizing how those script alterations affected the artworks themselves.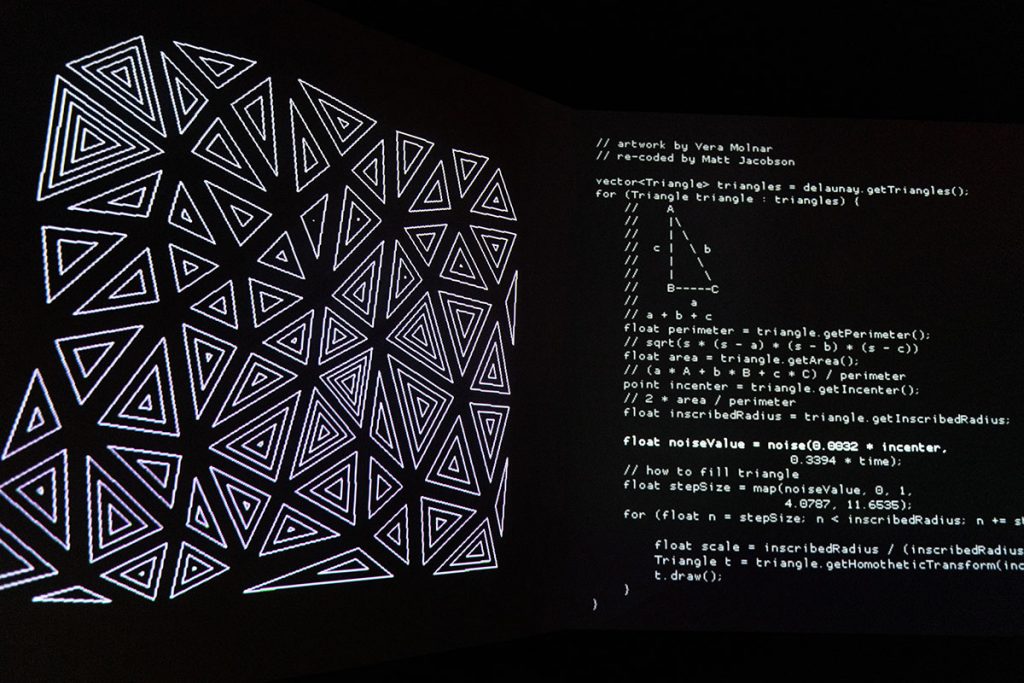 On the other side of the exhibition space was the "Interaction Lab," which consisted of multiple stations along a hallway. At one station, visitors could move plastic shapes and letters onto a table, and the arrangement was projected onto a screen with different lines and colours bouncing off of it. At another station, visitors could dance and pose, and their bodies would become twirling figures on the wall.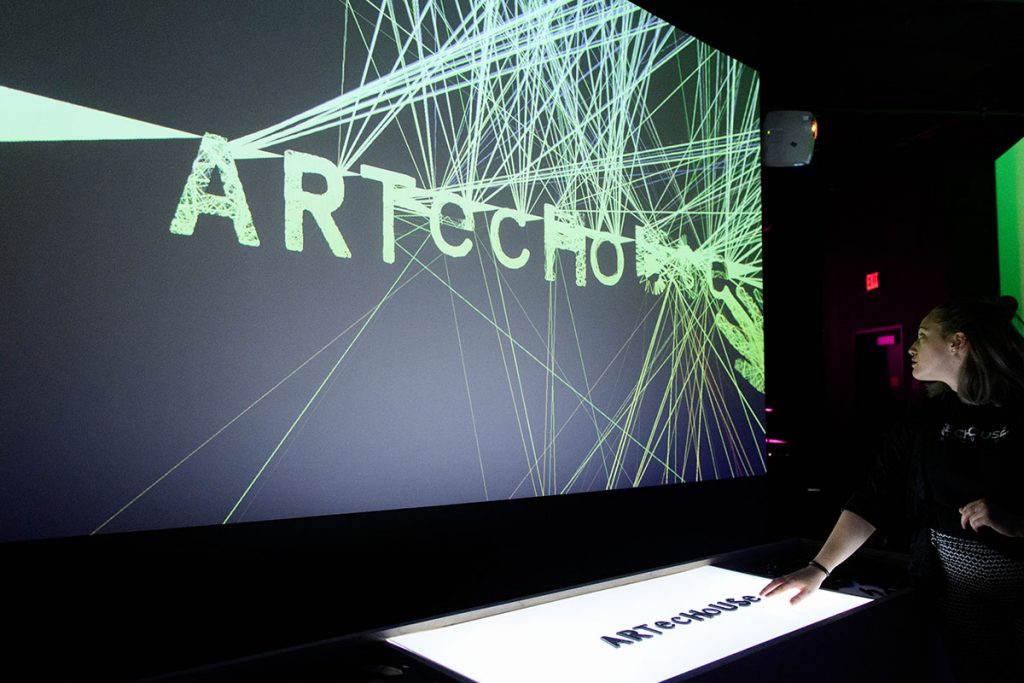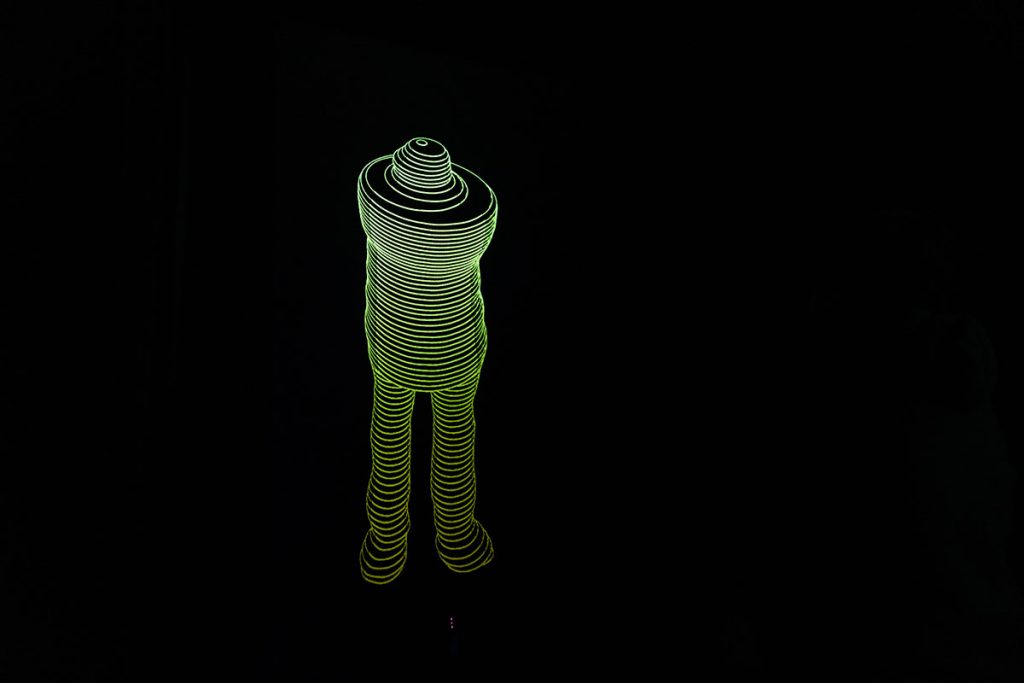 At the end of that hallway was an entire room dedicated to the "Face Lab." Cameras captured videos of your face and distorted it based on facial expression, altered your face with shapes, and even mixed and matched your eyes, nose, and mouth with those of other people.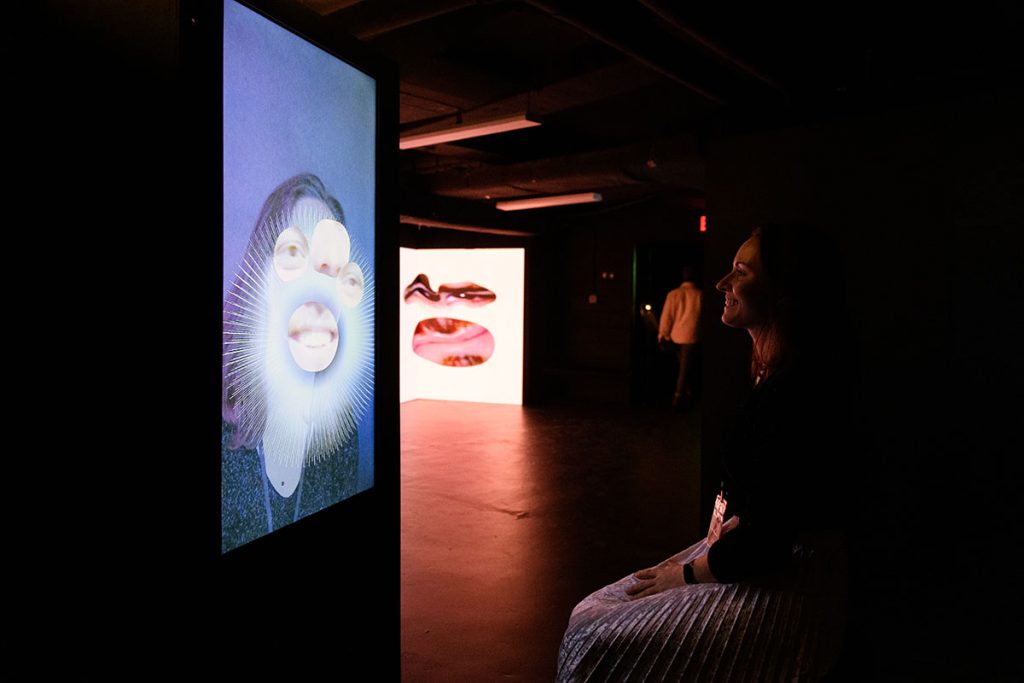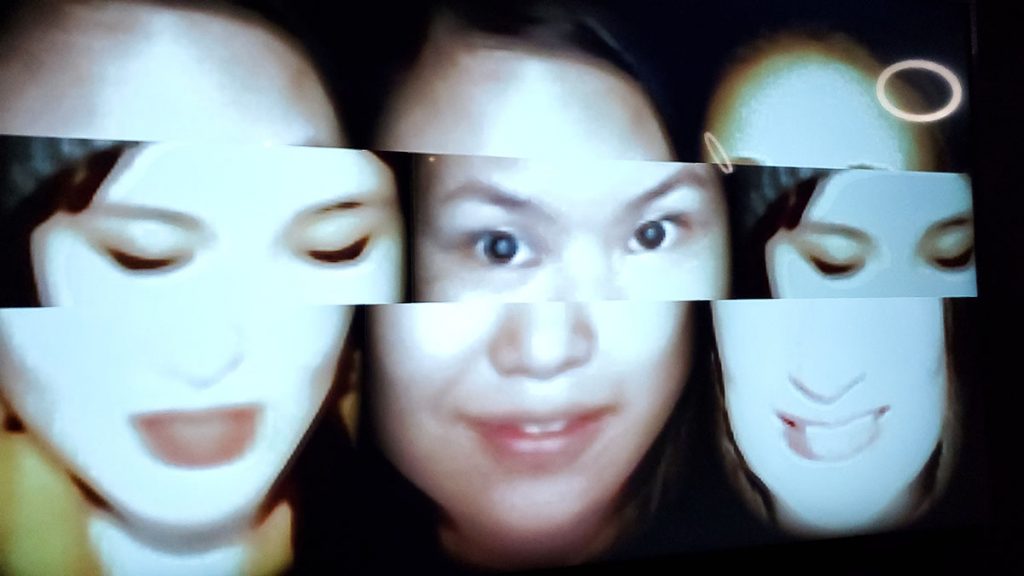 Lieberman says that he likes projects that allow participants to become performers. "Most of the time you go to a museum, [and] you see signs that say 'do not touch,' which means you can experience the artwork mostly with your eyes," he explains. "I like projects you can touch and move with. You can explore them in totally different ways…Art doesn't really exist without the audience. It creates a feedback loop, which I love."
"I like projects you can touch and move with…Art doesn't really exist without the audience."

Zach Lieberman
Through Future Sketches, Lieberman demonstrated his desire to encourage more interaction at the intersection of humanity and technology. "Often times the interfaces that we use are flat, functional, and don't really engage with space or our bodies in a creative way," he says. "Artists can show unique possibilities and unique futures."
Lieberman's creative ambitions are far-reaching: "I want a future which is more human-centered, more organic, more absurd, more playful," he says. "That's what I hope to inspire in my work."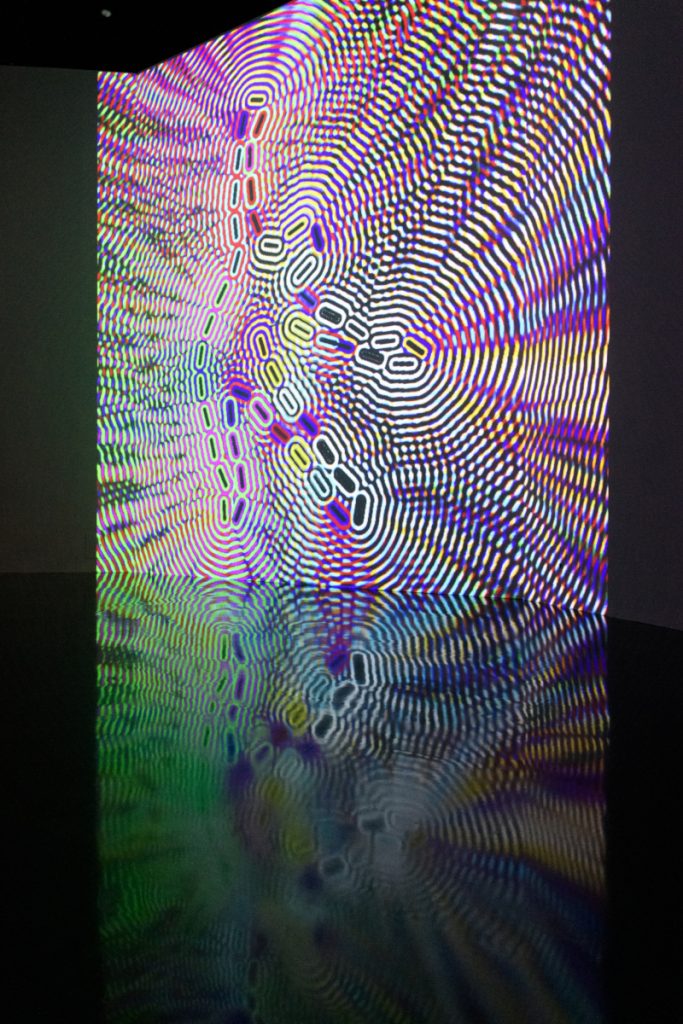 For more by Zach Lieberman, visit his website, Instagram, Twitter, or creative coding toolkit.