"Kombucha as a sticky allegory where language goes to die."
These words cling to the window of Vancouver's Access Gallery, welcoming me into the artist-run centre. The strange black characters, I soon learn, are part of Walter Scott's XINONA—one of several works featured in Fermenting Feminism. Led by artist-curator Lauren Fournier, the site-responsive curatorial experiment is on view at the gallery until October 26, 2019.
Just as the title suggests, the show brings together the worlds of fermentation and feminism, toying with ideas of motherhood and microbes, sexuality and scobys. It features art by what Fournier describes as "an ever-changing, transnational community of fermenters and feminists," including video, sculpture, painting, and more. Though not officially billed as science art, many of the works in Fermenting Feminism draw inspiration from chemistry, biology, and psychology—exploring the fascinating intersections between what we eat, how we feel, and how we identify.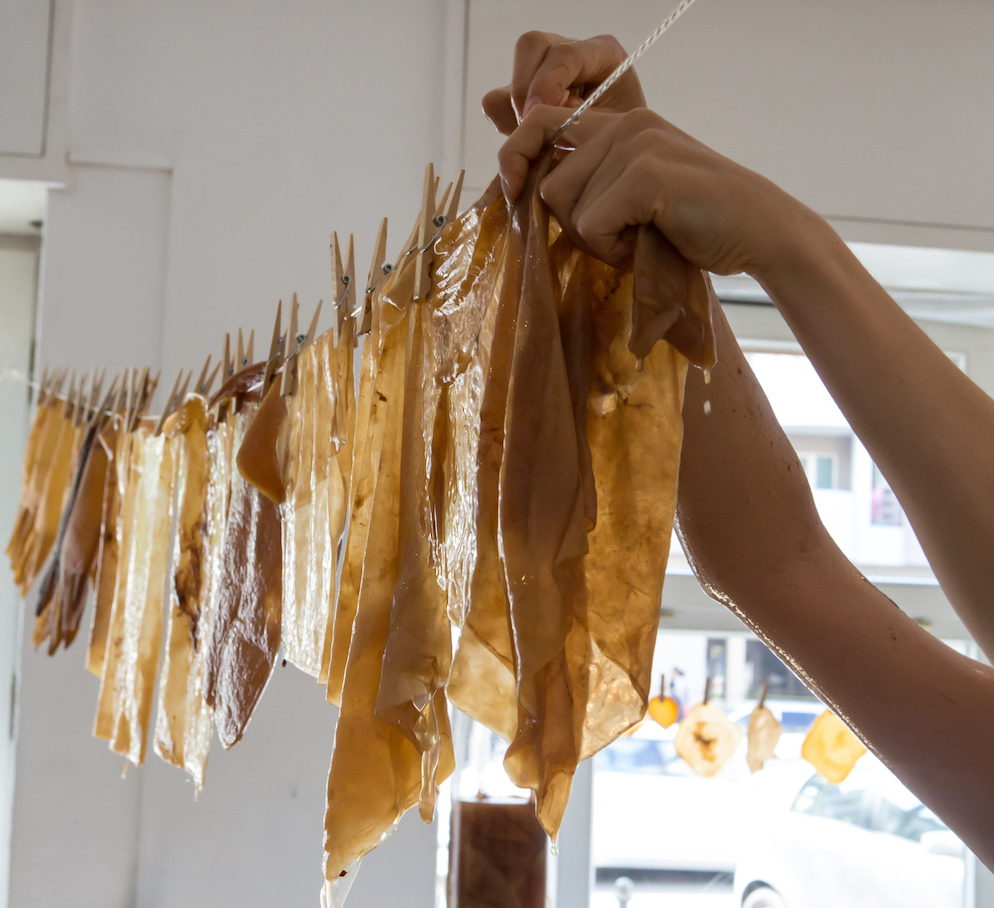 Alanna Lynch's Gut Feelings, for example, is an award-winning research-based project investigating the microbiome. It features a dangling collection of gloves made from dehydrated kombucha scobys—the bacterial cellulose "fabric" that forms when brewing the effervescent drink. Somehow both striking and off-putting, the brown translucent gloves play with concepts of protection and contamination, sterilization and growth. "They come to symbolize a cross-species," Fournier explains, "a 'contamination as collaboration' ethos of feminist fermentation."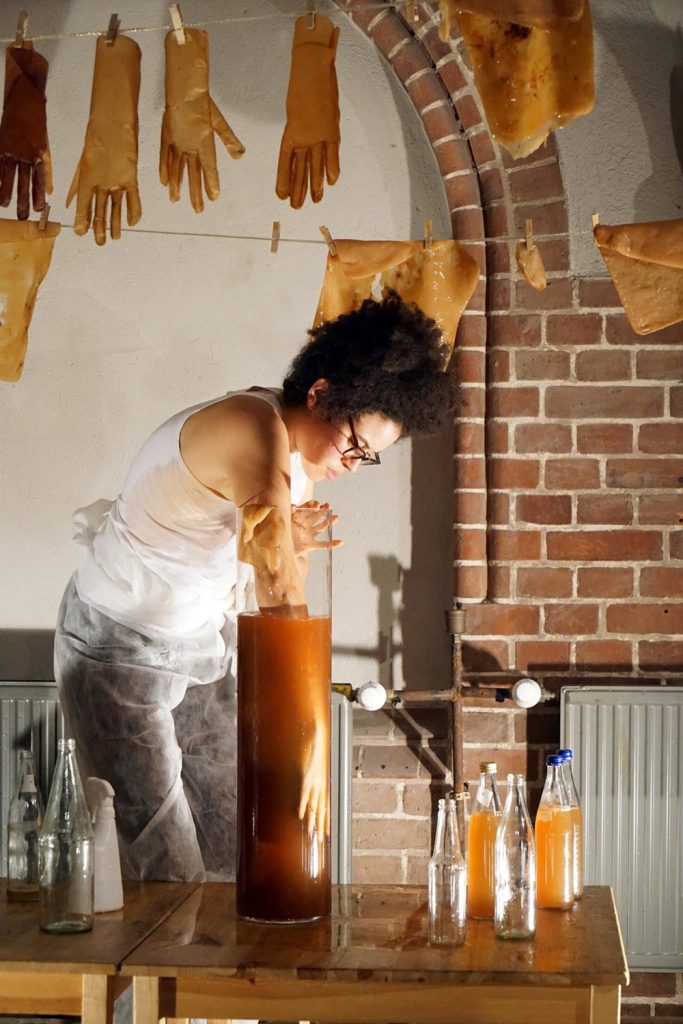 Alongside the gloves is a wall of photos, sketches, and notes—evidence collected during Lynch's research process. She muses on the strange bacterial growths she finds on her scobys, wondering at the unexpected beauty of her booming bacterial colonies. She also explores the science behind the "brain-gut-axis," explaining how the gut bacteria in our digestive system can influence our daily thoughts and feelings, and how those thoughts and feelings, can in turn, influence our digestion.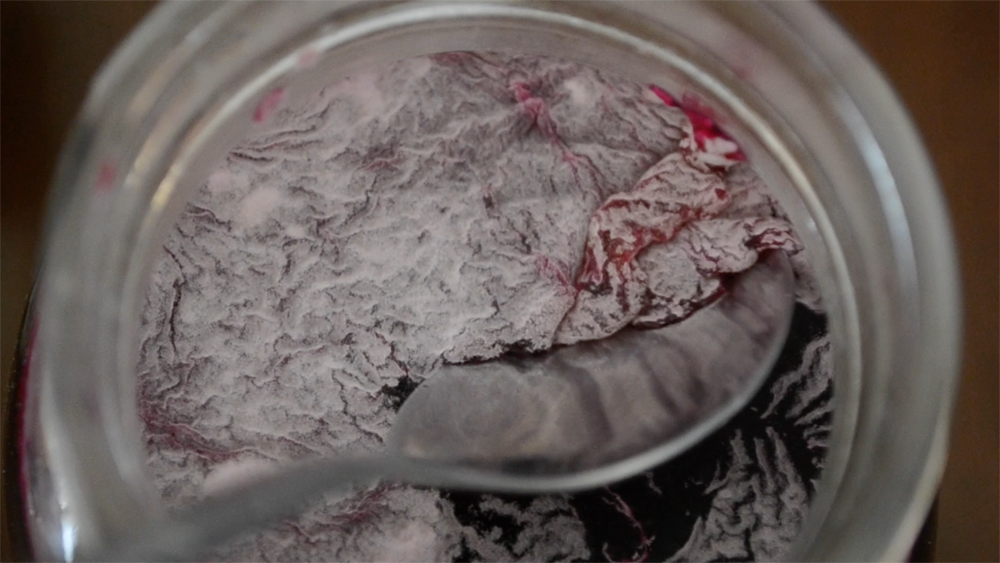 Lynch's work is wonderfully complemented by Family Jewels, a playful film by collaborators and lovers/partners Eleonora Edreva and Leo Williams. With a healthy dose of wit and humour, the work explores questions of queerness, child care, and family-making, all through the lens of fermentation. We watch as the artist duo care for their ferments, chopping up fresh beets and cabbages to feed their bacterial "dependents," "burping" them as needed, and even scheduling "child care." Along the way, the artists/parents turn to the all-knowing Google for advice: Does caring for kefir make you a parent? Do worms count as family members? Are there tax benefits to fermentation? Though tongue and cheek, these questions will resonate with anyone who has gone through labour-intensive process of keeping a young ferment alive. Raising sauerkraut, it turns out, is an all-consuming endeavour—equal parts precision and passion, love and science.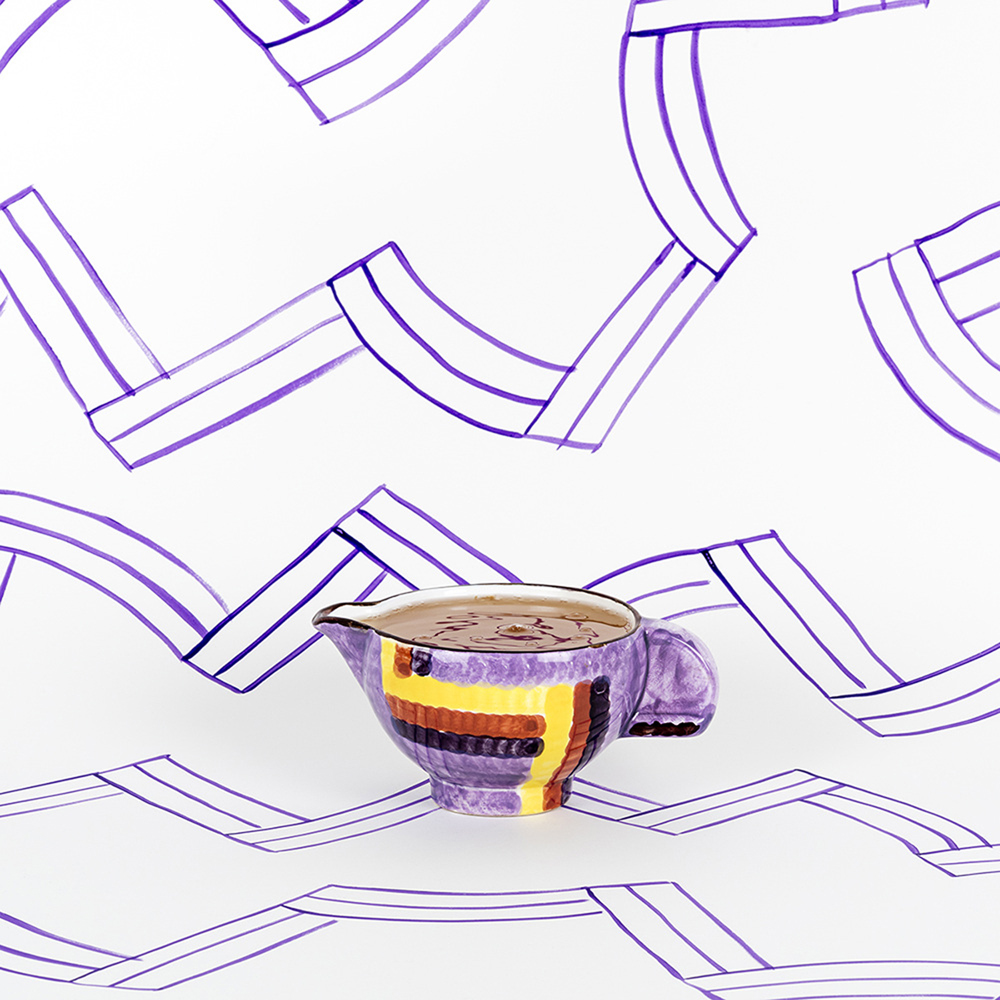 Accompanying XINONA, Gut Feelings, and Family Jewels are works by Sarah Nasby, Christine Tien Wang, and Andrea Creamer. Together these creations offer new and complementary perspectives on issues like inter-species symbiosis, wellness and health, science, and history. They question and extend the ways we think of ourselves in society: as women, as mothers, as feminists, as fermenters.
Fermenting Feminism is on view at Vancouver's Access Gallery from September 14 to October 26, 2019. Find out more at the exhibition website.