Name: Luciana Haill
Which came first in your life, the science or the art?
The art and a passionate fascination with human biology from an early age. My curiosity was fuelled by books at home about ESP (extrasensory perception) and the paranormal. I experienced a timeless absorption in my ability to manifest thoughts through drawings (way before any formal art education), mark making or reading. I later trained in fine art at Ravensbourne in the UK, and completed the first degree in Interactive Fine Art led by Roy Ascott.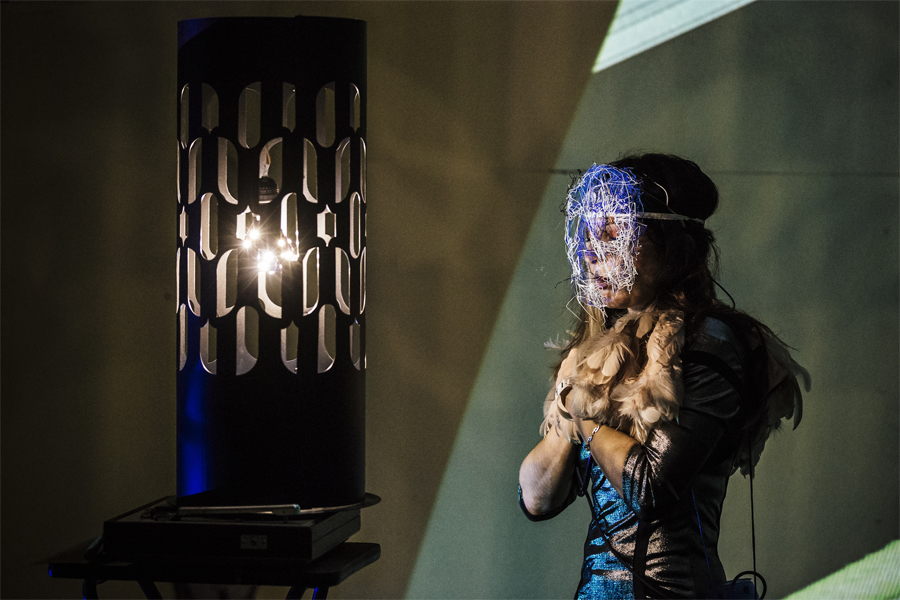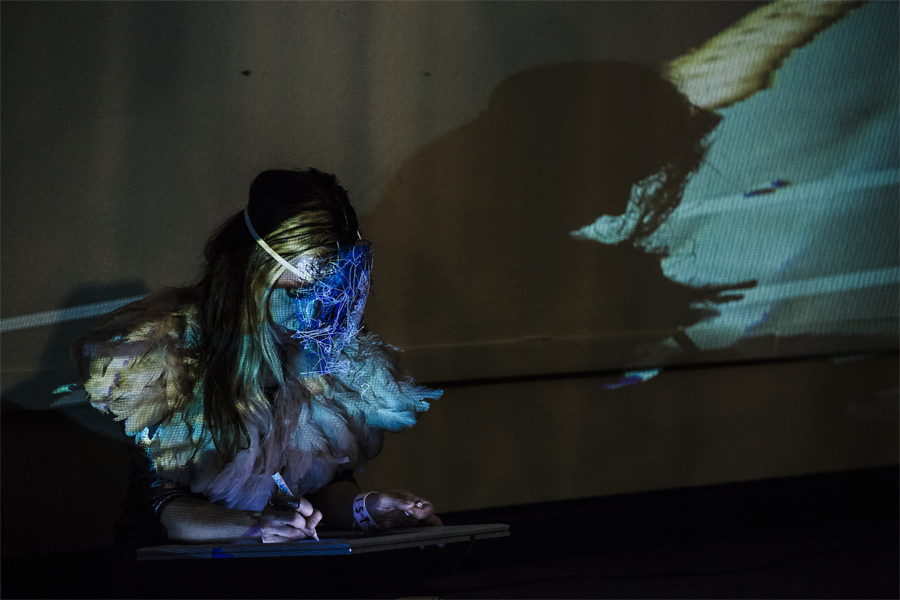 Which sciences relate to your art practice?
Neuroscience, parapsychology, psychology, lucid dreaming, cybernetics and artificial intelligence.
What materials do you use to create your artworks?
Primary tools are portable brainwave (EEG) monitors, specifically the IBVA BrainMachine that sends the signal from the EEG amplifier (worn in a camera bag) via Bluetooth to the laptop where the specialized software allows for amazing interactions on a computer with various software suites (MIDI, MaxMSP, realtime sound control, FUGIO, Logic, Ableton) for generative compositions and interactive installations.
Secondary tools are Brion Gysin's Dreamachine for inspiration and meditation and PandoraStar stroboscope with its software for user programmable customizations. I also like analog signal generators to control scientific strobes. And I really love my rOtring pen set – their architectural fineness, reliability and the ink is permanent.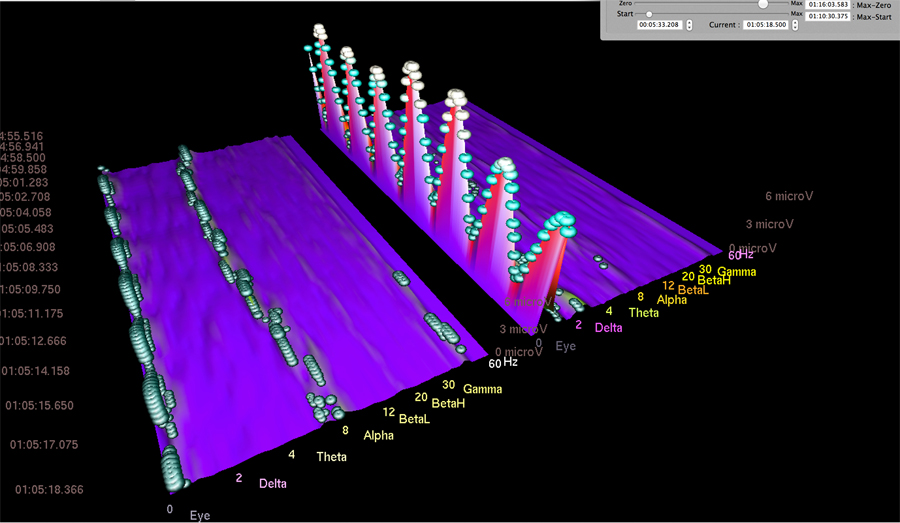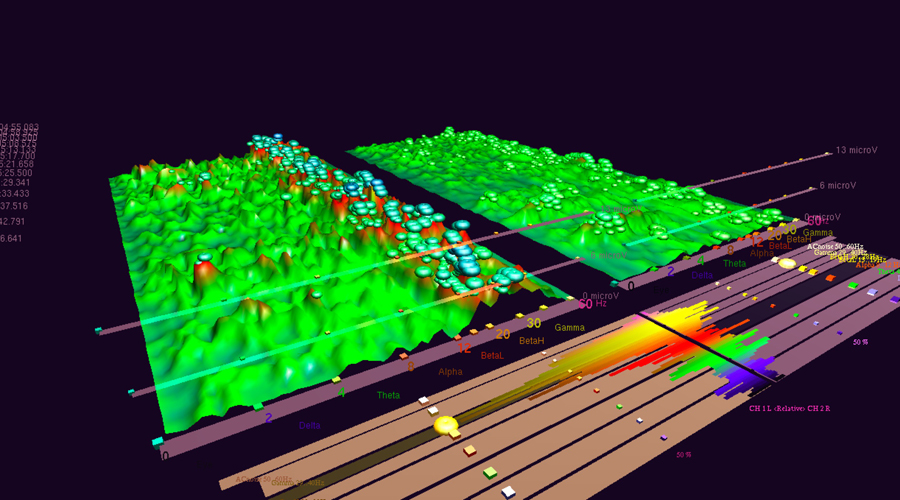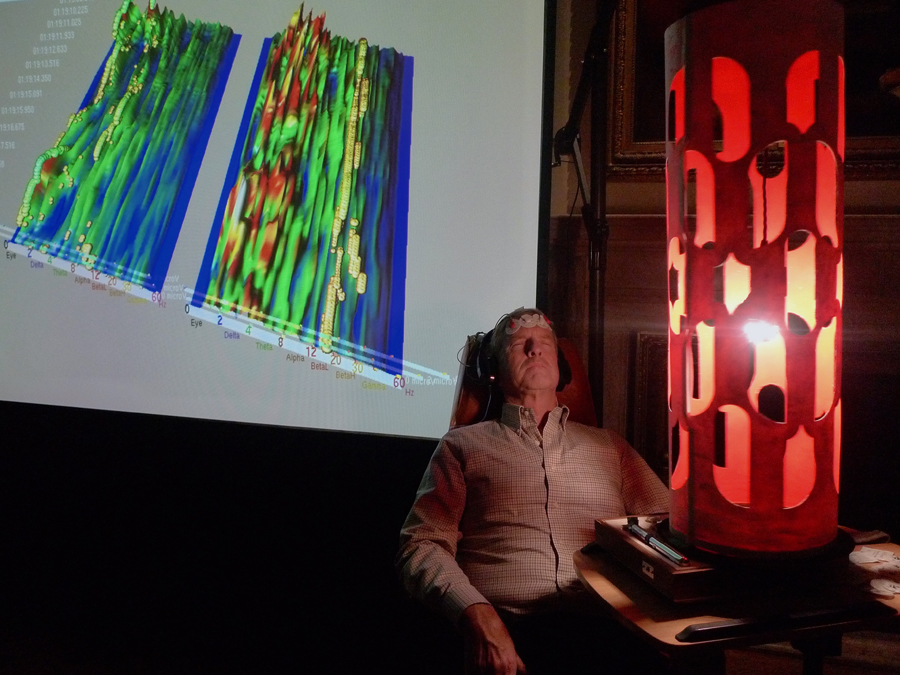 Artwork/Exhibition you are most proud of:
"Flickering Phrontisterion" : (Dream Machine's percipient EEG sonified)
A Syncretic artwork first shown in 2014 at The Kinetica Art Fair in London. In this interactive, participatory artwork the brainwaves of participants are monitored whilst experiencing a classic kinetic sculpture spinning atop a record player known as a "Dream Machine", invoking the phenomena Flicker (8-10 hz cycles) via neurofeedback. The resulting increased hypnagogic and hypnopompic brainwaves of Alpha and Theta are fed-back to the participant as changes in the generative sonification. Emergent sonic guides and voices recede, new ideas come to the fore, in a secluded space, eyes closed, reclined in an air-pumped dentist chair, they float back down, where time disappeared –  experiencing reverie, increased Theta waves. Written and verbal visitor feedback elicited by my assistant, present in the installation describes increased relaxation, refreshed creativity, journeys, and non linear thinking (and never, ever actually asleep!)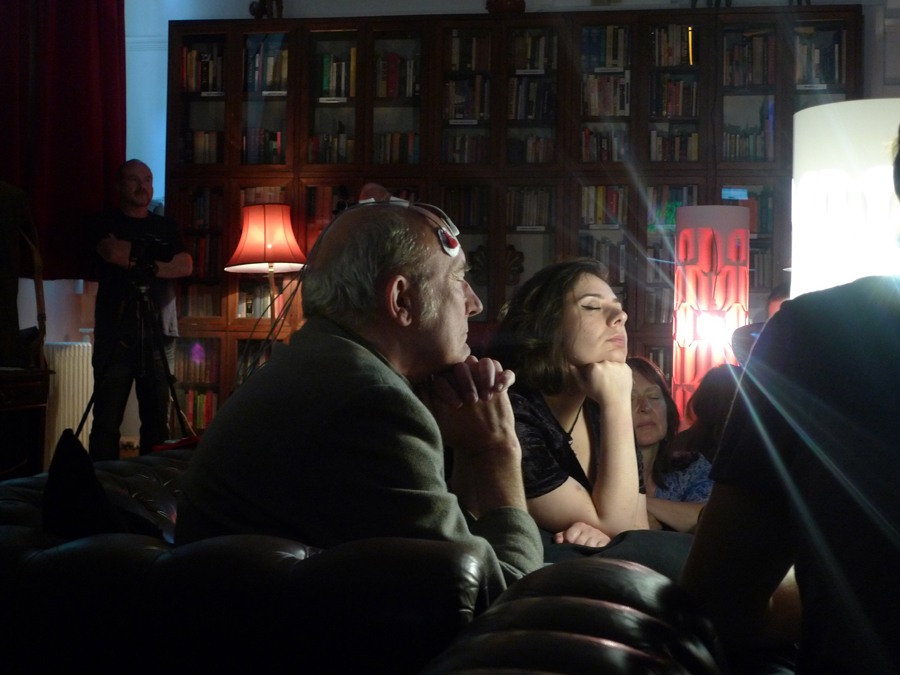 Which scientists and/or artists inspire and/or have influenced you?
Artists : Stelarc, Alvin Lucier, Brion Gysin, Austin Osman Spare
Cyber Robotic Stelarc visited my university in 1995 in Wales and showed me biofeedback signals in performative outputs – great guy! I greatly admire Brion Gyin's work in printmaking, with William Burroughs in their "Cut-Ups" and fold-ins as hypermedia before the digital, and my visual style has always rested with admirable jealousy upon English artists Austin Osman Spare and William Blake. I honour the American artist Alvin Lucier who made the seminal EEG generated performance "Music for Solo Performer" harnessing Alpha waves in an auditorium for reverberational experiences in 1965. Exiled Spanish surrealist Remedios Varo for her paintings strongly featuring mystical, esoteric and avian psyches. Most recently the Swedish theosophical painter Hilma A. F. Klimt, whose work was superbly progressive in the late 1800's and I had pleasure to see up close, all scales, in The Serpentine Gallery London in 2016.
Scientists : Dr Richard Caton from Liverpool UK, who was crucial in discovering the electrical nature of the brain, Dr Hans Berger – the inventor of electroencephalography (EEG),  Dr William Grey Walter – for his eccentric and multitalented behaviours – mostly his pioneering work with identifying further EEG bandwidths, and his brainwave research into epilepsy with strobes. Dr Keith Hearne who I've had the recent pleasure of meeting in London and in Rolduc, Holland at the International Association of the Study of Dreams where I also exhibited some of my "Lucid Dream" drawings "Oneiricals".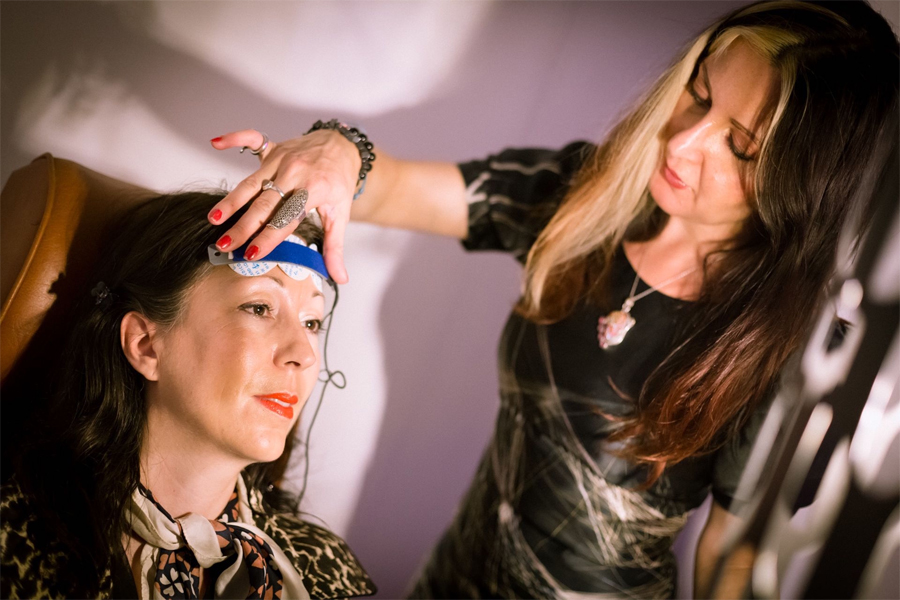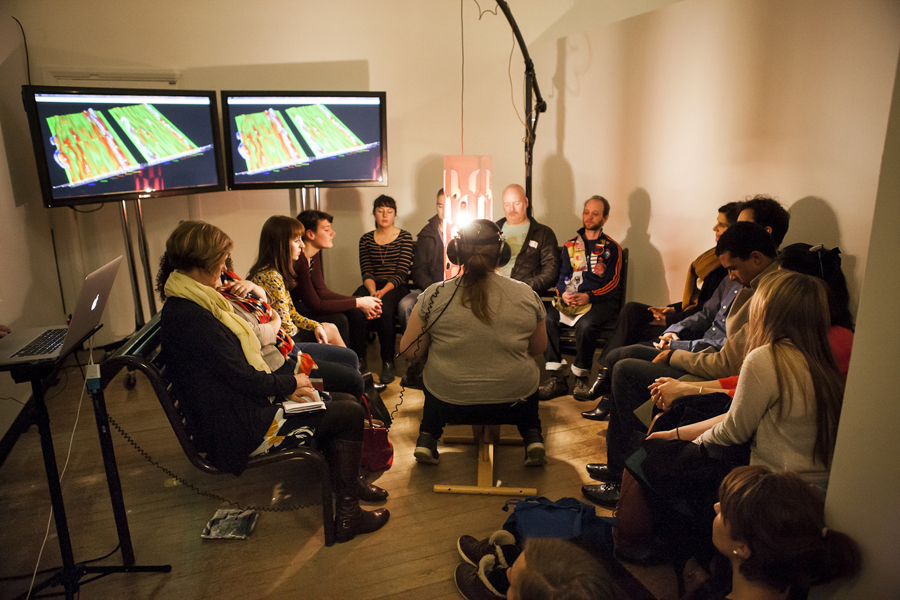 Is there anything else you want to tell us?
I am very interested in the study of lucid dreaming and "spooky action at a distance". My current artwork 'SleepCycles' encompasses four years of drawings, neuroscience, Gestalt analysis of dreaming and experiential research, refined by my involvement in the International Association for the Study of Dreams in Rolduc, Holland in 2016. I would like to make a future form of art where we have to be dreaming to be in the audience, a remote and collective phenomena with deeper thought provoking tendrils than a physical piece.
A year ago, I read about the curious Maimonides Medical Center in New York City, where, over a ten year period, Stanley Krippner and Montague Ullman conducted pioneering scientific experiments in telepathic dreaming in the 1970's. I would like to work with sleep laboratory scientists and researchers with VR, Photic stimulation, MRI and mystics exploring dream telepathy in an art practice with a wide public outreach, to inspire new generations of consciousness artists and explorers.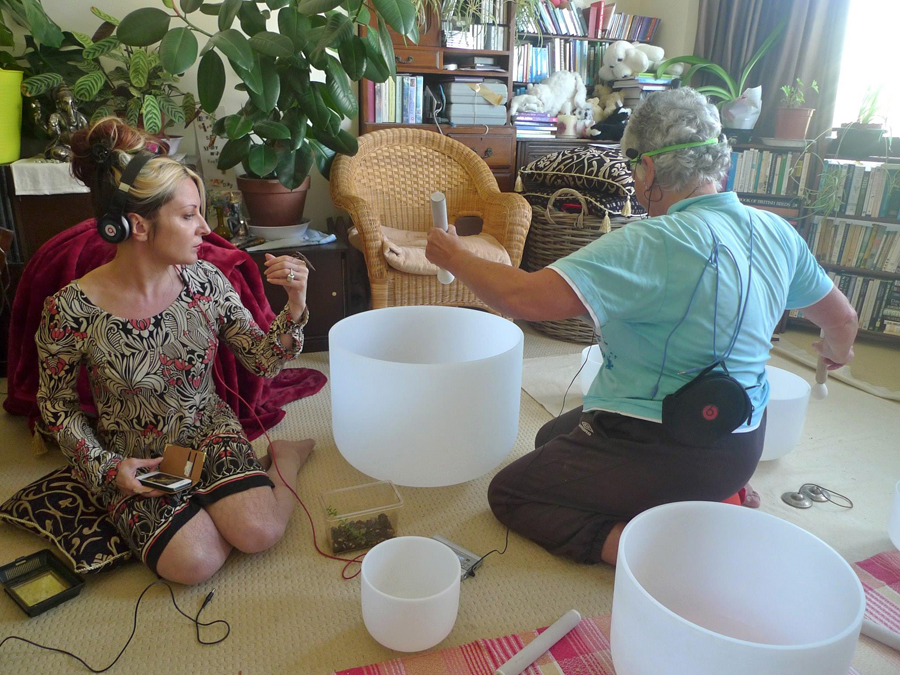 Artist Links: Twitter, Facebook, Vimeo.