Name: Elaine Quave
Which came first in your life, the science or the art?
I found a love for both art and science through spending time outside in nature as a kid. I liked to observe the plants and animals in the woods behind my house but I also enjoyed manipulating materials from outside like clay, twigs, and grass reeds. In high school I had the opportunity attend The South Carolina Governor's School for the Arts and Humanities, which is a selective public residential high school for Juniors and Seniors. That experience propelled my career into the arts. From there I left to study ceramics in a BFA program at The University of the Arts and later in an MFA program at Tyler School of Art, Temple University.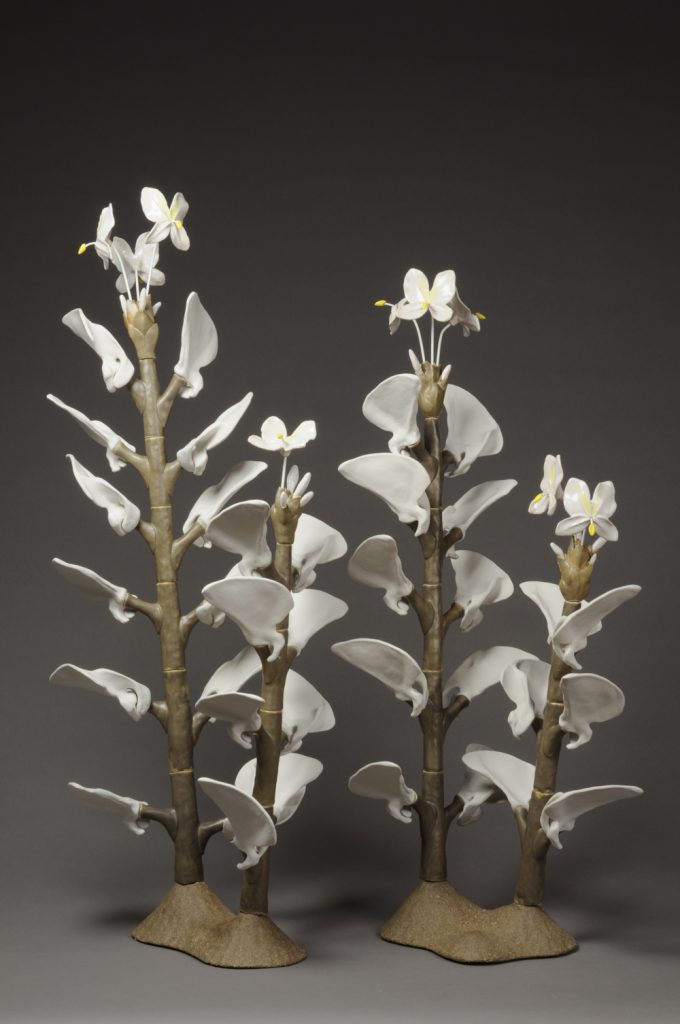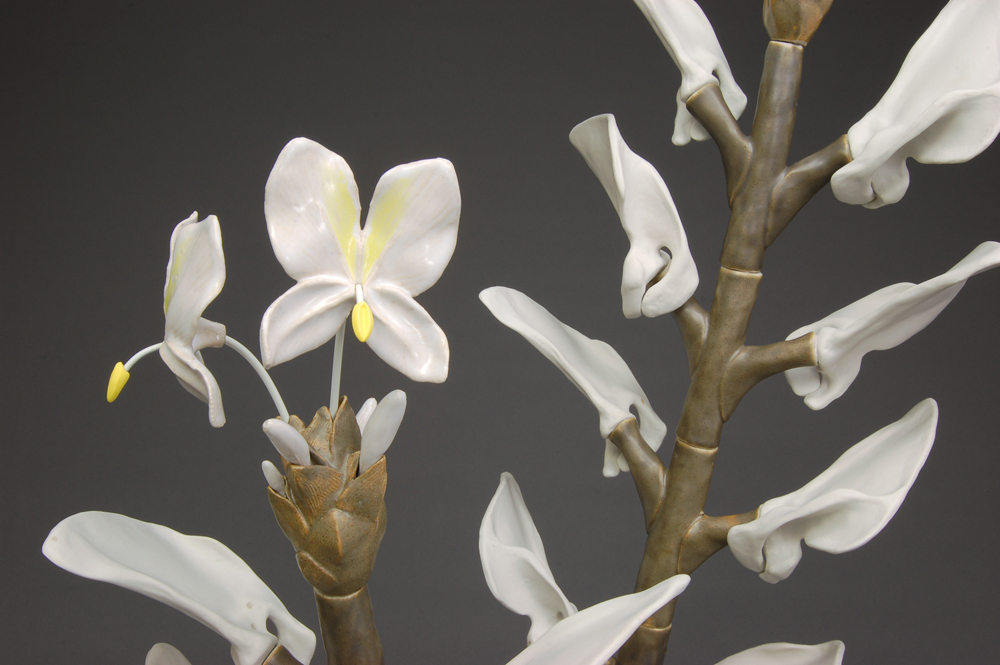 Which sciences relate to your art practice?
One thing I like about being an artist is that I can really dive into any subject that I want, but most of my art would fall into biology. My work is a constantly evolving search for understanding who we are as humans and our relationship to the world around us.
I've always had an interest in anatomy. That interest probably began in high school when we were learning to draw the figure. I later started questioning different elements of human anatomy such as skin, muscles, and bones and our very knowledgeable, yet still lacking, understanding of our physical existence. The skin is a boundary between us and the world around us, but it is permeable. Just consider the microbes, light, water, and nutrients that are ingested through the mouth, or the air brought in through the nose. Our external body plays a large role in the way that we see ourselves, it is the image of self and individuality. However, I am constantly rediscovering the relative permanence that we interpret as the self or the individual is a fleeting notion. We think of ourselves as an individual entity, but in truth nothing is individual, and nothing is separable from the systems that support its existence.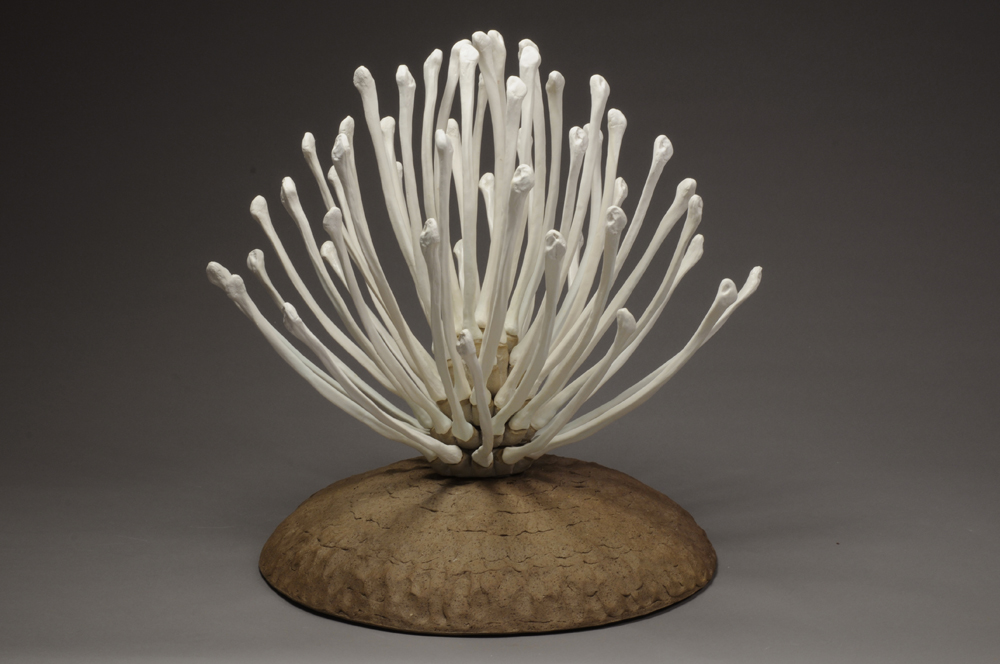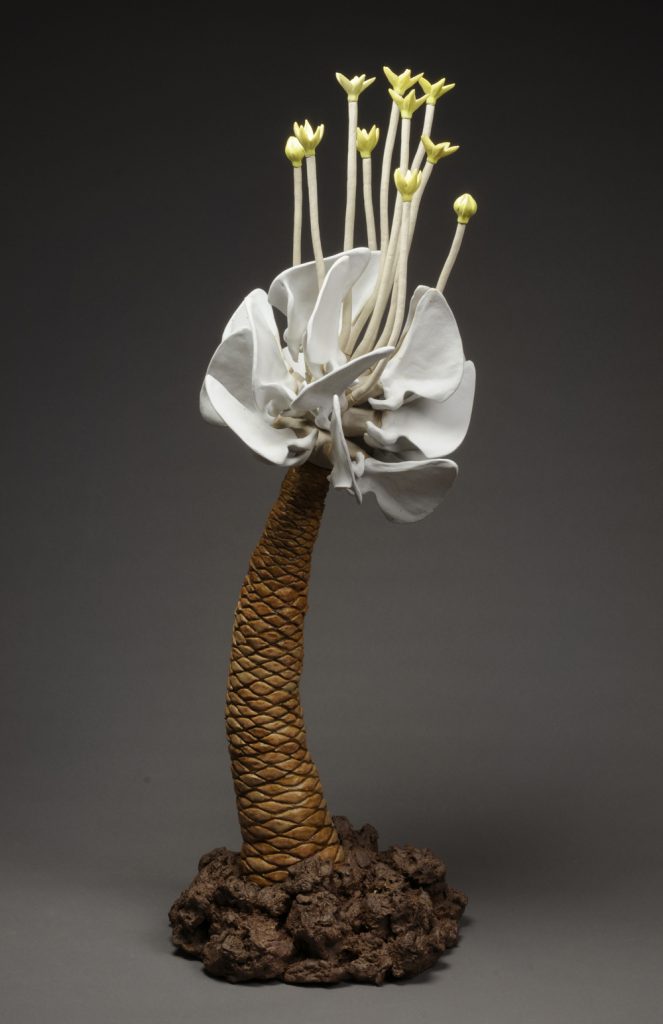 These notions have been reconfirmed through all the new and exciting research that is taking place in the area of microbiology and our microbiome. I see some semblance of these ideas existing in the plurality of space represented in my current ANTHRO/BOTANICAL series. These works simultaneously represent the world within us and the world outside of us. Porcelain representations of human bones are reassembled to look like plant formations. The botanical forms represented in this series come from specific plants and research into endangered, threatened, native, and cultivated varieties and the roles that they play in our ecosystems.
The deteriorating health of the ecosystems around use has also been a huge concern. The environmental crisis we have found ourselves in, I believe, can be better mitigated by understanding ourselves as inseparable from natural energy cycles. Damage to our ecosystems has and will have a ripple effect on our health and prosperity.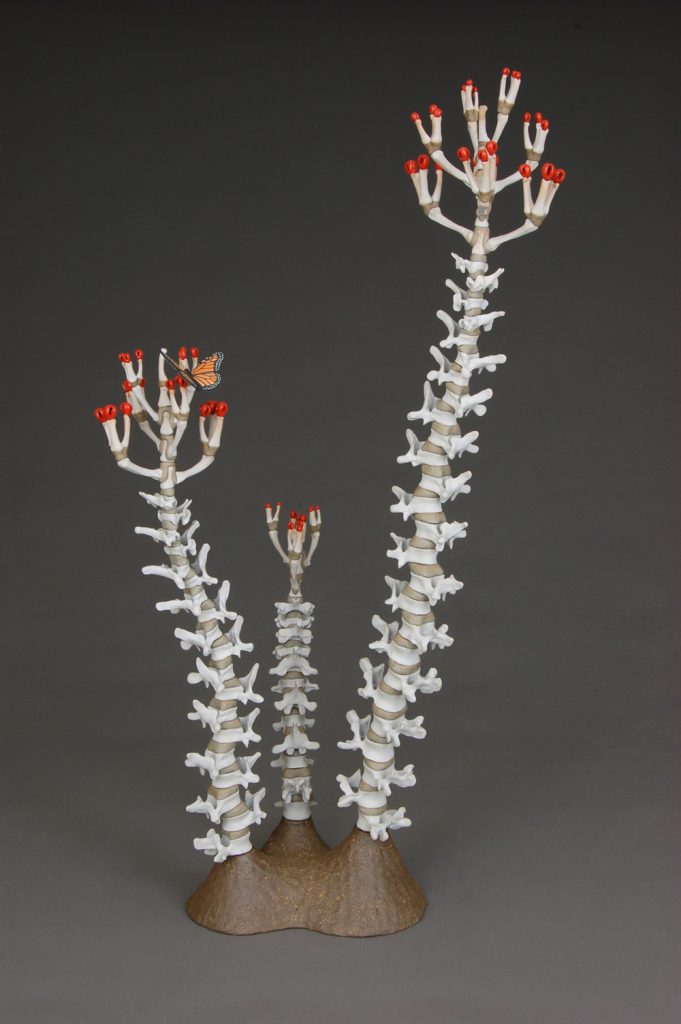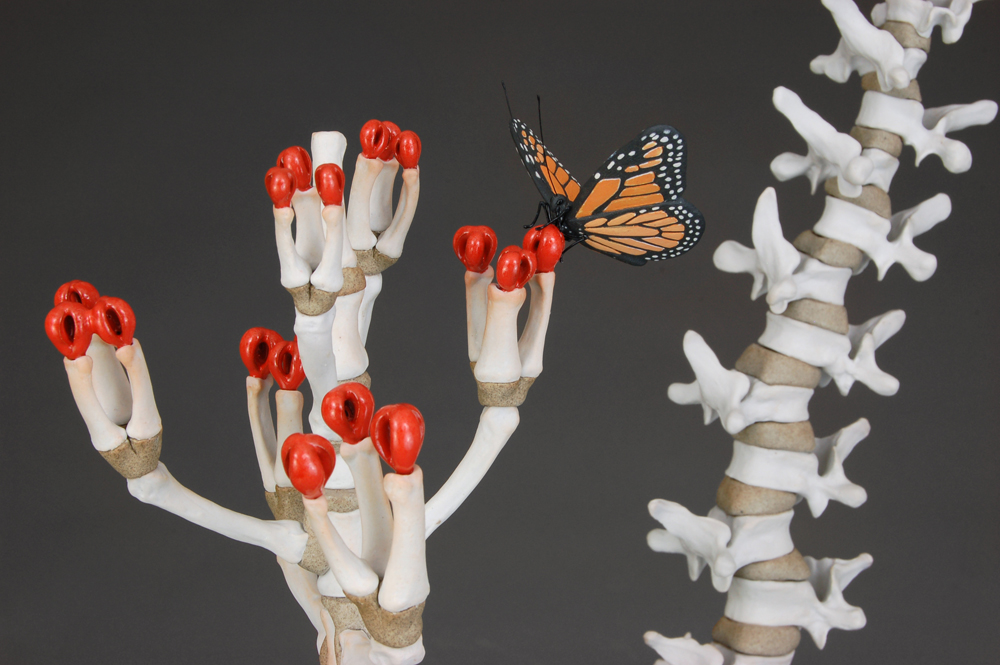 What materials do you use to create your artworks?
My work is primarily composed of different clays and glazes but I also use elements of steel and wire to extend the physical properties of the clay.
Artwork/Exhibition you are most proud of:
My ANTHRO/BOTANICAL series. This series began around 2013 and utilizes porcelain slip cast bones combined with flowers composed of clay to create botanical forms.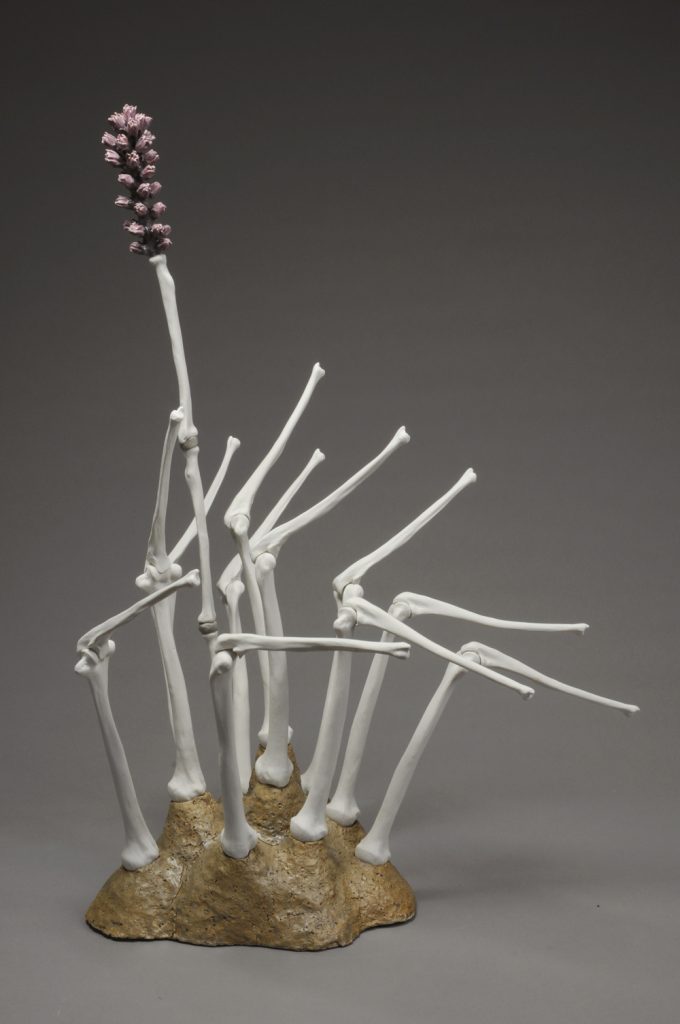 Which scientists and/or artists inspire and/or have influenced you?
The largest influence on my work is from science exhibits. My reaction to the Body Worlds exhibit (2006) had a profound influence on the work that I made in graduate school. I was so struck by the idea of the permanence of the body; it was entirely oppositional to the way that I felt about the body being part of nature and how it should be returned to nature (even though these are not values that are currently highly held in our American culture where over half the deceased are embalmed every year).
The other more recent exhibit that has been influential would be We Are Nature: Living in the Anthropocene at the Carnegie Museum of Natural History (2018). I think it's incredibly eye opening to consider the extent to which we have affected nature around us but also hopeful to see the ways that other plants and animals are able to adapt to the situations we have created.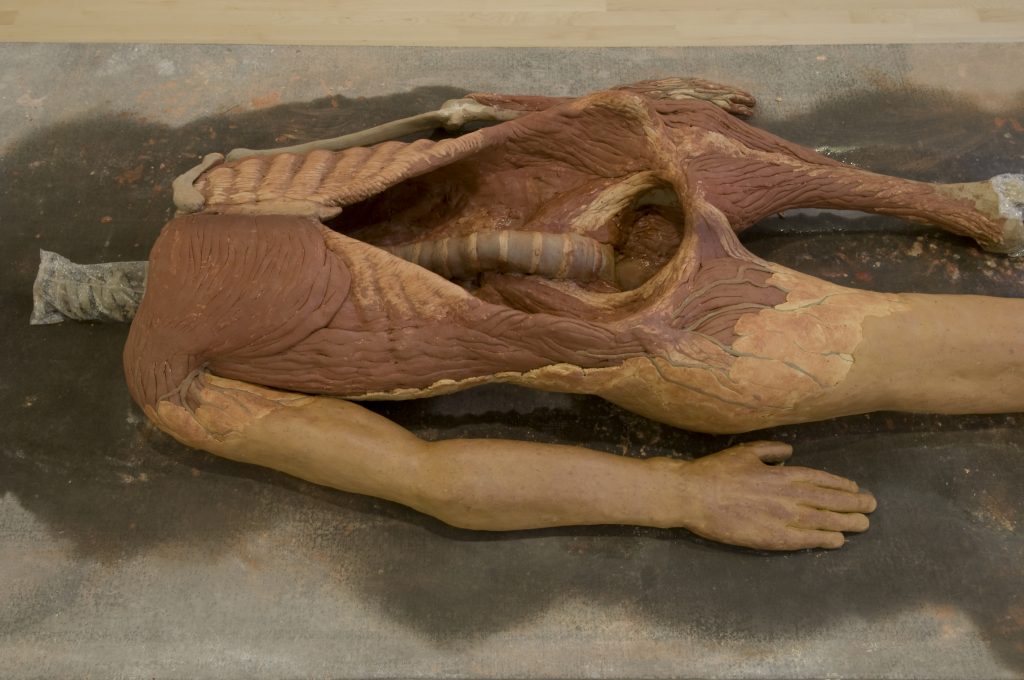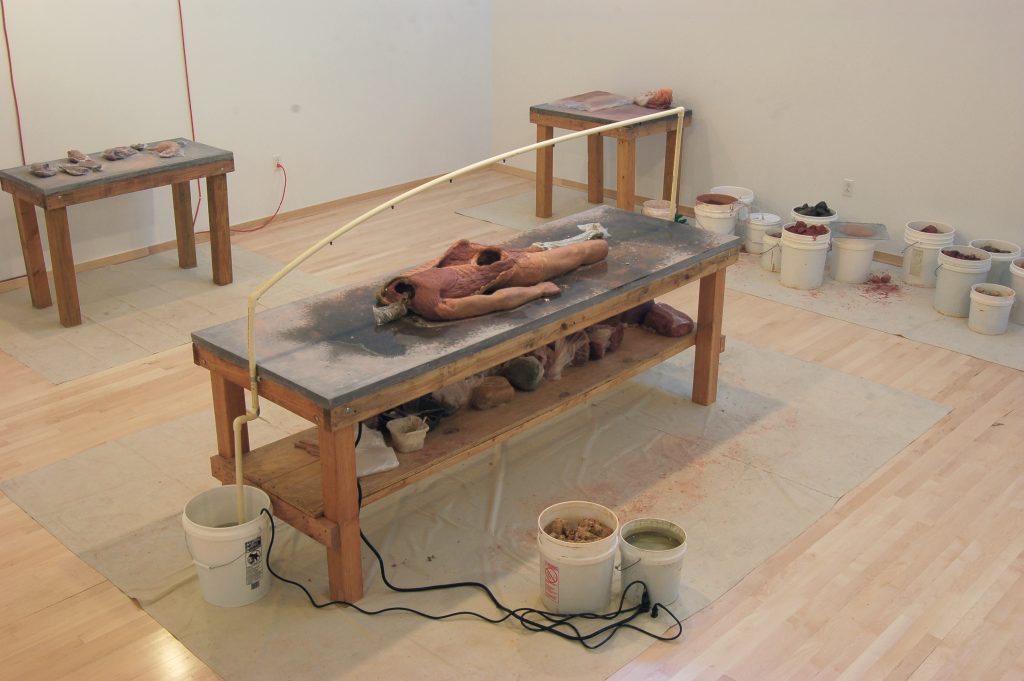 There are tons of scientist and artists, though, who I think are inspiring and doing amazing work. Scientists like Nancy Moran, who has been studying the gut microbiota of honey bees, can have tremendous impact on transforming our understanding of the importance of microbes in health. The issues facing the honey bees, I think, are likely the same issues affecting us—we are under assault at a microbial level by the toxins that we have created and allowed to enter into our environment.
Probably the second biggest influence on my work comes from writers like Elizabeth Kobert (The Sixth Extinction), Jon MooAllem (Wild Ones), David Perlmutter and Kristin Loberg (Brain Maker), and Daniel Lieberman (The Story of the Human Body: Evolution Health and Disease). These are folks who take science and format it into a format that is easier to understand and digest.
Links: Instagram and Artist Website